Food and Drink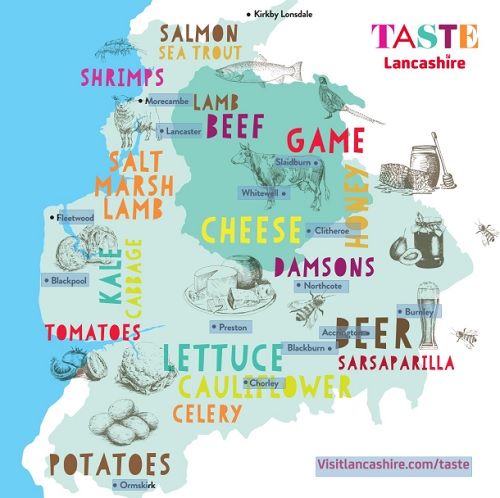 Britain's Tastiest County!
"The heart of Lancashire is home to impeccable produce, charming inns and rolling countryside." Food and Travel Magazine (2017).
Whatever your taste in food and drink you will find something to satisfy your taste buds. Lancashire's award-winning restaurants and pubs are diverse and delicious offering everything from Michelin-starred British cooking to a multitude of international cuisines embracing quality local and seasonal produce in their dishes.
Lancashire boosts 3 Michelin-Starred restaurants; Moor Hall Restaurant with Rooms (2 stars), The White Swan at Fence (1 stars) and Northcote who have held their 1 star for over 20 years.
You'll find tasty pub grub and a warm Lancashire welcome alongside real ale and home cooked, seasonal delights, from homemade sausages; melt-in-the-mouth Lancashire hotpot or succulent seafood. Our teashops and cafés offer an indulgent pit stop for tea and cake, after all what could be more appealing than a pot of piping hot tea accompanied by a slab of cake, pile of fresh scones or a doorstop sandwich!
The Lancashire landscape is integral to the food and drink grown and made here. The heather strewn moorland provides succulent meats, the salt deposits in the low lands around Garstang and Chipping have given us the Lancashire milk fields; an area famed for its cheeses including Beacon Fell Traditional Lancashire Cheese which carries the Protected Designator of Origin marquee and is home to nine cheese makers.
Rich soil along the coastal plains are perfect for growing potatoes, root vegetables and salads, and our water, rich in minerals, perfect for making quality cask ales as the 23 Lancashire breweries will testify. The shallow depths of our coastal areas provide ideal conditions for our famous Morecambe Bay shrimps to thrive.
Find your next food destination in Lancashire.
In this section...
Indulge in a feast of food and drink in Lancashire's highly acclaimed restaurants, relax in our cosy pubs or enjoy tea and a slab of chocolate cake in a café or tea room.

Take a look at our Pubs & Inns collection for a selection of great establishments in Lancashire. Perfect for a meal out or a quick pint.

We Lancastrian's have long known about Lancashire's rich supply of top notch produce and makers, who supply our many award winning restaurants, pubs and cafes, but perhaps this was not as well known nationally.

Our local producers provide an amazing range of fresh vegetables, award winning dairy produce and cheeses & home-reared meat.

Lancashire's farm shops sell local produce which has been grown, picked, reared or made on the farm where the farm shop is located.

Lancashire farmers markets are hugely popular, and are noted for the quality of their fine locally produced stock, cheeses and meat products.