It's World Cocktail Day this Saturday and to celebrate we've gathered some delicious cocktail recipes provided to us from a selection of different Lancashire businesses.
Why not give one of these recipes a go this weekend? If you do, don't forget to tag us in your pictures @VisitLancashire.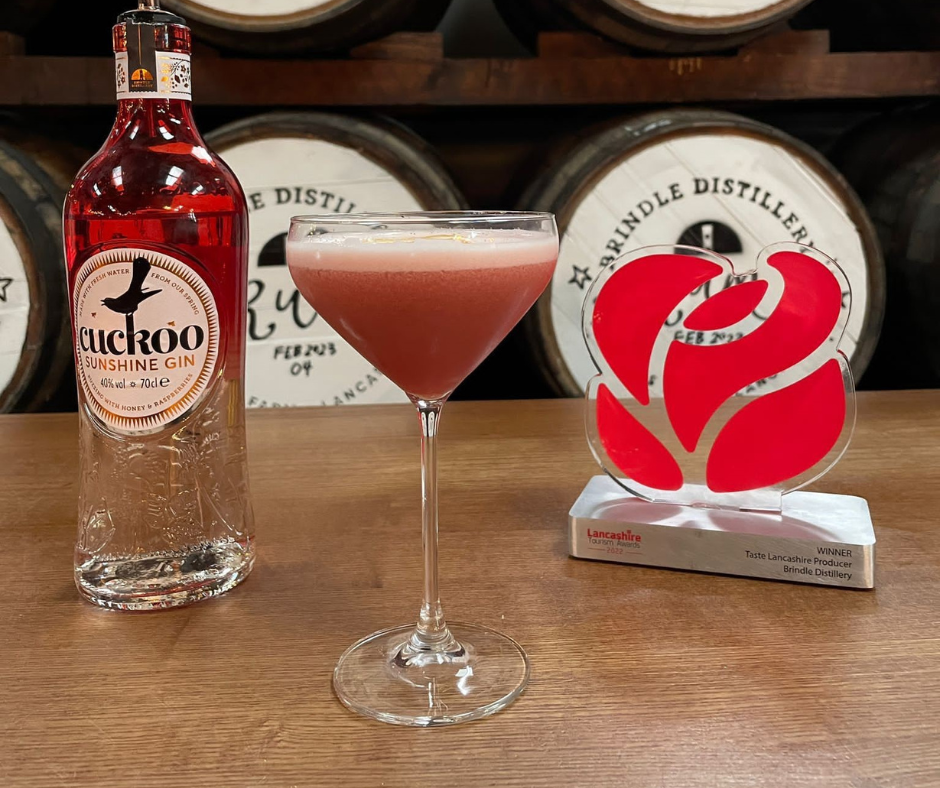 Sunshine Raspberry Royale by Brindle Distillery – Serves 1
Watch how to make this over on our TikTok channel - don't forget to follow us!
Everybody loves the sunshine…
This raspberry flavoured cocktail has been provided by Taste Lancashire Producer of the year – Brindle Distillery. Using their very own Cuckoo Sunshine Gin, this recipe is easy to follow and creates a sweet yet fruity drink for you to enjoy.
Ingredients
50ml Cuckoo Sunshine Gin
25ml Lemon Juice
25ml Raspberry Puree
25ml Egg White
12.5ml Sugary Syrup
1 Raspberry
Method
Fill a coupe glass with ice to cool.
Pour all of the ingredients (without ice) into a cocktail shaker and shake for 5 seconds.
Add ice and shake again, this time for 10 seconds. The egg white works as an emulsifier, giving the cocktail a cloudy head (vegan alternatives are available).
Strain into the coupe glass and garnish with a single raspberry.
Discover more about Cuckoo Gin at Brindle Distillery here
Rum Punch by Moor Hall – Serves 6
"One of sour, two of sweet, three of strong, four of weak." That is, one part lime juice, two parts sweetener, three parts rum (preferably from Barbados) and four parts water.
Moor Hall's take on this classic uses tea instead of water, to add some extra depth of flavour.
Ingredients
200ml dark navy-strength rum
100ml brandy
600ml English breakfast tea – brewed stronger than normal and left to cool
150ml lemon juice
300g demerara sugar
Method
Put everything into a large bowl, add lots of ice and stir well.
Ladle into tumblers filled with fresh ice, garnish each glass with a slice of lemon or orange (we use dried orange slices), and serve.
Discover more about Moor Hall here
Bar & Grill Mojito – Serves 1
Make the most of this month's Cocktail of the Month is the Bar & Grill Mojito, which is available 2-4-1 in The Bar & Grill at Holmes Mill every Friday this May from 5pm-7pm. But if you don't fancy going out this week, why not try making it yourself at home using the recipe below…
Ingredients
50ml Havana Club Especial Gold Rum
Handful of mint
Juice of 1 lime
1 tsp brown sugar
Soda water to taste
Method
1. Muddle the lime juice, sugar and mint leaves in a cocktail shaker - or use a small jug, glass or whatever you can get your hands on.
2. Pour the contents into a tall glass and add a handful of ice.
3. Pour over the rum, stirring with a long-handled spoon.
4. Top up with soda water, garnish with mint and enjoy!
Discover more about The Bar & Grill at Holmes Mill here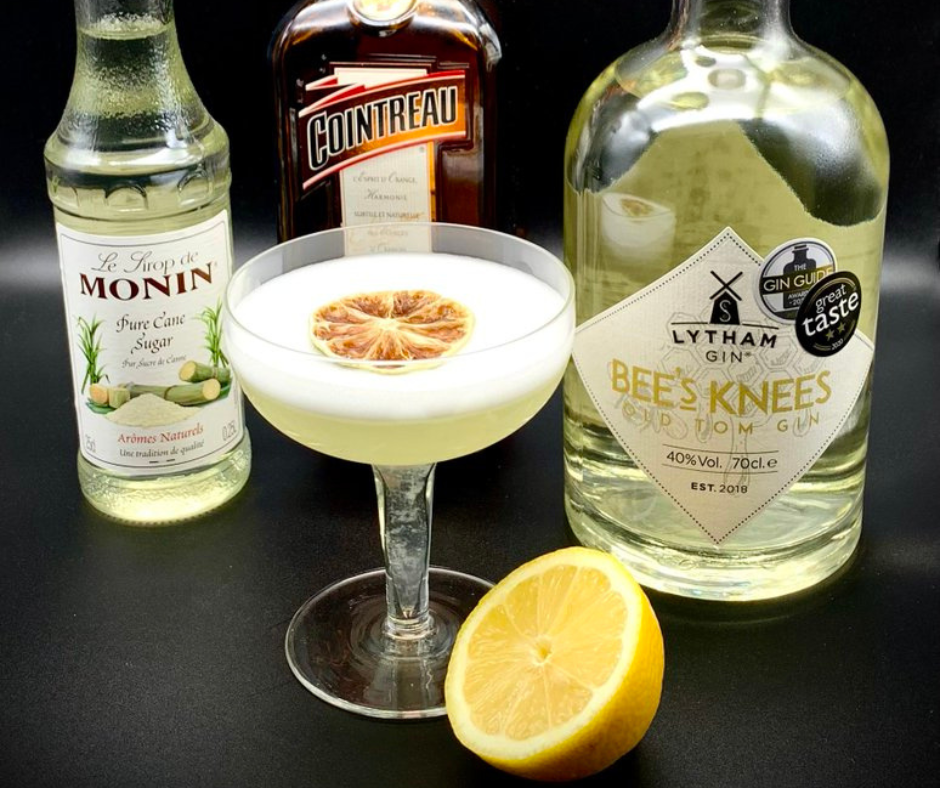 The Lytham Lady – Serves 1
Simply delicious, The Lytham Lady is an elegant, frothy and not too sweet cocktail which has a great depth of flavour.
This unique cocktail has been provided by Lytham Gin, a small batch gin made in Lancashire and is perfect if you want to try making one at home this weekend.
Ingredients
45ml Bee's Knees Gin,
20ml Cointreau,
20ml lemon juice,
20ml sugar syrup,
1 egg white.
Method
Add all the ingredients to shaker and shake
Next add some ice to the mix and shake again before double straining into a coupe glass.
Finally add a dried lemon slice for garnish and enjoy!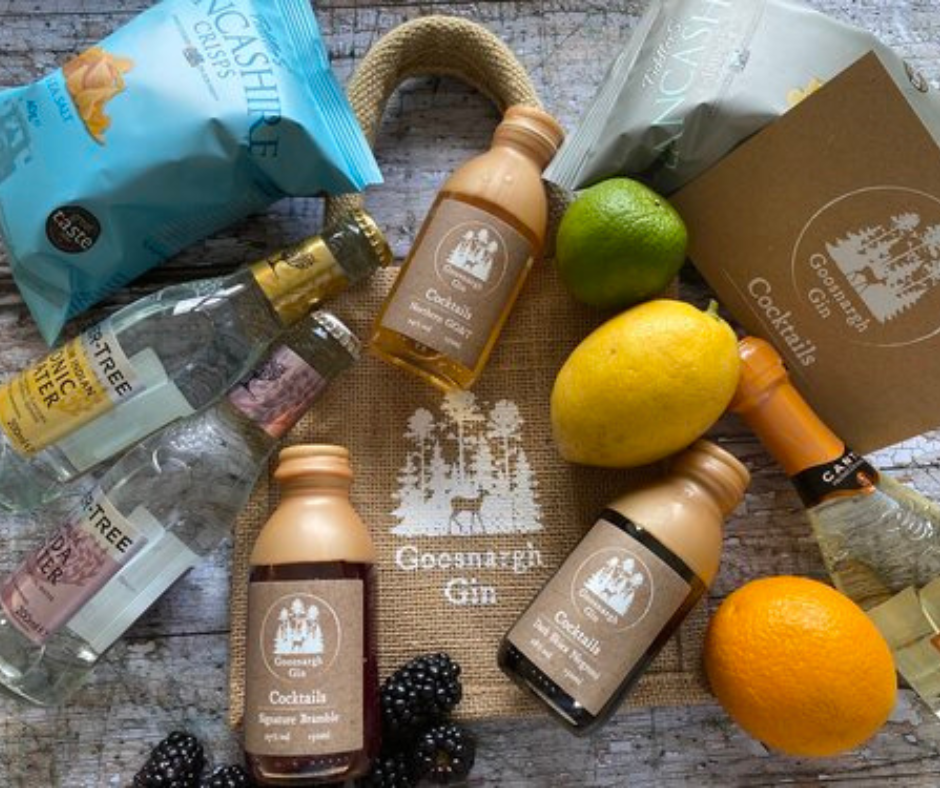 Don't fancy going out for your cocktails?
Check out the gift packs by Goosnargh Gin which are perfect for a date night in. All the Goosnargh gin Cocktails are pre-mixed and ready for you to enjoy. The pack includes 3 different 150ml pre-mixed cocktails, 1 200ml tonic, 1 200ml soda water, 1 200ml prosecco, freeze dred garnishes and 2 packets of Fiddler's Lancashire Crisps… everything you need and more for the perfect night in! (Serves 2)
Discover more about Goosnargh Gin here
Always drink responsibly. The UK Chief medical Officers recommend adults do not regularly drink more than 14 units per week. See Drinkaware.co.uk for more information.
Related
0 Comments