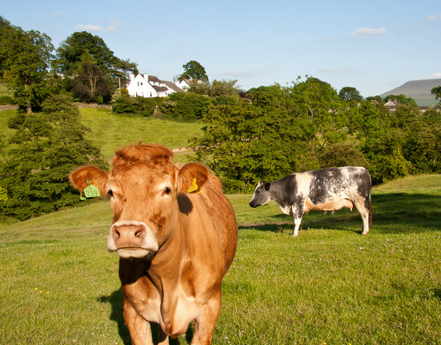 With pretty villages, market towns and hamlets scattered amongst the fells; cultivated farmland falling away to open moorland as you head into the Forest of Bowland Area of Outstanding Natural Beauty, the Ribble Valley extends well beyond the river banks of its name sake.
One of the unique things about eating out in Lancashire is that you're very likely to be tucking into produce that was grown up the road by a family who've produced it for generations, and this is never truer than when you're in the Ribble Valley. It sometimes seems that the geography of the Ribble Valley has evolved over millions of years simply for our pleasure. Who would have thought that the rich salt deposits in the soil and moorland heather would give us such fantastic tasting Lancashire cheeses and succulent meats.
It's hardly surprising then that this area should have become a hub for fine and quality dining, with head chefs and restaurateurs championing Lancashire providence to a national audience. At the very top is Northcote at Langho, with Chef Patron Nigel Haworth at the helm which has retained its Michelin Star since 1996. Not only does Nigel and his team make the most of local produce, they even grow most of their own fruit and vegetables in the restaurant's kitchen garden.
Gourmands should also visit the award winning, and much raved about, The Freemasons at Wiswell and The Assheton Arms at Downham – who all serve up distinctive menus based on locally grown, reared or caught produce.
At the other end of the scale there's plenty of opportunity to meet the producers and growers face to face whether direct at farm shops or at annual events like the Clitheroe Food Festival and Royal Lancashire Show.
You can even follow a themed Lancashire Cheese Walk which explores the Lancashire Milk Fields around Chipping where some of the artisan cheese makers are based.

A walk or cycle out into the Forest of Bowland AONB will not only help to work up an appetite but you'll also get to appreciate the striking heather moorland, much enjoyed by Lancashire's cattle and sheep. Walk up to Ward Stone, one of the highest points in Lancashire, and you're likely to see the hardy and native Lancashire Dalesbred Sheep grazing in your path.

Whilst the Ribble Valley isn't just about the food and drink, the history and geology of the area make it very difficult to ignore the delicious treats being served up in this part of Lancashire.
Related
0 Comments