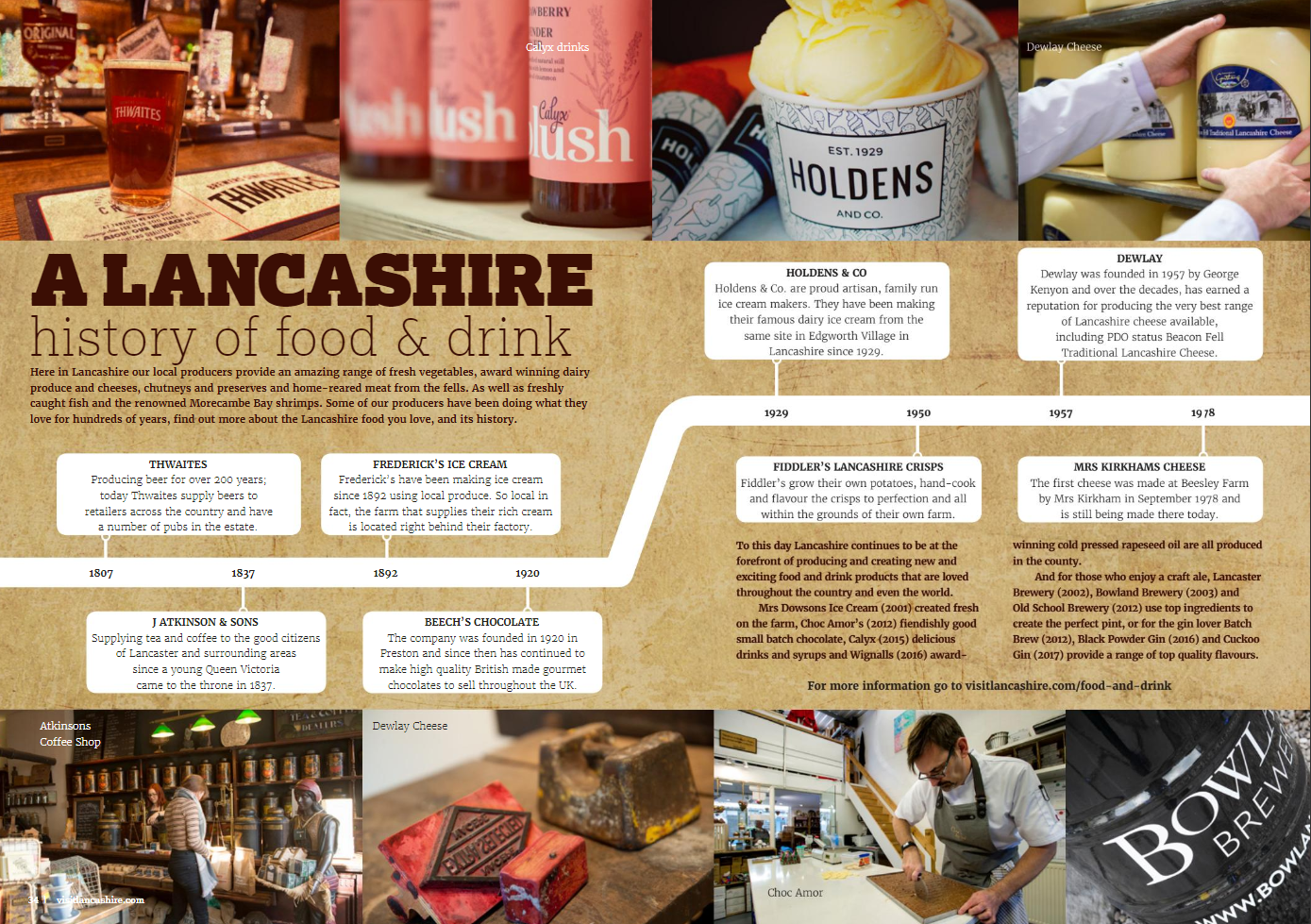 Here in Lancashire our local producers provide an amazing range of fresh vegetables, award winning dairy produce and cheeses, chutneys and preserves and home-reared meat from the fells. As well as freshly caught fish and the renowned Morecambe Bay shrimps.

Some of our producers have been doing what they love for hundreds of years, find out more about the Lancashire food you love, and its history.

Thwaites – 1807 – Producing beer for over 200 years; today Thwaites supply beers to retailers across the country and have a number of pubs in the estate.

J Atkinson & Sons – 1837 - J Atkinson & Co. have been supplying tea and coffee to the good citizens of Lancaster and surrounding areas since a young Queen Victoria came to the throne in 1837.

Frederick's Ice Cream – 1892 - Making ice-cream in Chorley since 1892. Believing in the use of local produce, the farm they use to supply the rich cream in all their luxury ice cream is located right behind their factory.

Beech's Chocolate – 1920 - The company was founded in 1920 in Preston and since then has continued to make high quality British made gourmet chocolates to sell throughout the UK.

Holdens & Co – 1929 - Holdens & Co. are proud artisan, family run ice cream makers. They have been making their famous dairy ice cream from the same site in Edgworth Village in Lancashire since 1929.

Fiddler's Lancashire Crisps – 1950 – Fiddler's grow their own potatoes, hand-cook and flavour the crisps to perfection and all within the grounds of their own farm.

Dewlay – 1957 - Dewlay was founded in 1957 by George Kenyon and over the decades, has earned a reputation for producing the very best range of Lancashire cheese available.

Mrs Kirkhams Cheese – 1978 - The first cheese was made at Beesley Farm by Mrs Kirkham in September 1978 and is still being made there today.

To this day Lancashire continues to be at the forefront of producing and creating new and exciting food and drink products that are loved throughout the country and even the world.

Mrs Dowsons Ice Cream (2001) created fresh on the farm, Choc Amor's (2012) fiendishly good small batch chocolate, Calyx (2015) delicious drinks and syrups and
Wignalls (2016) award-winning cold pressed rapeseed oil are all produced in the county.

And for those who enjoy a craft ale, Bowland Brewery (2003) and Old School Brewery (2012) use top ingredients to create the perfect pint, or for the gin lover, Black Powder Gin (2016) provide a range of top quality flavours.
Related
0 Comments