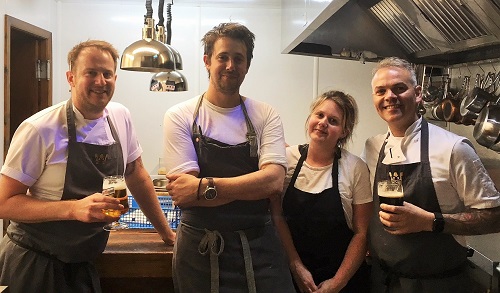 (LtoR Mike Jennings (Head Chef at WOOD), Tom Parker Head Chef The White Swan, Emily Quinn Chef at White Swan, Simon Wood Executive Chef, Owner WOOD.)
Lancashire is fast-becoming the must-visit foodie destination and that is thanks to our fit-to-bursting larder of amazing food and drink from some of the country's most sought-after producers, to pioneering chefs the likes of Paul Heathcote MBE and Nigel Haworth, to our increasing list of award-winning pubs and restaurants including: Freemasons at Wiswell, Parkersarms, The Cartford Inn, The Eagle & Child and the county's newest Michelin star Moor Hall (to name just a few).
But look closely in the busy kitchens of restaurants and pubs all over Lancashire and you'll find a new generation of talented young chefs, some nurtured in the kitchens of those afore-mentioned champions of taste, influencing how and what we eat and drink. They're certainly ones to watch, to support and encourage in their creativity and that's often through attending special events, which can help bring their adventurous talent to new customers and visitors.
One such event took place at The White Swan at Fence on 9th May, where Head Chef 27-year old Tom Parker shared his kitchen and created a menu with Simon Wood (MasterChef winner, Executive Chef and Owner of Wood, Manchester). With the responsibility for each course a secret, diners embarked on a culinary odyssey with carefully chosen wines by Front of House Manager and expert host, Gareth Ostick.
The Menu
Bread & Butter
West coast crab/BBQ red prawn/Wasabi/Yuzu
Torrones, Finca Los Primos, Argentina
Pork/sage/onion/apple
Mercurey rouge, Chateau de Santenay, France
Ébène Caviar/smoked haddock/white asparagus
Pinot Gris, Stopham Estate, England
Duck/hazelnut/plum/muscat
Barbera Sant'Andrea, Coppi, Italy
Gariguette strawberries/ sheep's milk/ herbs
Pink Moscato, Stella Bella, Australia
Chocolate/espresso/raspberry
Recioto della Valpolicella, Tesauro, Italy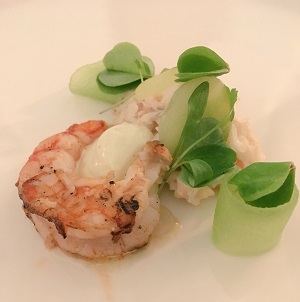 The menu, in words at least, is refreshingly uncomplicated (reflecting, I suspect, the no-nonsense nature of both our chefs) but the plates that arrived, were far from simple or in any way ordinary. Our tastebuds were excited by an onslaught of flavours; from the wasabi and yuzu hit that followed the tasty BBQ prawn and crab, to the delicious plum and hazelnut match-made-in-heaven with the perfectly pink, succulent duck.

These two dishes delighted us all (that's me, my dinner partner and the other lovely guests sharing a very special table in the prep room next to the kitchen) a makeshift chef's table that was informal, friendly and fun.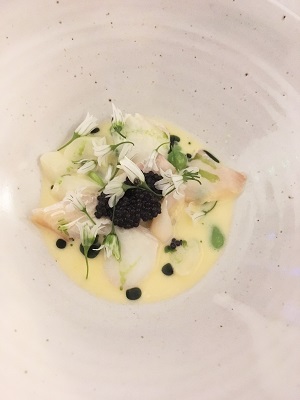 For me, the Ébène Caviar, smoked haddock and white asparagus satisfied my artistic eye as well as my lucky taste buds; smoky, salty and with just a hint of garlic from the prettiest wild garlic flowers. This was superb.
The Gariguette strawberries packed a sweet punch, complementing the sheep's milk cream and fresh herbs beautifully. Our empty bowls showing pretty unanimous appreciation. Who could fit in another dessert? It would be rude not to and, as it was described as a 'take on Tiramisu', it had already piqued my interest as an Italian with lust for coffee. It was an altogether richer experience (perhaps too rich for some of my new friends) but the espresso ice-cream was really something else!
A perfect foil to the rich mascarpone covered in chocolate, accompanied by a very pleasing crunch from the biscotti with fresh raspberries, adding a bright sharpness to the mix.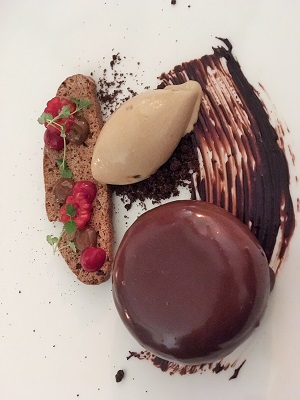 For those familiar with Simon and Tom's style (guesses abounded around the table - all adding to the fun) it may come as no surprise to hear that Simon was our meat chef for the night and Tom the creator of the fish dishes. Phew – thank goodness I'd backed the home team all along and only been swayed by the new take on Tiramisu. Note to Simon (I LOVED all your dishes) and will be heading to Wood very soon (and spreading the word) but I do lean towards fish dishes and tonight was Tom and the White Swan's.
I know that upcoming dining events at the White Swan are already sold out (you could give them a call for any late availability). I do recommend you keep your eyes peeled for similar in the future – they're wonderful foodie treats. But you don't need an event or even an excuse to enjoy Tom's cooking – just head to this lovely village pub (only minutes from the M65) for one of the most inspiring Lancashire menus around and to support one of Lancashire's rising-star chefs.
You'll find more Lancashire chefs at visitlancashire.com/taste as well as producers, events, gourmet breaks and lots of goodies for the gourmand or foodie to enjoy on these dedicated food & drink pages.
Visit Lancashire #Wherelifetastesgood
Related
0 Comments