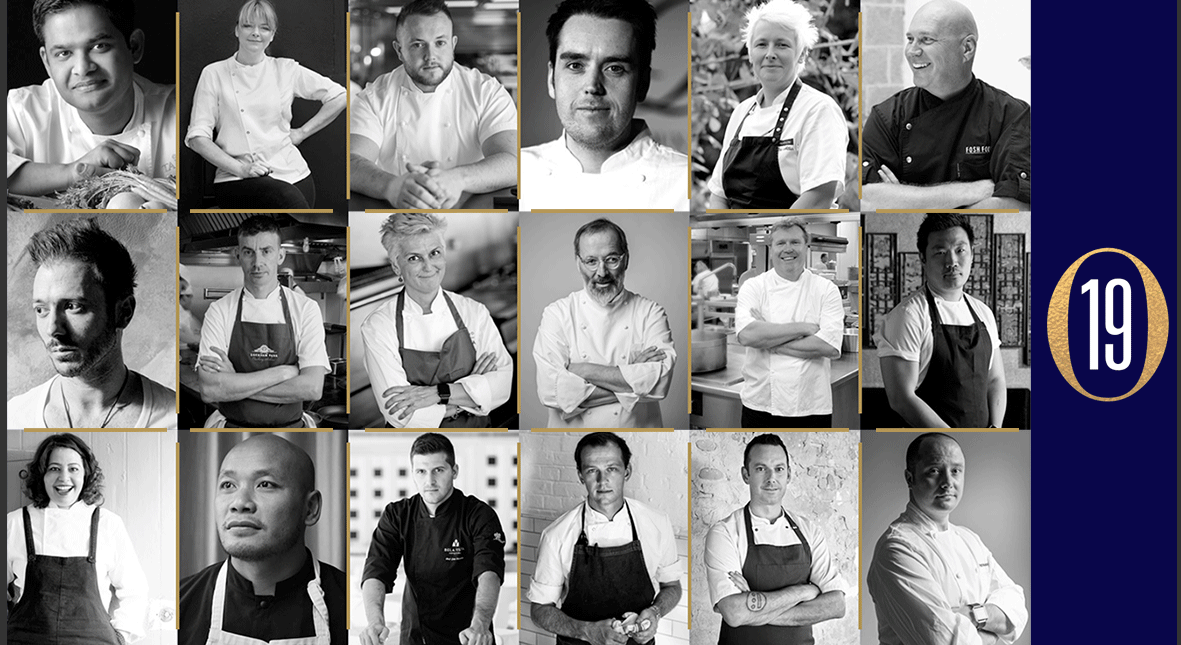 Friday 18th January marks the first night of Obsession 19 - Northcote's annual gastronomic food festival, which runs until 3rd February.
Taking place over 17 nights, the culinary event once again sees a fantastic line up of chefs flying in from across the globe to cook at Northcote, one the UK's most treasured hotels. Kicking of the 19th year of the festival is Northcote's Executive Chef Lisa Goodwin-Allen.
Chefs cooking at Obsession 19 include Norbert Niederkofler from the three-Michelin-starred Restaurant St Hubertus in San Cassiano in Badia, Italy, Marc Fosh from his eponymous, Michelin-starred restaurant in Palma, Majorca, former Noma chef de cuisine and Matt Orlando, who has recently opened Amass in Copenhagen.
Guest chefs from the UK include 2018 Michelin Young European Chef Niall Keating of Whatley Manor in Malmesbury, Wiltshire, and leading London lights James Lowe of Lyle's in Shoreditch, Andrew Wong from A Wong in Pimlico, and Ollie Dabbous of Hide, which was recently awarded a Michelin star.
Northcote executive chef Lisa Goodwin-Allen, who will be cooking on two separate evenings, took over the kitchens at the one-Michelin-starred, four-AA-rosette property when Nigel Haworth left the business a year ago and transferred to the role of chef ambassador. Nigel Haworth will close the festival with a guest appearance on Sunday, 3 February.
Obsession was launched in 2001 by Nigel Haworth and Craig Bancroft as a celebration of great food and wine and to introduce guests of Northcote to acclaimed chefs from overseas as well as the UK's most shining stars. Since its early years, it has grown in size and stature but the ethos has remained the same with the team at Northcote looking to offer guests an extraordinary culinary experience delivered by the world's most innovative chefs.
Guests attending Obsession 2019 will enjoy a Louis Roederer Brut Premier Champagne reception and will have the option of including a wine flight with their dinner. Managing director Craig Bancroft, ranked 10th in Harpers Wine & Spirit Hot 50 2018, and his team meticulously choose wines from Northcote's extensive cellar featuring revered winegrowing regions to pair with the unique flavours and ingredients of each course each night to enhance the dining experience.
Headline sponsor for Obsession 2019 is Wedgwood, main kitchen sponsor is Electrolux, Chef's Table sponsor is Gaggenau, travel sponsor is Gold Medal Pure Luxury and film & chef jacket sponsor is Wellocks. Additional sponsors are Bragard, Churchill, Total Food Service, Porsche, Wright Wine, Griffith Foods, Leonard Dews, Belu, Riedel, Louis Roederer, Petrossian Caviar & The Wright Wine Company.
For more information visit www.northcote.com/obsession19.
Obsession 19 includes the following chefs:
* Friday, 18 January – Lisa Goodwin-Allen, executive chef, Northcote, Langho, Lancashire (one Michelin star)
* Saturday, 19 January – Norbert Niederkofler, Restaurant St Hubertus, San Cassiano, Badia, Italy (three Michelin stars)
* Sunday, 20 January - Ian Scaramuzza, In Situ, San Francisco, California (one Michelin star, 2015 Roux Scholar)
* Monday, 21 January – Ollie Dabbous, Hide, Mayfair, London (one Michelin star)
* Tuesday, 22 January – Cristina Bowerman, Glass Hostaria, Rome, Italy (one Michelin star)
* Wednesday, 23 January – Marc Fosh, Restaurant Marc Fosh, Palma, Majorca (one Michelin star)
* Thursday, 24 January – Srijith Gopinath, Taj Campton Place, San Francisco, California (one Michelin star)
* Friday, 25 January – James Lowe, Lyle's, Shoreditch, London (one Michelin star)
* Saturday, 26 January – Hywel Jones, Restaurant Hywel Jones, Lucknam Park, Colerne, Wiltshire (one Michelin star)
* Monday, 28 January – João Oliveira, Vista, Praia da Rocha, Algarve, Portugal (one Michelin star)
* Tuesday, 29 January – Niall Keating, Whatley Manor, Malmesbury, Wiltshire (one Michelin star)
* Wednesday, 30 January – Andrew Wong, Restaurant A Wong, Pimlico, London (one Michelin star)
* Thursday, 31 January – Lisa Goodwin-Allen, Northcote (one Michelin star), Romy Gill MBE, Romy's Kitchen, Thornbury, Bristol, and Marianne Lumb (Central Region Great British Menu 2018 and formerly of Marianne Restaurant, London)
* Friday, 1 February – Sayan Isaksson, Esperanto, Stockholm, Sweden (one Michelin star)
* Saturday, 2 February – Matt Orlando, Amass, Copenhagen, Denmark
* Sunday, 3 February – Nigel Haworth, chef ambassador, Northcote, Langho, Lancashire (one Michelin star)
Related
0 Comments