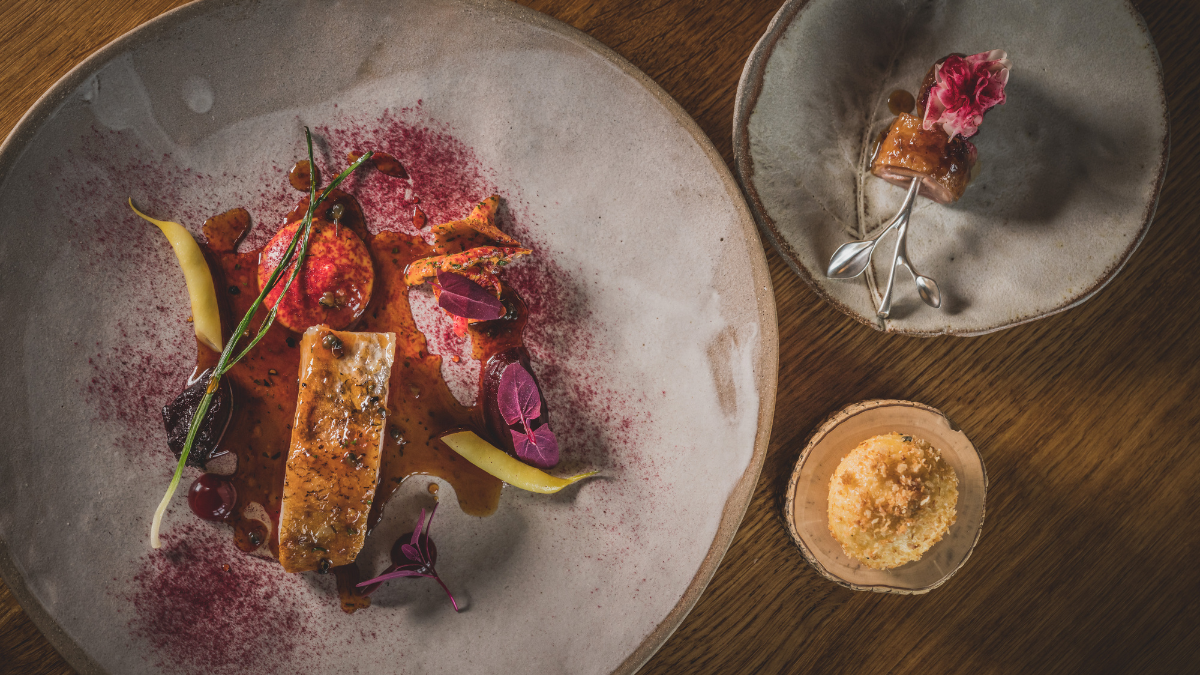 If you are looking for somewhere special to eat out, why not take a visit to Lancashire. Home to many multi-award-winning restaurants, Lancashire has a great collection of fine dining opportunities ensuring delicious food, friendly service, and stunning settings.
We've put together a list of the award-winning places to eat in Lancashire, making it easier than ever for you to plan your next trip…
National Restaurant Awards 2022 – Best Restaurant in England (1), MICHELIN Starred restaurants- 2 MICHELIN stars, MICHELIN Green Star, Harden's top 100 (77) Square Meal Top 100 Restaurants 2023 (7) Lancashire Tourism Awards 2021 – Restaurant of the year
Moor Hall is a grade 2 listed gentry and one of the most important listed buildings in the UK. Located in Aughton, West Lancashire Moor Hall is set in five acres of breath-taking gardens with views over a beautiful lake. Talented chef patron, Mark Birchall, creates delicate, produce driven menus inspired by the exceptional surroundings and home-grown ingredients, showcasing his own style of modern British cuisine.
To discover more about Moor Hall click here.
MICHELIN Guide, MICHELIN starred restaurants – 1 MICHELIN star
Sōlō is award-winning acclaimed chef Tim Allen's first truly solo venture. Located in the village of Aughton in West Lancashire, Sōlō serves an informal modern British menu, reflecting Allen's classical training and international influences.
To learn more about Sōlō click here
MICHELLIN starred restaurants – 1 MICHELIN star, Square meal Top 100 Restaurants 2023 (21)
Experience fine dining with real Northern hospitality at Northcote. Nestled into the Ribble Valley hills, a warm, true northern welcome to a food-lovers' paradise. At the heart of the charming country house is the elegant Michelin star restaurant with exquisite culinary delights created by award-winning Executive Chef Lisa Goodwin-Allen. Sophisticated surroundings and garden views connect dishes to the landscapes they originate from, with an exciting wine list to complement the creations.
To discover more about Northcote click here
MICHELIN starred restaurants, - 1 MICHELIN star, Top 50 Gastropubs 2023 (7)
Nestled in the Pendle Countryside, with no standard menus in sight, The White Swan at Fence's daily changing menu details a selection of finely crafted dishes from locally sourced produce. The traditional pub décor boasts a relaxed, welcoming atmosphere and serves a great selection of Timothy Taylor cask ales. Head Chef Tom Parker brings a passion for good British food, cooking with the finest seasonal ingredients available daily from local suppliers.
To discover more about The White Swan at Fence click here
MICHELIN starred restaurants – 1 MICHELIN star
Located in the grounds of Moor Hall this lovingly restored barn is a charming, rustic setting packed full of character and with fantastic views of Moor Hall and the lake. Dishes are made with the finest seasonal ingredients, mostly sourced from Moor Hall's five-acre landscape or the local area. Offering a delicious and varied menu, The Barn showcases the best of seasonal dishes, as well as a great selection of wines, beverages and children's menus.
To discover more about The Barn at Moor Hall click here
Twelve Restaurant and Lounge bar
MICHELIN Bib Gourmand Award,
Chic and contemporary with a modern British menu, Twelve Restaurant is located on the Fylde Coast in Lancashire beneath the sails of one of the tallest working windmills in Europe, the beautifully restored 18th century Marsh Mill at Thornton Cleveleys. The restaurant's close associations with local and specialist suppliers who share their passion and commitment, provides the perfect platform for the award-winning chefs to create inspiring menus that change daily. Their bold and innovative cooking using the best seasonal produce has brought it critical acclaim and numerous national awards.
To discover more about Twelve Restaurant and lounge bar click here
MICHELIN Guide,
Passionate about food, and creating a wonderful, memorable dining experience. Whether you are looking for a romantic meal for two or an evening catching up with family and friends, 263 Restaurant is perfect for all occasions. Chef Director, Oli Martin and Head Chef Rikki Hughes work hard to create beautiful, seasonal dishes to the highest standard.
To discover more about 263 click here
MICHELIN Guide
The Three Fishes is the heart of a very special farm-to-fork project by Nigel Haworth. Surrounded by some of the most beautiful countryside in the Ribble Valley, The Three Fishes offers exceptional hospitality to all who walk through the doors. Dishes range from contemporary to classic British, showcasing the exceptional ingredients of Lancashire and the best of global cookery. The​​​​​ aim is to deliver truly exceptional dishes, with zero waste a top priority. Only the best regional and national artisan producers are chosen, who share the passion for an organic, sustainable future.
To discover more about The Three Fishes click here

MICHELIN Guide,
At the heart of Lancashire's Fylde countryside, the riverside location of The Cartford Inn boasts spectacular views of the peaceful riverscape and the dramatic Bowland fells beyond. Serving some of the region's best food and drink in one of the uniquely styled dining areas. The Cartford Inn is noted for its individuality and contemporary rural-chic style. The menu showcases the best produce from across Lancashire, including meat from nearby farms and fish landed at Fleetwood docks. Ingredients are prepared skilfully and sensitively to create favourite British dishes along with more adventurous cooking.
To discover more about The Cartford Inn click here
The Parkers arms
Square meal Top 100 Restaurants 2023 (29), Top 50 Gastropubs 2023 (1)
The Parkers Arms prides itself in serving excellent award-winning modern British classics using the finest regional produce in a very special way, an eclectic selected wine list, real ales and dining rooms with views.
Top 50 gastropubs 2023 (3), MICHELIN Guide
Set in this quaint Ribble Valley village, Freemasons at Wiswell provides a slice of country refinement with a twist of contemporary creativity and flair. The aim is to provide the ultimate gastronomic experience in a stylish pub setting that feels as relaxed as your own front room. With a commitment to excellence in every aspect of operation, the team is dedicated to achieving impressive and consistent results using the finest seasonal ingredients available.
To discover more about the Freemasons at Wiswell click here
Top 50 Gastropubs 2023 (56)
Boasting a traditional informal pub atmosphere with some modern tasteful touches, the inn now offers excellent food and seven beautifully appointed and individually furnished bedrooms. The Higher Buck takes a lot of care in the sourcing and preparation of food. Much of it is produced locally and the philosophy is to cook good, honest dishes.
Related
0 Comments