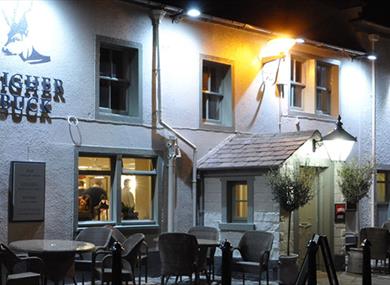 The Higher Buck, previously known as The Buck in the Vine in the 19th century, occupies a prominent position in the middle of Waddington in the Ribble Valley.

Boasting a traditional informal pub atmosphere with some modern tasteful touches, the inn now offers excellent food and seven beautifully appointed and individually furnished bedrooms. Whether you just want a drink, a snack or a great meal, you can be sure you'll get a hearty welcome.

The Higher Buck takes a lot of care in the sourcing and preparation of food. Much of it is produced locally and the philosophy is to cook good, honest dishes. They make no apologies that they are a pub and you'll find some fine local ales as well as an impressive wine list in the cosy bar.

Snuggle up close to the roaring log fire in the winter, and if the weather turns warmer, why not take a table outside and feast on the tranquil views over the village and the stream.
Reviews