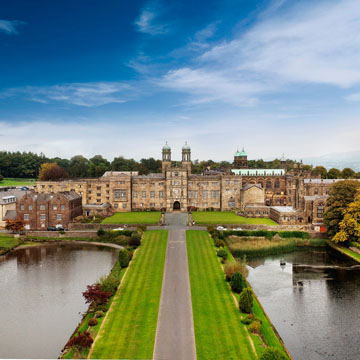 Lancashire really is a county of diversity and the history, as you would expect, is no different.
One minute you might be exploring the exquisite Elizabethan Gawthorpe Hall, with its period rooms and nationally important Gawthorpe Textile collection, then the next you could be surrounded by the oldest museum collection in the English-speaking world at The Old Chapel Museum at Stonyhurst College. Or maybe you'll find yourself in the world's only surviving steam driven weaving shed of Queen Street Mill in Burnley – Lancashire really has it all.
Providing an insight into the rich history of this maritime seaside town, Fleetwood Museum provides and insight into not only the lives of the people and town but also collections on Salt Mining, Deep Sea Trawling and the local chemical industry.
It is also home to the mightily impressive Harriet, one of the few remaining fishing smacks. Now featuring on the National Historic Ships register, along with the Cutty Sark and Mary Rose, this ship has had an exciting past including being used in 1994 for BBC's Challenge Anneka!
Join in the celebrations with 125 years of Preston's Harris Museum and Art Gallery. Victorian founder, Edmund Harris's vision for the museum still stands true today, as a place to focus on culture, arts and learning in the heart of the bustling city.
The free to enter attraction still provides something for all walks of life and ages. A real treasure trove of fine art, artefacts, photography, costume, textiles and thought-provoking temporary exhibitions as well as a packed event programme all year round including regular talks, tours and engaging workshops.
A historic house set in 445 acres of beautiful parkland, Towneley Hall provides all the ingredients for a wonderful day out. Explore the museum's fascinating collection including natural history, Egyptology, Whalley Abbey Vestments and the famous Towneley Bear. In the house itself, explore period rooms and the art gallery.
If you like the sound of Towneley's Bear a visit to The Whitaker might be right up your street. Their extensive Victorian natural history collection includes a range of specimens including an interesting altercation between a tiger and a snake. Alternatively take a stroll through their stunning gardens, enjoy the art gallery or simply indulge in coffee and cake.
So, whether it is traditional historic houses, rare cotton and wool mills or the oldest museum in the English-speaking world – Lancashire has it all.
Related
0 Comments