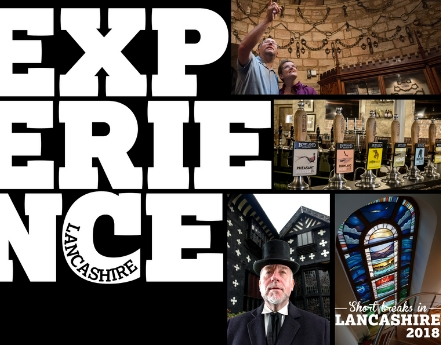 A visit to Lancashire offers the opportunity to learn something new. Discover a new talent or re-ignite an old with hands on experiences and courses, or simply view Lancashire from another angle by foot, canal boat or steam train.

Lancashire Tours
Discover what makes Lancashire truly unique with dedicated tours and sightseeing guides. What better way to get to know Lancashire than by letting someone show you, with a wide range of specialities and interests, tours can be guided on foot, on coaches, in cars, on boats and trains.

Canal Boat Cruises
A fun, unique, multi award-winning family owned canal boat company that provide a variety of boating experiences throughout the year, whether you want to sit back and relax or have a go at steering the boat yourself.

Literary Lancaster Walking Tour
Written by Penny Bradshaw, Senior Lecturer of English Literature at University of Cumbria, the Literary Lancaster two and a half mile walking tour takes you on a literary journey via eight key locations and gives you the opportunity to dip into a range of texts which have been inspired by the ancient city.

Top Hat Tours
The Ribble Valley has mystical legends and Simon Entwistle, dressed in his authentic Victorian costume, will be delighted to recount some of his favourites as he accompanies you on his guided walks exploring the haunted ginnels, cobbled streets and burial grounds in Clitheroe, Whalley, Blackburn, Accrington, Colne, Skipton, York and Kendal.

Peter Wade Guided Tours
Bringing to life the history of Lancashire, Peter Wade offers guided tours of many of Lancashire's historic towns and villages. Learn more about the seaside town of Morecambe, with fascinating walks across Morecambe Bay and insight into Morecambe's Art Deco Past.

The East Lancashire Railway's 'Rail Ale Trail'
Take a walk on the 'mild side' on a professionally guided Rail Ale Trail. Guided tours offer you the opportunity to enjoy locally brewed ales whilst taking in scenic views through the lush Irwell Valley.
"We thoroughly enjoyed the Rail Ale Trail; the guide was fantastic and knew a lot about real ale and the pubs around the train stops. The ales were great, and we even got to visit a working brewery. Our favourite bit though definitely had to be travelling around by steam train, it definitely made the whole experience something special." Beth, Chorley
Food and Drink Experiences
Immerse yourself in a food and drink experience in Lancashire. Whether it's a themed cookery course, artisan bread making, a cocktail masterclass or a brewery tour, we've got a host of experiences to try and new skills to learn. All taught and led by Lancashire's finest craftsmen, chefs, teachers and experts.

Northcote Cookery School
One of the UK's top culinary schools, this institution offers a variety of culinary courses, from skills and techniques; entertaining; themed classes; and premium master classes, with a choice of half days and full days.

Lancashire Wine School
Fun and informative, the Lancashire Wine School offers a variety of tasting experiences and workshops throughout the country, not just for wine but for gin and beer too.

Bowland Brewery Tours
Passionate about what they do, Bowland Brewery love to share their enthusiasm by providing a chance to see a fully operational brewery and learn some of the secrets to making a great craft beer.

Choc Amor
A world award-winning, Lancashire based manufacturer of fiendishly good chocolate. Courses provide an enthusiastic introduction to the company, followed either by a demonstration and the chance to make your own chocolate or a full tasting course, depending on the option chosen.
Arts and Craft
Lancashire is full of colourful and creative attractions and activities. Whether you are looking to view or create, there are lots of places for art enthusiasts to let their inventiveness and imagination flow.

Glasform by John Ditchfield
Experience an ancient craft with an hour's taster lesson with a visiting glassblower. Learn how to use the tools, gather from the furnace, add colour and shape your piece, and if successful take home your creation the next day once it has cooled.

Pilling Pottery
A real working pottery, Pilling Pottery has a range of classes to help guide attendees through the pottery process from start to finish, whether it's learning the potters' wheel or just painting an already crafted creation.

Lightworks Stained Glass
From their studio at the heart of the beautiful Ribble Valley, Lightworks Stained Glass offer an informal and highly enjoyable practical introduction to the ancient craft of stained glass. Learn all the principal techniques and take home your very own masterpiece.
"The day has been a revelation and reignited that love of creating that genuinely makes me feel great. If you've ever wanted to try your hand at creating stained glass I can't recommend this one-day course enough. I'll certainly be back for more." Anna, Blackburn with Darwen
Related
0 Comments