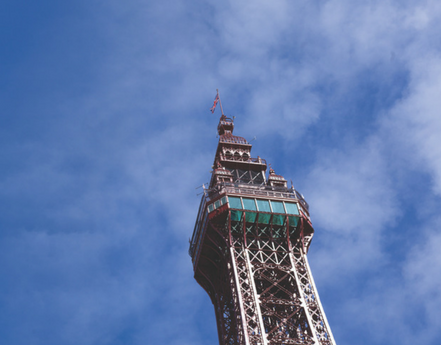 Lancashire is the perfect place to tick some things off your Bucket (and Spade) list. We have put together just some of the experiences and hidden gems waiting for you to discover.
Afternoon Tea at Blackpool Tower Ballroom
Experience a true Blackpool institution, dance away to the sounds of the Wurlitzer amidst this spectacular setting, these sit down to enjoy a delicious afternoon tea.
Ride the UKs first ever double launch rollercoaster
It is fast. Very fast. The question is; are you brave enough to ride ICON, the new £16m ride at Blackpool Pleasure Beach.
Climb Pendle Hill
With its summit 557 meters above sea level, this iconic landmark offers an exhilarating climb with stunning views across Lancashire.
Dine at a Michelin Star restaurant
Choose from three Michelin-Starred restaurants in Lancashire; Moor Hall Restaurant with Rooms (2 stars), The White Swan at Fence (1 stars) and Northcote who have held their 1 star for over 20 years.
Complete the Nicky Nook challenge (10th May 2019)
Part of Festival of Bowland, this tramper trek attempts to go where never dreamed possible, up Nicky Nook – walkers are also welcome.

Travel the length of Blackpool Illuminations
The world famous spectacle that everyone should see at least once. Describe as the greatest free light show on earth has been part of Blackpool's attraction since 1879.
Learn how cheese is made
Founded in 1957, Dewlay Cheesemakers have earned a reputation for producing the very best range of Lancashire cheese available, pay them a visit and watch their cheese being produced.
Visit the centre of Great Britain
Dunsop Bridge Village is the exact geographic centre of Great Britain, the perfect place to start, rest of finish a walk in the surrounding countryside.
Climb to the top of Blackpool Tower
A visit to Blackpool is not complete without a trip up to the top of the 518ft high tower. Once at the top, dare yourself to walk on the breath-taking SkyWalk with views across the resort.
Be a beekeeper
Enter the incredible world of the honeybee with an experienced beekeeper, put on a beekeeping suit and get to see the hives and bees up close with The Bee Centre at Samlesbury Hall.
Jump from a plane
Get an adrenalin rush like no other with a tandem jump from 15000ft, the official highest Skydive in the UK today at Black Knights Parachute Centre.
Visit the Duchy of Lancaster's castle
Enriched with dark history, Lancaster Castle, has been the scene of notable trials, scores of executions and has housed prisoners of various categories until as recently as 2011.
Learn to cook from the very best
The Northcote Cookery School is one of the UK's top culinary schools offering inspirational cookery courses from the heart of Northcote's Michelin Star kitchen.
Ride a trials bike with Inch Perfect Trials
Perfect for adrenalin enthusiasts, this thrilling and challenging experience is delivered by professional trials riders in 100 acres of stunning and rugged countryside – perfect for exploring on bike.
Zookeeper for the day - Blackpool Zoo
A once in a lifetime opportunity to get up close and personal with some of the zoos most popular residents including Asian elephants, penguins and giant tortoises.
Related
0 Comments