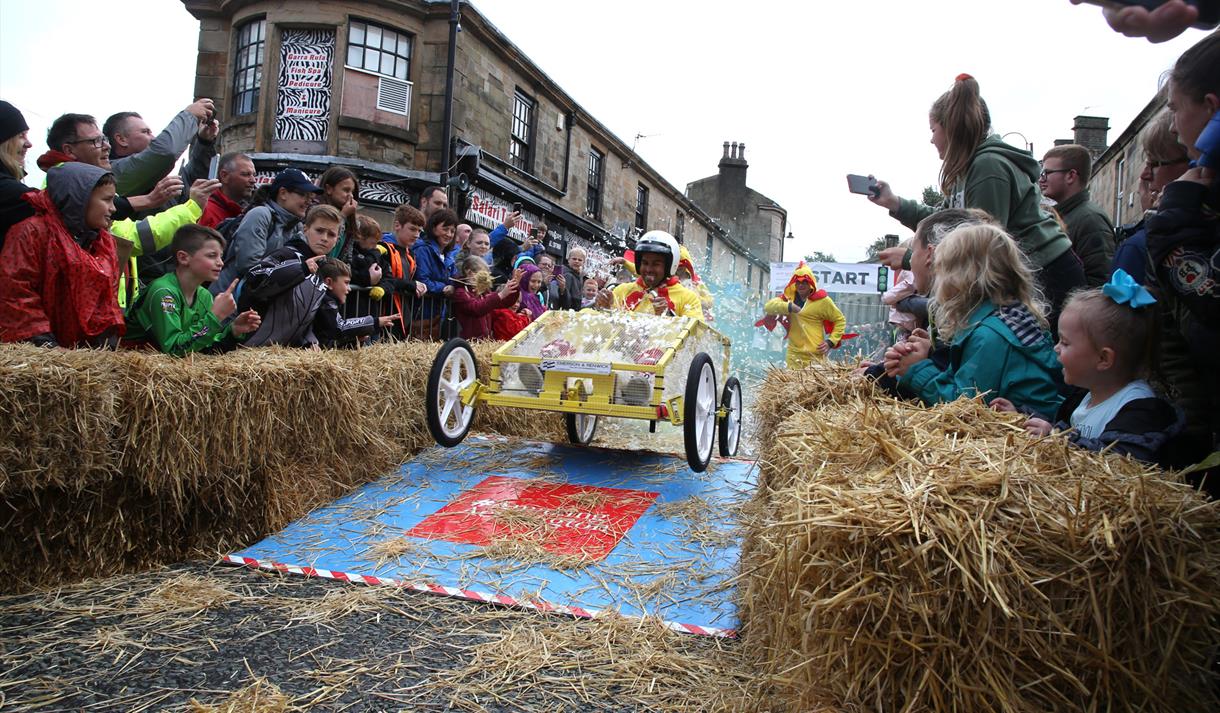 Bank holiday weekend is nearly here, and where better to spend it than at one of Lancashire's wonderful events. There's lots of exciting events returning including the iconic World Gravy Wrestling Championships, the #AmazingAccrington SoapBox Challenge and much more.
World Gravy Wrestling Championships
Rossendale
The World Gravy Wrestling Championships are back this bank holiday weekend! Without a doubt this is one of the World's craziest culinary competitions. A wild and whacky wrestling competition in a pool full of Lancashire Gravy! Contestants must wrestle in the Gravy for 2 minutes, Points are scored for fancy dress, comedy effect, entertainment and oh! yes, wrestling ability.
#AmazingAccrington Soapbox Challenge 2022
Accrington Town Square
The popular Soapbox Challenge will return for the delight of the onlookers in Accrington town centre this Saturday. 'Soapbox cars' were historically made from wooden soap crates, but materials have become more varied since the first publicly recorded Soapbox race in 1904! Competitos will be challenged to create a four-wheeled non-motorised Soapbox vehicle, using only gravity for fuel and speed.
Art Workshops with Kerry Newell
WWT Martin Mere, Ormskirk
Kerry's workshops cater for all artistic abilities, even if you feel you have none! Beginner or more advanced, you will be pleasantly surprised at just how much can be achieved in one day.
Big Machines
Thornton Hall Country Park
Big Machines is back this August bank holiday at Thornton Hall County Park. With big machines on display, including tractors, bulldozers, 20+ ton machines and lots more, it makes a great day out for all the family. Have a walk around and get up close to see the big machines in all their glory.
Lancaster Grand Theatre Ghost Hunt
Lancaster Grand Theatre, Lancaster
The hauntings of the Grand Theatre in Lancaster have been a source of intrigue to people for generations, with several past performers believed to reside here. Ghost hunts at the Lancaster Grand Theatre is paranormal investigation at its finest. Whether you're an experience paranormal investigator or a beginner, Lancaster Grand Theatre is an absolute must!
Lytham World Food & Drink Festival 2022
Lowther Pavilion
Head to Lowther Pavilion this bank holiday weekend as an incredible selection of mouth watering and thirst-quenching vendors take over the gardens. This free event will host a variety of stalls including the creative crafts marquee and lots of free family entertainment.
The Great British Rhythm & Blues Festival
Colne
The Great British Rhythm & Blues Festival, Britain's largest and longest running event of its kind, is back with a bang! This beautiful town is an ideal location for an event of this kind, with one long 'main' street (closed to traffic) which hosts on-street entertainment, busking, incredible food stalls, bars and more.
Performance Art at The Whitaker
The Whitaker, Rossendale
Discover the story of migration through the journey of the pear in a day of performance art, spoken word and happenings at The Whitaker.
Superhero Saturday and the Mighty "Little Cod Club" FREE EVENT
Affinity Lancashire
Head to Affinity Lancashire this bank holiday for Superhero Saturday and the Mighty Little Cod Club as you get the chance to meet your favourite movie heroes as they protect the centre over the Bank Holiday Weekend. With performance, meet and greets, and lots of selfie opportunities available, it's great fun. There's even a popular free Affinity Mini Golf that is returning to the main square.
Whalley Monthly Artisan Market
Whalley town centre
Shop Local this weekend as Crafty Vintage's monthly artisan market returns to Whalley bringing together art, design, fashion, vintage and more from over 35 local North West based businesses.
Bee day!
Judges' Lodgings Museum, Lancaster
Bee inspired as you inside a real hive and ask the experts in the beautiful garden at the Judges' Lodgings Museum. Meet the bees, learn how to help them in your garden and you can even make your own candle out of real bees wax, taste the honey and join in crafts and games.
Ormskirk Bank Holiday weekend
Ormskirk Town Centre
Ormskirk town centre is hosting the very first Ormskirk Bank Holiday Festival this Sunday. You will find food & drink stalls, artisan offerings, family entertainment and live music at this free family event.
Related
0 Comments