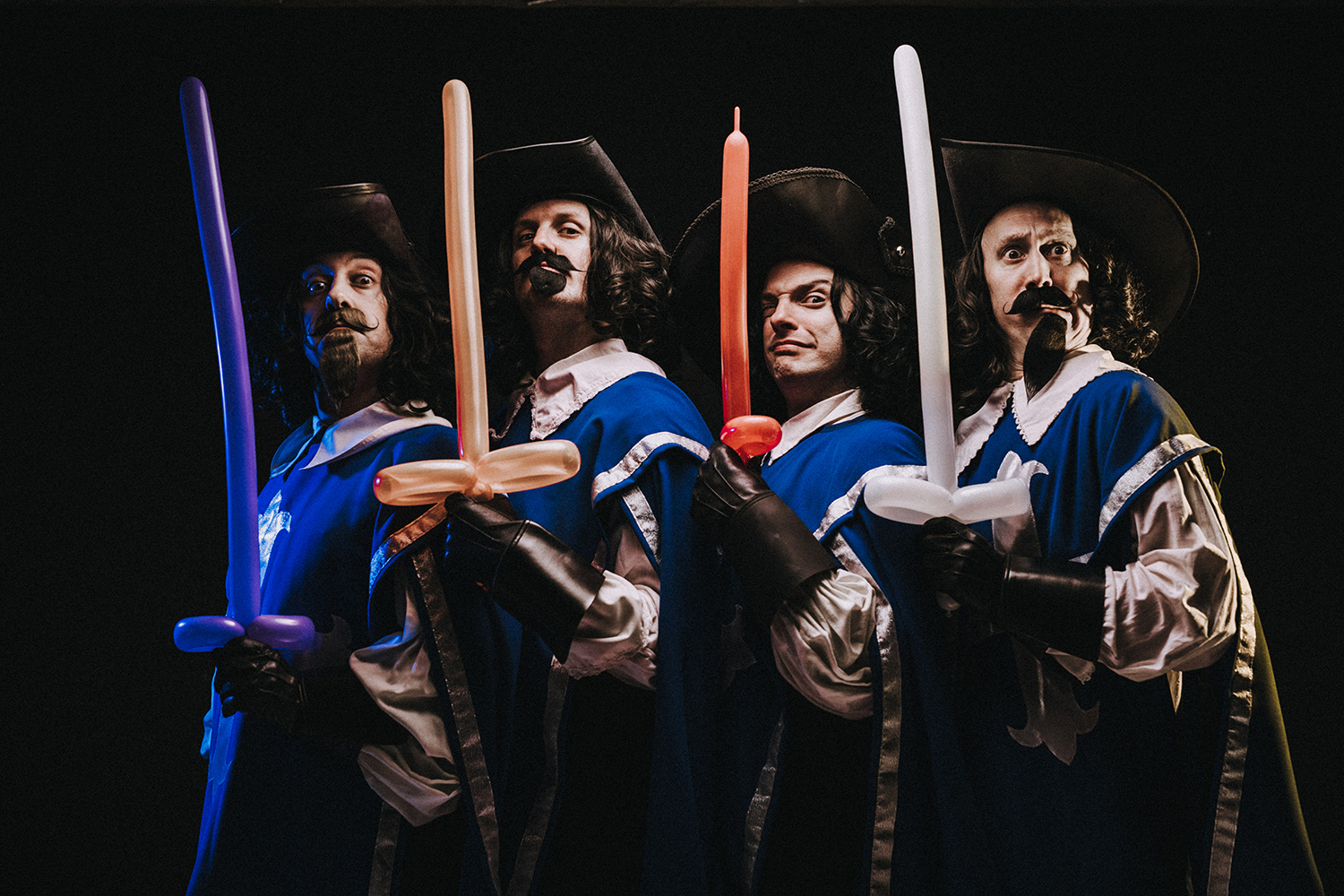 Photo credit Matt Austin
The award-winning Le Navet Bete are at The Dukes 9-11 September with their smash-hit show The Three Musketeers: A Comedy Adventure.
Performed with just a cast of four in their own inimitable style, the company take on 40 characters, 50 different outfits and 112 costume changes as Alexandre Dumas' 700-page historical classic is condensed in to two hours of mayhem and madness.
Featuring hilarious heroics, raucous romances and some bonkers fun with BMX bikes, this comic reimagining is all for one and every man for himself. Published and licensed worldwide by Nick Hern Books in 2019, the show is the company's second co-production with the Exeter Northcott Theatre and fifth collaboration with one of UK theatre's leading comedy directors and writers John Nicholson. Bristol based John is Artistic Director of the award-winning Peepolykus (The Hound of the Baskervilles, The Massive Tragedy of Madame Bovary) and has previously written for BBC Radio 4, ITV and Paramount. John is joined on the creative team by critically acclaimed set designer Ti Green (Touching the Void Bristol old Vic/national tour) and internationally renowned choreographer Lea Anderson MBE (The Cholmondeleys and The Featherstonehaughs) as Movement and Co-Director. Underpinning the work of John, Lea and Ti is a thrilling original score by composer Peter Coyte and a veritable feast of costumes created by Devon based costume designer Fi Russell. Al Dunn, co-artistic director of Le Navet Bete said: 'This is a Musketeers unlike any other. It has all the elements of an epic story that we have turned inside out and put our chaotic comic spin on to make the show bursts off the stage – literally!
Related
0 Comments