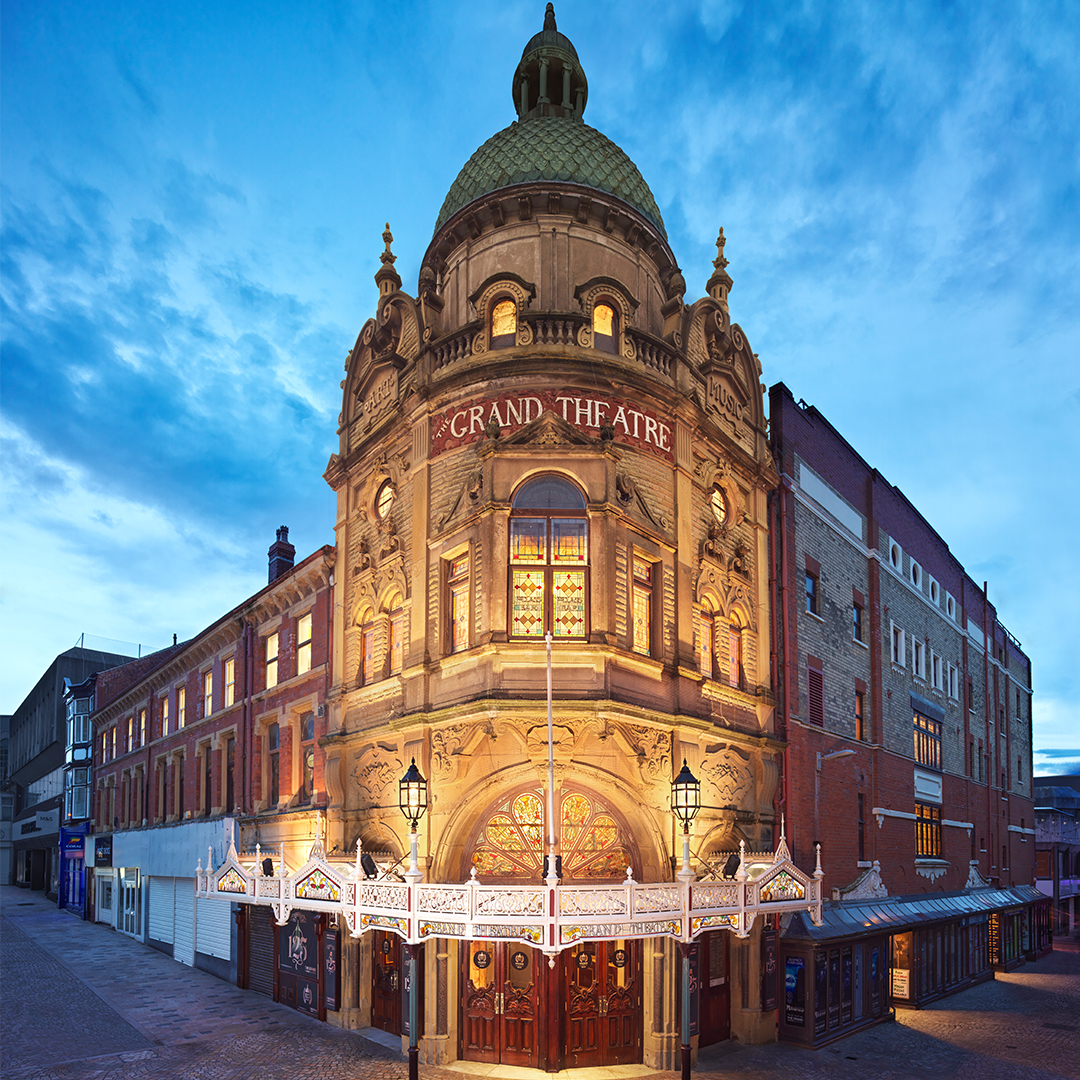 This Grand season is packed with a diverse selection of productions and returning favourites from high quality drama and comedy to outstanding dance and former West End sell out shows.
Ruth Eastwood, Grand Theatre Chief Executive said: "For each season, we always pride ourselves on creating a really packed programme that is a perfect blend of theatrical tastes, music genres and even gritty dramas that will ensure we have a show to appeal to everyone, right down to our very youngest theatre fans.
"We are really proud of the line-up of events, from the one night only shows, right through to touring performances and I personally can't wait to see our doors open once more and the iconic theatre brought back to life."
For 2021/22 the season will launch with something for the little ones with the world's most famous fireman, Fireman Sam, taking to the stage for an all singing, all dancing, action packed show which is the perfect way to end the school holidays.
Ruth added: "After Fireman Sam re-opens the Blackpool Grand, we head straight into musical performances from the UK's longest running concert tour, Beyond the Barricade and The Rolling Stones Story before we welcome our first celebrity back to the stage in the form or Alan Carr who is back on the road with a brand-new stand-up show 'Regional Trinket'.
"The acclaimed The Woman In Black, which celebrates three years on the West End, makes its way to haunt people at the Blackpool Grand Theatre in September. Not for the faint hearted, this dark, gripping production, directed by Robin Herford, is a brilliantly successful study in atmosphere, illusion, and controlled horror that is certainly set to haunt its audiences and we can't wait for opening night to see the audience reaction.
"Add to that an incredible line up of stand-up comedy including Frank Skinner, Rob Beckett and Jason Manford, dance productions with shows such as the Russian State Ballet of Siberia's Swan Lake, Romeo & Juliet and The Nutcracker, opera including Bizet Carmen and Puccini's Madama Butterfly; not forgetting incredible variety shows including the region's very own Britain's Got Talent finalist, Steve Royle and you won't be disappointed in this year's season."
One of the highlights is the return of the spectacular musical, Around the World in 80s Days.
The show is Blackpool Grand's very own production which is back at the iconic theatre for a second year following rave reviews before lockdown. A musical based on Jules Verne's acclaimed novel Around the World in 80 Days, it's one of the world's most popular stories, mixed with some of the best songs from the 80s.
One of the greatest adventure stories retold, you will meet 'Phil'eas Fogg, one of the most fabulous men on the London party seen. He has it all – the looks, the girls, the notoriety…. until disaster strikes and Daddy cuts him off from the family fortune!
Penniless and in a bid to regain his wealth, he accepts an outlandish bet – to travel the world in just 80 days! As he takes to boats, trains and even hot air balloons, this hilarious race against time performance is packed with toe tapping, clap your hands, stamp your feet and sing along music that will have you dancing at your seat!
From Carole King's Locomotion to the B-52's Loveshack and so many more iconic hits from the 80's, it will be a musical throwback bursting with energy on stage!
Personal appearances include Yorkshire Shepherdess Amanda Owen and BBC's Strictly Come Dancing Judge Craig Revel Horwood.
Finally, a theatre wouldn't be theatre if it didn't have a panto planned into the season and for 2021 those lovable dwarfs will return in the theatres very own production of Snow White and the Seven Dwarfs.
Joining them from the cobbles of Coronation Street, Vicky Entwistle is set to join the cast which sees her return to the shores of Blackpool 10-years after Vicky last performed at the iconic Blackpool Grand Theatre; and where she is reviving her former role as the Wicked Queen once again.
Vicky joins Grand Panto legend and Britain's Got Talent finalist, Steve Royle for his annual performance playing 'Muddles' and fantastic cast, including renowned dame, Jamie Steen as 'Nurse' and Chris Warner-Drake as 'Prince Frederick' in the most wicked of pantomimes produced by Martin Dodd of UK Productions.
Set to take panto season by storm, Snow White and the Seven Dwarfs has incredible sets and costumes and is jam-packed with laughs and family-interaction which really is one the family can't afford to miss!
Commenting on her return to the seaside resort, Vicky said: "It's been a decade since I last appeared at Blackpool Grand Theatre and I can't wait to take to the stage there once more! It's a simply stunning venue and the crowds always get into the true spirit of pantomime so after being off stage for so long now, I am really excited to be back and shouting 'Mirror, Mirror on the wall' in one of my all-time favourite pantomime villain roles."
Ruth added: "We are hoping that, as usual, the pantomime will attract huge family audiences and schools from far-and-wide as we promise to bring you a laugh-out-loud pantomime performance leaving you 'happy' not 'grumpy' at the end."
As we look into 2022, Blackpool Grand Theatre has planned an incredible end to the season including such highlights as Ed Byrne, Jason Manford, Rob Beckett and Julian Clary taking to the stage and musical performances from the world's most famous bagpipe band, The Red Hot Chilli Pipers. Must watch drama performances include Ian Kelsey who stars in The Rise and Fall of Little Voice, one of Britain's greatest modern plays which is set to embark on a UK tour next year.
Tributes to the greats this season include; Springsteen, Whitney Houston, Dolly Parton & Kenny Rogers, Elvis Presley, the Rolling Stones, the Bee Gees, Johnny Cash, Marty Wilde and musical genres spanning Motown, Country, R'n'B and classics from over the decades, there's something for all musical tastes.
This packed season firmly puts Blackpool's Grand Theatre ahead of the crowd and on track for an incredible season. New shows are continually added to the theatre's programme, so ensure you visit the website regularly at blackpoolgrand.co.uk, call the box office on 01253 290 190 or take a look at the Autumn/Winter 2021 programme here.
You can also keep up-to-date with what's on by following them on Twitter (@Grand_Theatre) or Facebook.
Related
0 Comments