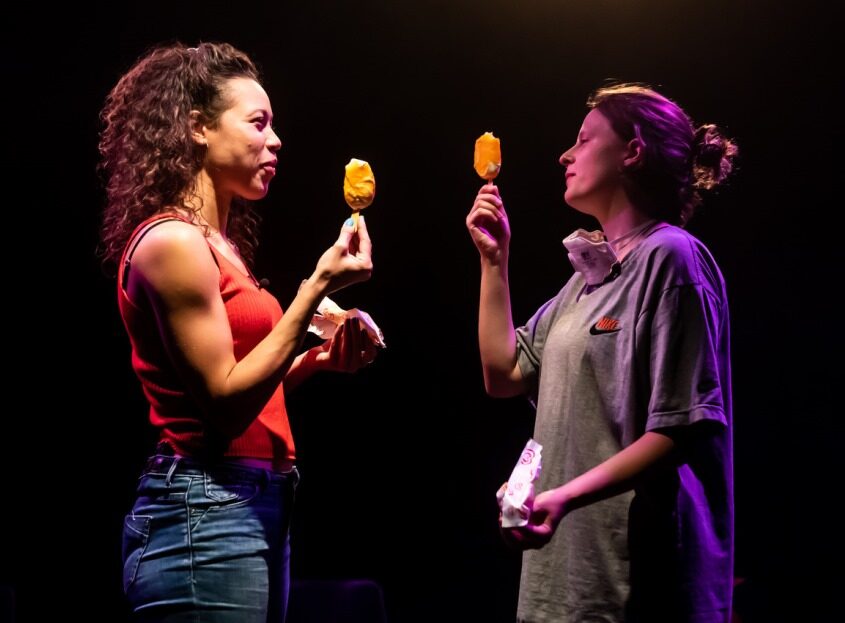 From her balcony, Marie blasts out the same tune, every day at 11am. On hers, Stella tends to red geraniums bursting with colour and life. Two tower blocks facing each other. Two women who are looking for something more.
After a chance encounter in a hailstorm, they start to embark on a new relationship conducted from the safety of their balconies. But when a flurry of miscommunication jeopardises their relationship, will they have the courage to make it work in a world that is changing faster than ever?
A production focused on isolation and connection, four-time Offie-nominated Sunnymead Court is written by Gemma Lawrence and directed by James Hillier.
Presented by Defibrillator Theatre in association with The Actors Centre, it celebrates small, seemingly insignificant moments of connection that in another time might have passed us by.
Told with humour and warmth with acute observation of the human psyche, there are two chances to see the show on 5 July at 7pm & 8.30pm at Moor Space, The Dukes' second site further up Moor Lane in Lancaster.
Tickets cost £10 and are on sale via The Dukes website at www.dukeslancaster.org/whats-on/theatre/sunnymead-court, with advanced booking required. As the café-bar remains closed for the time being, bookers can also pre-order refreshments when purchasing a ticket.
Bookers are encouraged to visit www.dukeslancaster.org/safety-measures to find full details of all safety measures and guidance.
Related
0 Comments