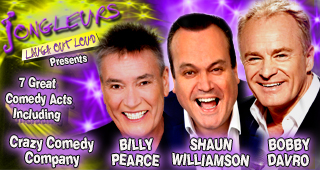 As Jongleurs Comedy Club prepares to announce their rescheduled UK On The Road Shows, following a postponement of a relaunch earlier, this Bank Holiday weekend (30 & 31 May) will see Blackpool Opera House re-open for a night of laughter with Jongleurs "Laugh out loud", featuring the unique four handed team "Crazy Comedy Company" from comedy producer Jon Conway.
In the first show at the Blackpool Opera House following the most recent lockdown restrictions, Laugh out Loud will play to a socially distanced capacity of 850. The much needed laugh- fest will be hosted by 'Extras' star and quiz king Shaun 'Barry' Williamson pesenting with comedy legends Bobby Davro and Billy Pearce along with new faces from the comedy circuit the unique 'Crazy Comedy Company' featuring Jordan Conway, Matt Knight and Joel and Romy Hatton.
Kev Orkian owner of Jongleurs" We are delighted to be working with my friend and mentor Jon Conway to present Laugh out Loud as the first show to play at the iconic Blackpool Opera House since last year. It's been a terrible time for many and a little, or lot, of laughter is just the tonic to celebrate the easing of restrictions"
Comedy Producer Jon Conway said " I'm excited to present my friends and comedy greats Bobby Davro and Billy Pearce as headliners at Blackpool Opera House and to be working alongside the newly revitalized Jongleurs brand"
Tickets are on sale at www.wintergardensblackpool.co.uk book now for a night guaranteed to have you rolling in the aisles.
Related
0 Comments