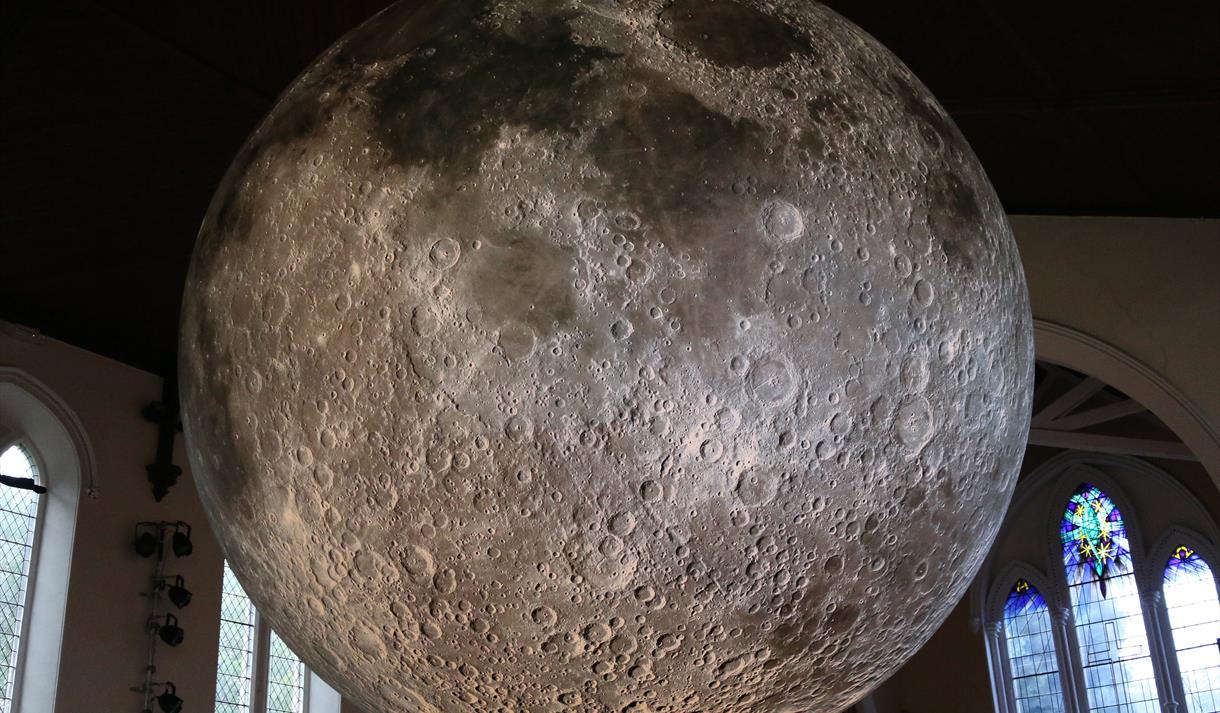 This weekend is busy with lots of fun and exciting things to do in the county, whether you want to attend a folk music concert, see the moon up close or watch a world class comedian, whatever your mood this weekend, we have you covered.

Dispatches on the Red Dress
8 November, Nuffield Theatre, Lancaster
An intimate and courageous new live show by twice BBC Radio 2 Folk Award-winning songwriter Rowan Rheingans. Unravelling the joy and pain of her grandmother's youth in 1940's Germany, Rowan celebrates small acts of resistance and boldly asks a troubling question for our times.

Gary Clarke Company presents WASTELAND
8 November, Blackpool Grant Theatre
Gary Clarke's new dance theatre sequel to COAL, about the collapse of the mining community, continues the story, following the next generation head first into a gritty story of loss, hope, tragedy and survival based in the illegal rave scene of the 1990s.

Rocky IVFilm Screening
8 November, The Regent Cinema, Blackpool
Rocky Balboa (Sylvester Stallone) proudly holds the world heavyweight boxing championship, but a new challenger has stepped forward: Ivan Drago, a six-foot-four, 261-pound Russian Boxer.

The Moon
Various Dates, Lancaster Priory Church
Luke Jerram's acclaimed Moon installation visits Lancaster Priory Church from November 1-20. Measuring seven meters in diameter, The Moon features detailed NASA imagery of the lunar surface and is a spectacular sight. A program of lunar themed events will also run while The Moon is on display.

Linoprinting with Colour
8 November, The Platform Gallery, Clitheroe
Produce simple linocuts from your own designs or take some inspiration from images specially selected for you. Learn easy and effective printing techniques and take home your own boxed set of bespoke greeting/Christmas cards and a hand-printed tote bag.

An Evening with Mozart
9 November, Blackburn Cathedral
Blackburn Music Society and the Blackburn Music Society Concert Orchestra in Blackburn Cathedral. An evening of music by Mozart, featuring Mozart's Requiem and Eine Kleine Natchmusik. The performance will be conducted by the Society's Musical Director Abi Kitching with soloists Stephanie Jennifer Poropat, Rhiannon Doogan, Zahid Siddiqui and James Barry.

Liza Pulman Sings Streisand
9 November, Blackpool Grand Theatre
Liza Pulman Sings Streisand – a must see for music lovers and Streisand fans everywhere. Liza will be joined by her six-piece band to celebrate her idol Barbra Streisand through her hugely successful and critically acclaimed five-star show.

Oysterband & June Tabor
9 November, The Grand Venue, Clitheroe
One of the most exciting collaborations in folk music, June Tabor & Oysterband, resumes this autumn for a major tour. With separate distinguished careers to pursue, their appearances together are necessarily rare, so this is a must-see opportunity to catch them live.

Ruskin Studio: Build with Emma Blackburn
9 November, The Ruskin, Lancaster
Explore art and ideas together in some new Saturday-morning workshops for families, Make / Build / Share, led by artists at The Ruskin. Recycle and re-imagine everyday materials to build big and little experimental sculptures with textile artist Emma Blackburn.

Santa's Elf Academy Grotto at Oswaldtwistle Mills
Various dates, Oswaldtwistle Mills
Ho Ho Ho! Santas has bought his Elves to Oswaldtwistle Mills. You'll be able to visit Santa's "Elf Academy" Grotto and learn all you need to know to be an Elf. Help in the Toy Factory, work out where the presents should go, play games and learn elf tunes on the grotto bells!

Scenic Railcar Day
9 November, East Lancashire Railway
The stalwart DMU powers into the limelight for this special theme day. Lovers of these diminutive but dynamic locomotives will not want to miss this all DMU event, a rare opportunity to see (and ride behind) lots of these powerful engines as they run an intensive timetable of passenger services.

Stadium Tour Ewood Park
9 November
Home to the Blackburn Rovers Football Club, the stadium tour not only takes a look at what goes on behind the scenes at Ewood Park, but also celebrates the history of the football club. Please note all tours must be pre-booked.

Crochet Christmas Card Workshop
10 November, The Golden Ball, Longton
Learn how to make your own Christmas cards with crochet. Featuring a festive motif that can be removed after Christmas and used year after year as a tree decoration. The host for the morning will be Alex from MoHo Crafts.

Romesh Ranganathan – Comedy Night
10 November, King Georges Hall, Blackburn
Romesh Ranganathan is putting showbiz aside to deliver a carefully-curated selection of all the things he has found unacceptable since his last tour, including why trying to save the environment is a scam, why none of us are truly free, and his suspicion that his wife is using gluten intolerance to avoid sleeping with him.

The Upbeat Beatles
10 November, Blackpool Grand Theatre
The Upbeat Beatles are second to none with powerhouse vocals and an easy, happy rapport with any crowd, giving them a reputation to be envied as the best in the business. There isn't a band to touch them – 8 bars of Twist and Shout and you will know why!

Related
0 Comments