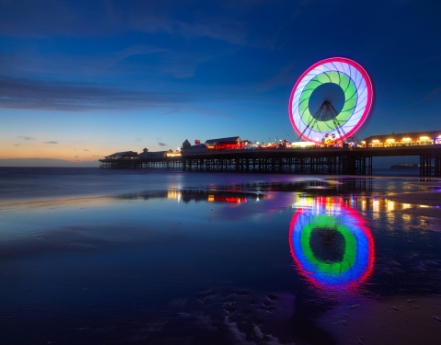 The world-famous Blackpool Illuminations need little introduction. Commencing in 1894, three million people now visit the greatest free light show on Earth each year, extending Blackpool's tourism season from the end of August until early November.
The famous Illuminations
The sparkling seafront show remains as compelling as ever thanks to continued investment and innovation to ensure the displays gleam with new methods of bringing colours to life (dubbed 'colour choreography') and twinkling technology.
2018 sees the arrival of exciting new features. These include a playful tribute to Circus250 as we celebrate a quarter-millennium of rolling up to circus performances, a tableau commemorating women's contributions to both world wars and a glittering reimagining of the Houndshill Shopping Centre display.
Blackpool Heritage Tram Tours also run trips with other parts of the heritage fleet as well, giving the opportunity to savour a tour of the Lights either from the higher vantage point of a double decker or, if you're feeling brave, from one of our open-topped boat trams!
We have three illuminated tram cars – a Great Western train, a frigate and a trawler. When you step on board you will become part of the Illuminations show as passers-by look in wonder at these extraordinary heritage vehicles as they make their way along the seafront.

They depart regularly from the Pleasure Beach loop, taking you on an unforgettable journey through the Illuminations to Bispham and back again.
Lightpool
The Lightpool project is designed to encourage visitors to explore the Blackpool Illuminations on foot. There is little more pleasure to be had than adventuring through the Lights than with a steaming bag of chips and the exhilaration of the sea air. Don't fancy the walk? Hop aboard a glittering, illuminated tram and tour the Lights in style!
Lightpool also transforms The Blackpool Tower into a sea of light, colour and sound, as stunning, digitally-mapped shows are projected on to this iconic building.
Lightpool Festival 2018
Lightpool Festival 2018 will provide a spectacular blend of live performance utilising light, fire and pyrotechnics and unique light-based art installations placed throughout the town. Wrap up warm and explore the Lights!
Light Odyssey – Empress Ballroom, Blackpool Winter Gardens (19:00)
On Thursday 18 October, Light Odyssey, will bring the iconic Empress Ballroom in the Winter Gardens to life with 2D and 3D light animation, pushing the boundaries of light, space and sound. Partnering with QED Productions, 24 top-of-the-range projectors will transform the ballroom's interior into a giant canvas with international teams of animators responding to the architecture's unparalleled grandeur.
The 90-minute performance will include around 90 musicians, with live performances of Copland, Britten and Saint-Saëns, and classical favourites such as Barber's Adagio for Strings, conducted by acclaimed Norwegian conductor Eivind Aadland. To purchase tickets: https://www.ticketmaster.co.uk/Light-Odyssey-tickets/artist/5276630
Carnival of Lights – October 25, Blackpool Promenade (17:45)
A historic collection of illuminated tramcars will travel in convoy along the seafront joined by a procession of illuminated vehicles, costumed characters and much-loved drumming favourites, Spark! by Worldbeaters. LumiDogs will be returning, too! We are encouraging guest to light up their dogs and walk with us in the procession.
Fit to Glow Football – October 25, Blackpool Winter Gardens
Lightpool Festival in partnership with Blackpool Football Club Community Trust are holding a UV Football final for primary schoolchildren. Teams are donning neon bibs and glow in the dark accessories for the 5-a-side competition.
LeftCoast Presents Rush – October 26, Bonny Street Car Park (19:45)
RUSH is a one-off outdoor experience of dance, light, projection, and film that uniquely explores current issues. RUSH tells the everyday stories of people we all recognise in a huge release of energy and creativity with a community cast of 100 residents performing with professional dancers from Southpaw Dance Company. Tickets are free but you must register in order to attend: https://www.eventbrite.co.uk/e/rush-blackpool-tickets-48451973156
Pyronix – October 27, Comedy Carpet, with a processional to St. John's Square (19:00)
This Belgian pyrotechnic show will bring St. John's Square alight with an outstanding fire extravaganza. They combine martial arts, dance and acrobatics with LED lighting, video-mapping and multimedia. With a circus background, Pyronix builds each of its shows with the same aspiration: to create this "magic" at each of the spectators.
Lightpool Art Trail – October 25-27 (18:00 – 22:00 each day)
There will be a light-based art trail along the promenade featuring up to thirty-two unique and Instagrammable pieces from a giant moon suspended over the Blackpool Tower Ballroom where it will gently twinkle, to the 'Cathedral of Mirrors' and an installation by Yoko Ono.
Related
0 Comments