The Lancashire landscape is a spectacular mix of rolling moors, heather-clad hills and sweeping coastline. To enhance these scenic spaces there are a number of quirky and inspirational arts installations and sculpture trails scattered across the county. These are just some of the highlights and all are free to visit.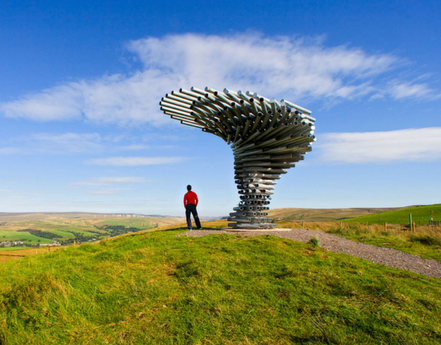 1 Lancashire's Panopticons
Four completely different art installations positioned in stunning locations across East Lancashire. Each designed especially to make the most of the panoramic views. Includes the spectacular Singing Ringing Tree above Burnley and the Atom in Wycoller Park near Colne.

2 Mythical Coastline Sculpture Trail
Inspired by the children's story 'The Sea Swallow' this series of interactive sculptures brings to life a mythical coastline with an ogre, giant shell and beautiful artwork. A good one for children as many of the pieces are on or around the beach.

3 Great Promenade Show Blackpool
An intriguing collection of structures, including the famous giant mirror ball, stretching for two kilometres along the south promenade.

4 The TERN Project, Morecambe Promenade
Another seafront arts trail although this one takes inspiration from the natural world and the Bay itself. Steel cormorants gaze across Morecambe Bay and watch over passing walkers.

Other sculpture trails to try – Pendle Sculpture Trail at Barley, Ribble Valley Sculpture Trail, Clitheroe and The Wayside Art Trail, Burnley.
Related
0 Comments