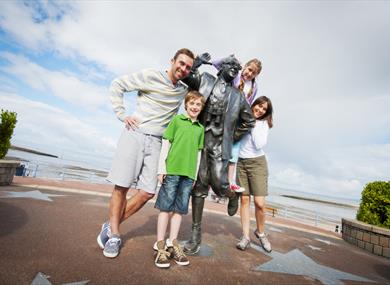 Celebrating the birds and other diverse wildlife of Morecambe Bay, the TERN project is a stunning series of various award-winning sculptures situated along Morecambe's seafront and promenade.

Steel cormorants, gannets and razorbills sit proudly on the roundabouts on Central Drive and on the top of bollards in the sea railings, whilst long lengths of fencing are enhanced with flocks of metal birds. On the Stone Jetty, behind the Midland Hotel, you can find a huge compass, work out various wordy puzzles, and discover a strange mythical bird. The trail extends towards the Festival Market where you can follow a path made up of poems, jokes and quotes by famous authors, musicians, entertainers and artists.


The highlight of the trail is the statue of Eric Morecambe, designed by Graham Ibbeson and opened by the Queen in 1999. Don't miss visiting this wonderful statue and having your photo taken with Eric in his famous comical pose!


For more information pop into Morecambe Visitor Information Centre, where you can pick up a trail leaflet in order to find all the sculptures.