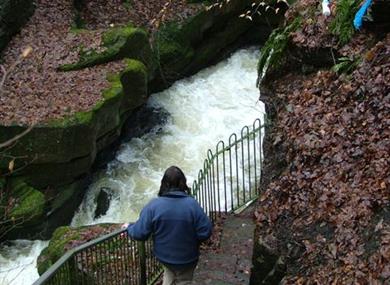 Healey Dell is a beauty spot and wildlife sanctuary rich in industrial archaeology.

The River Spodden has carved its way through the woodlands through thousands of years, creating delightful scenery and spectacular waterfalls which once powered ancient corn, wool and cotton mills.

A disused 1800s railway line is now a nature trail with magnificent views from a 100ft high viaduct.

Until the great flood of 1839 the Fairies Chapel was hidden behind a ledge of rocks, at the base of which lay a natural excavation formed by the water. This had a pulpit, reading desk, and seats. Like other spots of the same secluded character in Lancashire, it has "legendary lore".

Key features of the Dell include the Broadley Wood Mill, Fairies Chapel, Lodges and Waterways, Railways and Viaduct, Stone Rubbing Mill, Th'Owd Mill l'th Thrutch, and the Twin Bridges.

Healey Dell also provides a cycle route along the disused railway line through the centre of the Nature Reserve. This route is part of the National Cycle Network, Regional Network Route 92, which joins the National Route 66.

The footpaths and bridleways of the Nature Reserve are also part of the Rochdale Way, and the Pennine Bridleway passes the northern end.

Healey Dell also features a lovely café where you can grab a bite to eat and drink and take in the beautiful scenery.