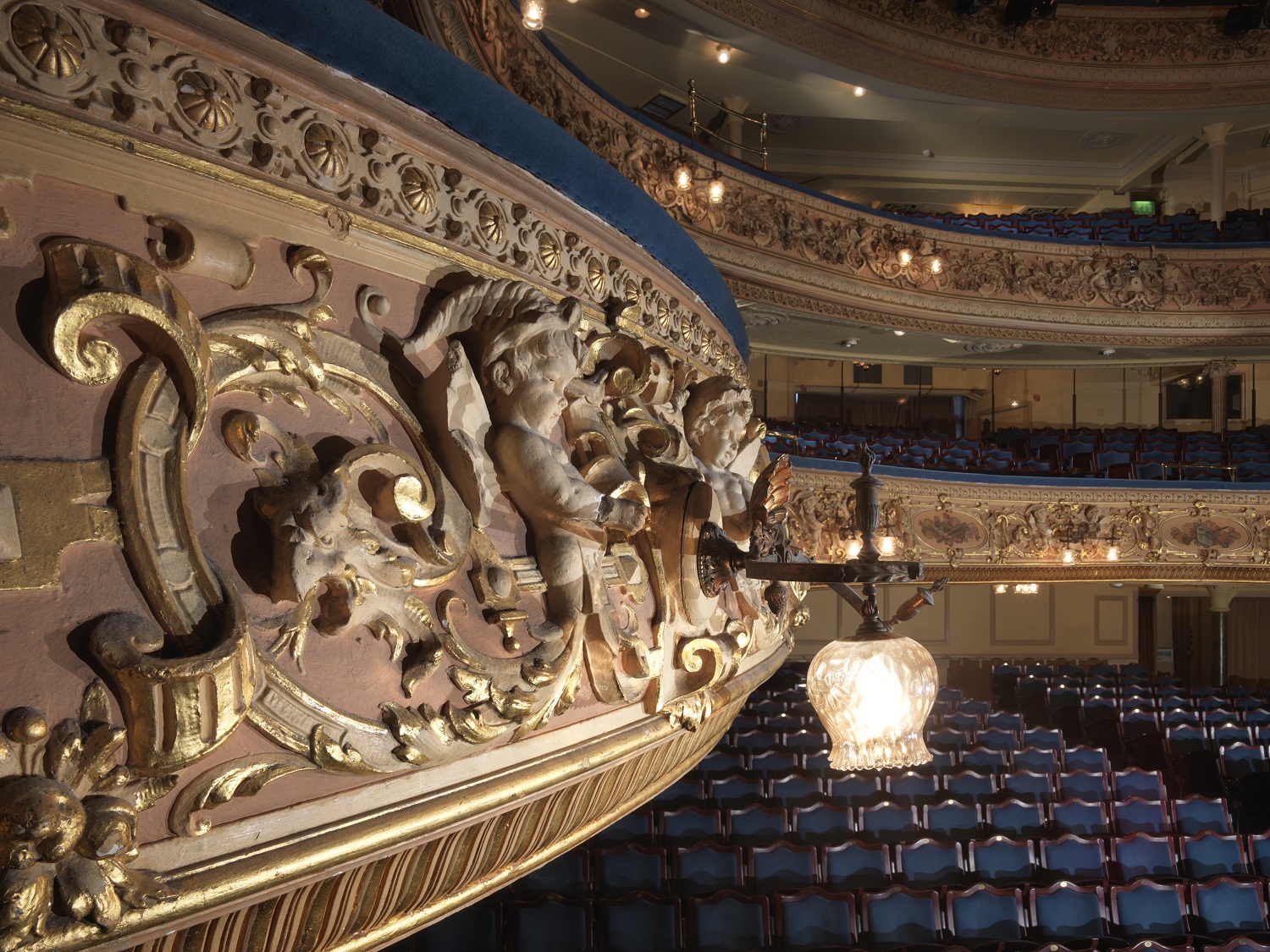 Thrilling Theatre Tours and fascinating Photographic Sessions are now available at one of Blackpool's most iconic landmarks – the glorious Grand Theatre!
Indulge your passion for amazing architecture and intriguing theatrical history with our Heritage Theatre Tours and develop your love for photography while learning specialist skills in a unique Photographic Session.
There is no theatre quite like The Grand. The published descriptions in 1894 said so, and contemporary theatregoers agree. This is renowned architect Frank Matcham's masterpiece theatre, with a long and lively history.
Have you always wanted a glimpse behind the theatre curtain?
With our popular Heritage Theatre Tours, you can stand on the Grand's famous raked stage and observe the cantilevered tiers or circles, boxes and pit in this atmospheric house; explore the warren of staircases that lead to the stars, dressing rooms and beyond; delve into the captivating history with archive material on display and gaze in wonder at this magnificent Grade II* listed building. Blackpool Grand offers the option of either the fascinating Grand Opulence forty-five-minute tour or our the more detailed Backstage Secrets seventy-five-minute tour, both led by one of our knowledgeable theatre tour guides.
Backstage Secrets on Wednesday 8 November takes a more in-depth look at the dazzling delights of this much-loved local treasure. Discover the backstage workings of the theatre including the Stalls, Dress Circle, Walkway, Royal Box, Stage Door, Fly Floor, Gallery, Dressing Rooms, Matcham Court and, of course, the Stage. Revel in the stunning scenery in the theatre's spectacular auditorium and more, then relax and discuss your intriguing findings over delicious cake and tea in our magnificent Dress Circle bar following the tour.
Or you can take a bite size journey to discover the theatre's interesting history and experience the breathtaking front-of-house grandeur with the Grand Opulence Heritage Theatre Tour on Monday 18 December, which includes guided access to the Stalls, Dress Circle, Walkway, Royal Box & Stage Door.
The Grand's Heritage Theatre Tours are always very popular so book your places now before they get snapped up!
Theatre lovers can also enjoy the opportunity to take exclusive pictures of The Grand's Grade II* listed interior with the acclaimed Photographic Sessions with Sean Conboy. Whether you want to learn the basics, dream of building on your existing photography skills, or are budding professional – these sell-out sessions are the ideal master class for all levels.
Sean has been the official photographer for The Grand for many years and his incredible work is regularly featured in all our media as well as many international magazines. His famous photo sessions are just under 5 hours in length and will provide you with a variety of skills needed to photograph beautiful structures and interiors. The day begins with an introductory presentation, where Sean uses his extensive technical experience to advise you how to best capture the perfect shot. You will then have using Sean's top tips with your own camera.
Sean Conboy's Basic Photographic Session on Wednesday 10 January will cover insider tips on how to improve your interior photography by using light to the best advantage; how to look for and find pictures in an indoor space and how to use the manual settings on your camera to help improve your pictures. Lucky participants will also get time to roam the amazing auditorium of The Grand and photograph its stunning interior.
Sean Conboy's Advanced Photographic Session on Tuesday 20 February will cover a full explanation of tilt and shift camera movements; how to use flash and led lighting to help light interiors; a practical demo of an interior shoot; the chance to use Pro flash lighting and a tech camera with Hasselblad 100mp digital back; how to achieve the best viewpoints and how to use the different focal lengths of a lens to make the most of your subject. Only eight places are available for this much sought after course to allow more seasoned photographers the opportunity to talk one to one with a leading photographer in his field in a more focused gathering.
Don't miss this fantastic opportunity to be given unrivalled access to this beautiful Frank Matcham Theatre!
The Backstage Secrets Heritage Theatre Tour is on Wednesday 8 November at 10.30am for 75 mins followed by tea and cake in the Dress Circle Bar. Tickets £20 (maximum 20 participants)
The Grand Opulence Heritage Theatre Tours are on Monday 18 December at 11am and 12noon for 45 mins. Tickets £12.50 (maximum 20 participants)
Sean Conboy's Basic Photographic Session is at Blackpool Grand Theatre on Wednesday 10 January 2024 from 10am to 3pm. Tickets £49 (Maximum 25 participants)
Sean Conboy's Advanced Photographic Session is at Blackpool Grand Theatre on Tuesday 20 February 2024 from 10am to 3pm Tickets £129 (maximum 8 participants)
Please note: Lunch is not included with the Photographic Sessions but morning and afternoon refreshments are provided.
Heritage Theatre Tours and Photographic Sessions also make the perfect gift for the theatre lover in your life.
Please call the Box Office on 01253 290190 or visit www.BlackpoolGrand.co.uk for bookings and further information.
LISTING
Theatre Heritage Tour – Backstage Secrets (75min) on Wed 8 Nov 2023 at 10.30am
Theatre Heritage Tour – Grand Opulence (45 min) on Mon 18 Dec 2023 at 11am & 12 noon
Sean Conboy Photographic Session (Basic) on Wed 10 Jan 2024 at 10am
Sean Conboy Photographic Session (Advanced) on Tue 20 Feb 2024 at 10am
Grand Theatre, 33 Church Street, Blackpool FY1 1HT
Box Office 01253 290 190
blackpoolgrand.co.uk
Facebook - @blackpoolgrand
Twitter - @Grand_Theatre
Instagram - grandtheatrebpl
Related
0 Comments