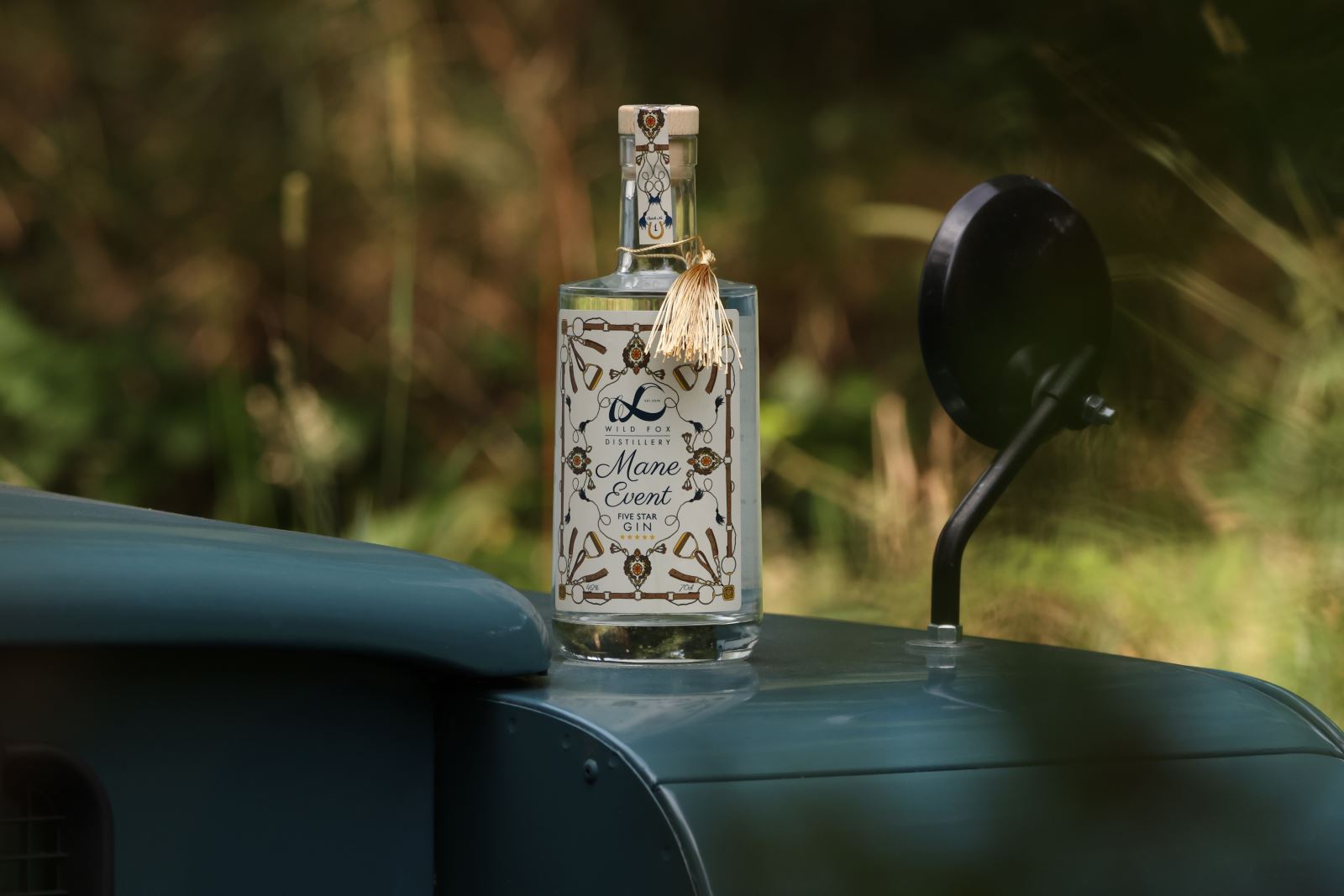 Wild Fox Distillery, Farm-to-bottle, independent gin company, Wild Fox Distillery, has welcomed its newest expression Mane Event, 5-Star Gin as the latest spirit to be produced on its family farm in Lancashire.
Whatever your equestrian sport, Mane Event is sure to get you galloping with bright ruby grapefruit and strong herbaceous zings from rosemary, basil & mint. A toast to all things equestrian and the rolling countryside that surrounds the distillery, this exceptional dry gin has been carefully crafted to enlighten the taste buds and bring the ultimate refresh on every sip.
Pour Mane Event over ice with Mediterranean tonic and a wheel of fresh ruby grapefruit for the perfect G&T in the back of the horse box. Alternatively, add a splash of dry vermouth and garnish with an olive for a classic dry martini with a Wild Fox twist.
Founded by fourth-generation dairy farmers Lizzie and Rob Billington, who diversified into artisan gin crafting in 2019, Mane Event is among six spirits currently produced by Wild Fox Distillery. Taking a field-to-glass approach, the husband-and-wife duo endeavour to keep all elements of production on their Inglewhite farm, creating flavours from the wealth of fruits and botanicals that the land has to offer.
Co-founder Lizzie said: "With an inherited passion for quality and caring for our surroundings, we strive to embody the heritage of our farm in each bottle. We have full control over each stage, with everything being done right here on our farm. Developed, harvested, distilled, bottled and labelled by us."
A family business to its core, the Distillery takes its name from Lizzie and Rob's affectionate nickname for their young, red-headed daughters, Annie and Besty - their very own little wild foxes.
Lizzie added: "All our Gins so far hold their own little celebration of the great British countryside, whether it's our fruity Blushing Vixen which is packed full of the best British rhubarb and elderflowers, our Twelve Bore which gives a warming nod to our nation of game keepers or our Ivy's Signature which utilises wild farm botanicals that are akin to more exotic flavours. It was high time we created a five-star tipple to mark British eventing and the equestrian world, and we think Mane Event is juts right the job!"
The ideal Christmas present for equestrian enthusiasts and gin lovers alike, Mane Event is available to buy as a standalone 70cl bottle, and as part of the Wild Fox luxury Christmas gift range. The seasonal gift sets also feature the Distillery's Ivy's Signature, Blushing Vixen, Twelve Bore, It's a Rum Do, The Holly and The Ivy gins.
Related
0 Comments