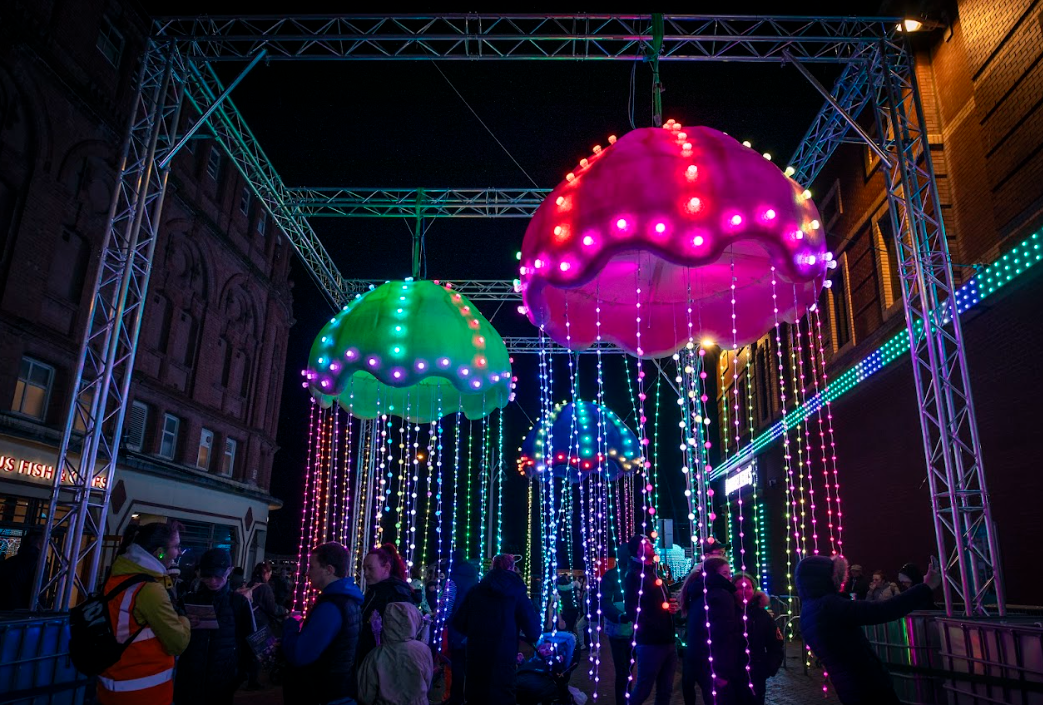 Some of Blackpool's most iconic buildings and outdoor spaces have been transformed by a series of extraordinary light installations and projection shows for October half-term.
The installations, which include an invasion of alien-like tentacles on the roof of the Tower Ballroom, form part of this year's Lightpool Festival, an event that has grown into one of the biggest of its kind in the UK.
The festival, which is free to attend, opened on October 20 accompanied by a spectacular fireworks display over the seafront. It will run until this Saturday, October 28.
The main part of the programme is an Art Trail across four zones and taking in the Golden Mile and parts of the town centre. These include:
Zone One
The Tower Festival Headland (in the shadow of The Blackpool Tower) includes some dazzling installations including:
Parabolic Lightcloud, a light sculpture created in Australia incorporating over 1000 LED lights, sponsored by Glasdon; Spiro, a family-friendly, 26 metre-long tunnel of individually mapped LEDs; and Odyssey, the largest ever installation created for the Blackpool Illuminations.
On the front of Tower building, there is the world premiere of Micro, a journey into the microscopic world with projection-mapping technology created by the Hotaru Visual Guerrilla studio in Spain. It is one of several stunning light projection shows on the front of the Tower building.
Zone Two
The historic Blackpool Church in St John's Square plays host to Spin Me A Yarn, an oversized ball of wool with a 50-metre long trail of neon yarn that wraps itself around the rooftops. At ground level, there is the weird and wonderful I Caught A installation from France, comprising a cage erected in the street where a giant goldfish and other creatures materialise out of thin air.
Zone Three
The magnificent Winter Gardens houses Supercube, an installation made up of 448 glass jars each containing a miniature tableau, as well as Laurence Llewelyn-Bowen's Gardens Of Baroque Delights, the designer's first digital installation. On nearby Victoria Street is Medusae, featuring a collection of vibrant, interactive, illuminated jellyfish.
Zone Four
The beautiful setting of Sacred Heart Church (close to North Pier) houses Seraphic, a mesmerising projection show produced by the internationally-renowned Guildhall School of Music & Drama. A short distance away in the grounds of the Cenotaph monument is Firefly Field, an awesome installation created by Studio Toer in the Netherlands that simulates the movements of these nocturnal insects.
Festival director Phil Holmes said: "This year's festival includes some extraordinary and imaginative installations and projection shows, some of which have never been on show in this country before.
"We are truly grateful to Arts Council England for recognising Blackpool as the spiritual home of illumination and for helping us to create something that is truly memorable."
Cllr Lynn Williams, Leader of Blackpool Council, added: "Over the first few days of the festival, tens of thousands of people have already enjoyed what is an extraordinary free show.
"We are fortunate that we have been able to show-case these world-class installations across our incredible collection of venues and outdoor spaces, making the festival something that is truly unique to Blackpool."
Lightpool Festival forms part of an extended Illuminations season that started on Friday 1 September and runs until January 1 2024. For the full festival line-up including details of all installations and artists, please head to www.visitblackpool.com/lightpoolfestival
Related
3 Comments