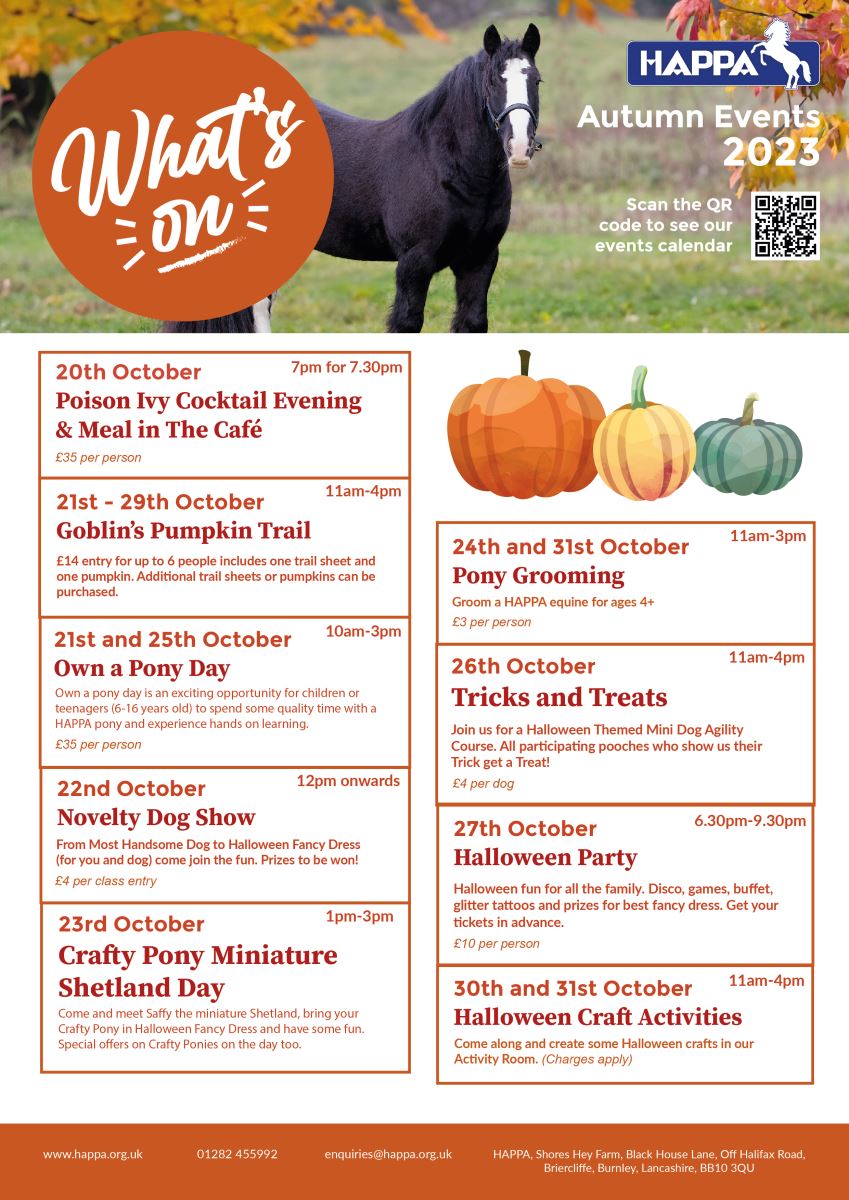 HAPPA (Horses and Ponies Protection Association) will be hosting a range of Halloween activities for families to enjoy this October half-term, all to raise funds for the Charity. All activities will be held at the Charity's Shores Hey Farm, Briercliffe, Burnley, BB10 3QU throughout the October half-term week.
Starting on Friday 20th October with The Café's Poison Ivy Cocktail and Meal Evening, serving up a tasty three course meal which will certainly be a treat for all those who attend. Bookings are being taken in advance now on 0773688917.
Visitors to HAPPA will be able to take part in the Goblin's Pumpkin Trail every day throughout the half-term. Following the popularity of this fun activity last year the Thursden Valley Goblins are back, but even bigger with a Pumpkin Patch adventure, for just £14 entry for up to six people which includes a trail sheet and pumpkin (additional trails and pumpkins can be purchased).
HAPPA's educational programme has a jam-packed fortnight with Own a Pony Day on the 21st, 25th October and 1st November and Pony Grooming on the 24th and 31st October, a great way to come and learn all about how to care for a horse or pony correctly with interactive sessions.
On Monday 23rd October there is a special afternoon event for those who simply love Crafty Ponies, the interactive and cuddly pony toys. With special guest, Echo, the real-life miniature pony, younger guests can come and learn more about Echo and then participate in a Favourite Film Fancy Dress Competition for them and their Crafty Pony. For those wishing to add to their collection, or even start, there will be special offers on Crafty Ponies on the day at HAPPA Direct too.
There's also something for the four-legged members of the family too, with the Novelty Dog Show on Sunday 22nd October, a fun show for pedigrees or mongrels with a great selection of prizes to be won, and Tricks and Treats on Thursday 26th October a mini-Halloween themed agility course where dogs can show off their tricks and receive a treat.
On Friday 27th October dig out your best Halloween costumes for the Halloween Party for families. Held in The Café from 6.30pm-9.30pm join our team for fun, games, and a Halloween disco with prizes for the best children's and adult's fancy dress up for grabs. A buffet is included in the ticket price and adults can bring their own bottle. Tickets do sell out fast for this event, so make sure you secure yours at the HAPPA website.
Finally, for those on the later half-term holiday, Halloween crafting sessions will be held between 11am and 4pm in the Activity Room on both the 30th and 31st October.
Julie Pharaoh-Gan, HAPPA's Head of Marketing and Fundraising says "The Team simply cannot wait to celebrate Halloween with all our supporters and customers. Last year was brilliant, so this year we are back with all the fang-tastic fun that is expected at Halloween. We hope that families can come and indulge and have a great day or evening at the Farm. I am looking forward to the two dog related events as we have so many customers with canines, and I am sure they will love what we have on offer this year. The bonus is that everyone will be supporting the Charity and helping HAPPA to get through the challenging winter months."
For further information about HAPPA's Half-Term Activities and to purchase your tickets for any of the mentioned Halloween activities please visit www.happa.org.uk or call 01282 455992.
Related
0 Comments