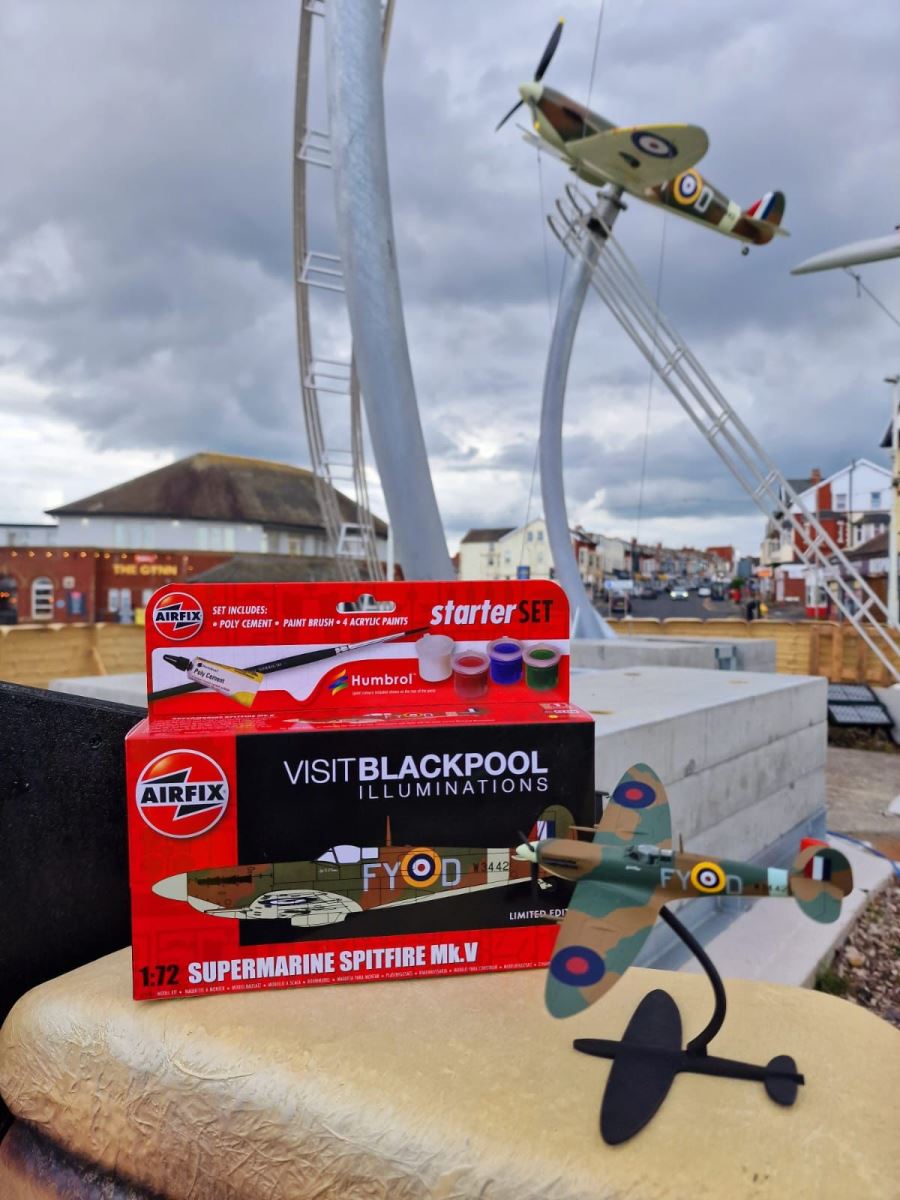 A unique collector's item based on a spectacular light installation in this year's Blackpool Illuminations will go on-sale on Tuesday 24th October at 10am.
The scale model of a Spitfire, complete with a bespoke Blackpool livery on its fuselage, is part of a special collaboration between VisitBlackpool and the internationally-renowned model kit company, Airfix.
It has resulted in the production of 4,000 limited edition Spitfire kits, which will be sold exclusively through the Blackpool Illuminations webshop and the Promenade-based Tourist Information Centre, at £19.99 (plus postage).
The Airfix model is based on a spectacular tribute to one of the world's most iconic fighter aircraft.
Designed by Laurence Llewelyn-Bowen and built by the Blackpool Illuminations team using 3D printing technology for the first time, the Spitfire Island installation is located on Gynn Roundabout in the midst of the six-mile seafront display.
It includes replicas of three Spitfires – Progress I, II and III – which were all based at Blackpool Airport during World War Two, and paid for by local residents.
Cllr Lynn Williams, Leader of Blackpool Council, said: "The installation is a stunning piece of work that is a deserving tribute to an important part of Blackpool's history.
"We are thrilled that through this exciting new partnership with Airfix our visitors and residents will now be able to take home a unique keepsake."
Airfix, which is part of Hornby Hobbies Limited, is the proud sponsor of Spitfire Island. A spokesperson said: "We are thrilled to join forces with VisitBlackpool and become part of an event which, much like the scale-modelling hobby, has captured the hearts and imaginations of people for many years.
"This collaboration represents a perfect synergy between two organisations dedicated to preserving and celebrating history, while embracing the joy of the present.
"We hope that showcasing the Airfix logo within the Illuminations will serve as a remarkable symbol of our commitment to precision engineering and the joy of model-making."
A range of other Airfix kits are also available for purchase at the Tourist Information Centre. .
Spitfire Island is one of three brand new installations that were unveiled in this year's Blackpool Illuminations, which started on September 1 and which will shine nightly until January 1, 2024.
International artists Dr Chila Kumari Singh Burman, MBE, and Bruce Alfred have both designed dazzling new installations.
Merseyside-born Burman is celebrated around the world and has produced numerous high-profile works including installations for the Tate Gallery and Covent Garden in London, as well as special commissions for film companies, including Netflix.
Two years ago, she produced an installation called "Blackpool, Light Of My Life" on the front of Blackpool's Grundy Art Gallery and vowed to return to design something of scale in the world-famous Illuminations.
The result is a 26 metre-wide animated tableau entitled "Lollies In Love With Light", a stunning, kaleidoscopic celebration of Blackpool incorporating around 760 metres of LED neon lighting, with a technicolour ice cream van at its centre.
Canadian-born Bruce Alfred specialises in Native American art and has created an evocative design featuring hand-drawn images of eagles and Orca whales. It is the first Illuminations display to be designed by a North American artist and one of the first to be developed using 3D printing technology.
The tableau, which incorporates more than 13,000 programmable LED lamps is intended to be the first of a new series of tableaux entitled "Light Around The World" that will celebrate international cultures.
All of the new features have been manufactured at the Illuminations' Lightworks factory and have been made possible thanks to Blackpool's Town Deal funding, part of which has been allocated to rejuvenating the Illuminations through new features and infrastructure.
Related
0 Comments