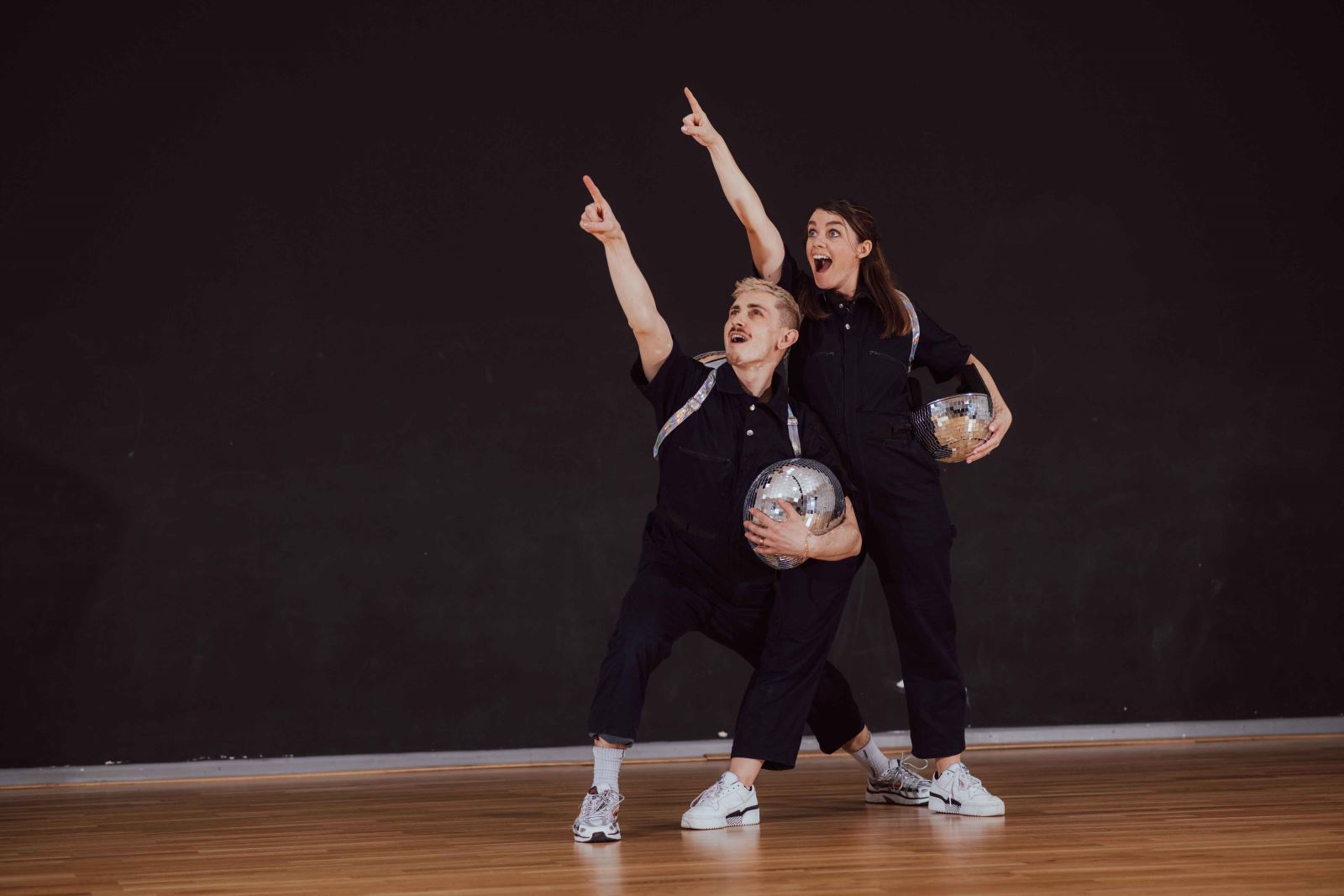 The quintet of quality productions will appear in the STUDIO throughout October, November and December offering a diverse range of entertainment from exciting new theatre performance to interactive dance shows for little ones, all led by Tim Foley's inspiring new stage drama Driftwood on Wednesday 1 November.
Driftwood is a heartfelt and expansive story about hope, love, belonging and the tides within us from award-winning writer Tim Foley. Two brothers on a beach need to figure out what to do with their dad – but the sea has other ideas. These are the shores of Vikings, Victorians, van drivers and visions. The tide is out but the chips are hot. Mark and Tiny go for walks along the beach at Seaton Carew. Their dad is dying, and their town is crumbling. Family rifts and political divides try to pull them apart, and a figure made of driftwood stalks the shore at night… This captivating new stage drama is both distinctively physical and cinematic and is co-produced and directed by exciting regional theatre companies Pentabus and ThickSkin. Not to be missed.
Also, on offer in the Grand Theatre's wonderfully informal performance space:
All hail the welcome return of the Royal Shakespeare Company with the thrilling culmination of the national 37 Plays - Writing The Stories Of Our Nation programme. Pram Talk & Stars on Tuesday 3 October and Beltane on Thursday 6 October will showcase three of the winning plays as 'Script in Hand' performances all presented with passion, ingenuity and truthfulness by a talented mix of professional and community actors chosen from a rigorous casting process. Directed by the RSC's Robin Belfield and Blackpool Grand Theatre Creative Programme Producer, Mykey Young.
March your little ones to The STUDIO for the interactive dance theatre show The Greatest Robot Ever on Friday 3 and Saturday 4 November. This brand new, rhyming story created by The Knotted Project and Hawk Dance Theatre is full of fun, adventure and self-discovery and is perfect for children aged 3-8 years and their grownups. Glitch the little Robot doesn't feel special like all the other amazing Robots living in the junk yard. With the help of their best friend Shift they go on a quest to find the pieces to make them stand out. Using projection, dance and storytelling, children interact with the performers throughout the show and take part in an engaging workshop exploring resilience, friendship and wellbeing.
Fylde Coast Youth Theatre Presents the richly provocative DarkNet by Rose Lewenstein on Saturday 9 and Sunday 10 December. Welcome to Octopus Inc., the internet giant that allows users to exchange personal data for currency. But not everyone is prepared to sacrifice their privacy for an easier life.
A teenager subverts the system in an attempt to save her mother. A visionary tech exec takes shortcuts to get ahead. And a cybercriminal makes a choice between two kinds of freedom. DarkNet navigates through the world of data commodification and the uncharted deep web, shining a light on the things we choose to share online and the places we can hide…
Don't miss these exciting live shows in The Grand STUDIO. What a fabulous bunch of fives! Book now!
37 Plays - Pram Talk and Stars is on Tuesday 3 October at 7pm
37 Plays - Beltane is on Thursday 6 October at 7pm
Driftwood is on Wednesday 1 November at 7pm. All performances have integrated creative captions. Suitable for ages 12yrs+
The Greatest Robot Ever is on Friday 3 and Saturday 4 November at 11am & 2pm
DarkNet is on Saturday 9 and Sunday 10 December at 2.30pm & 7.30pm. Suggested for ages 13+
For further details, full show listings and bookings please visit blackpoolgrand.co.uk or call the box office on 01253 290 190.
Please note all seats in the STUDIO are unreserved, contact the Box Office for any access needs.
LISTINGS
37 Plays – Pram Talk and Stars – Tue 3 Oct at 7pm
37 Plays – Beltane – Thu 6 Oct at 7pm
Driftwood – Wed 1 Nov at 7pm
The Greatest Robot Ever – Fri 3 & Sat 4 Nov at 11am & 2pm
DarkNet – Sat 9 Dec at 2.30pm & 7.30pm & Sun 10 Dec at 2.30pm
Grand Theatre, 33 Church Street, Blackpool FY1 1HT
Box Office 01253 290 190
blackpoolgrand.co.uk
Facebook - @blackpoolgrand
Twitter - @Grand_Theatre
Instagram - grandtheatrebpl
Related
0 Comments