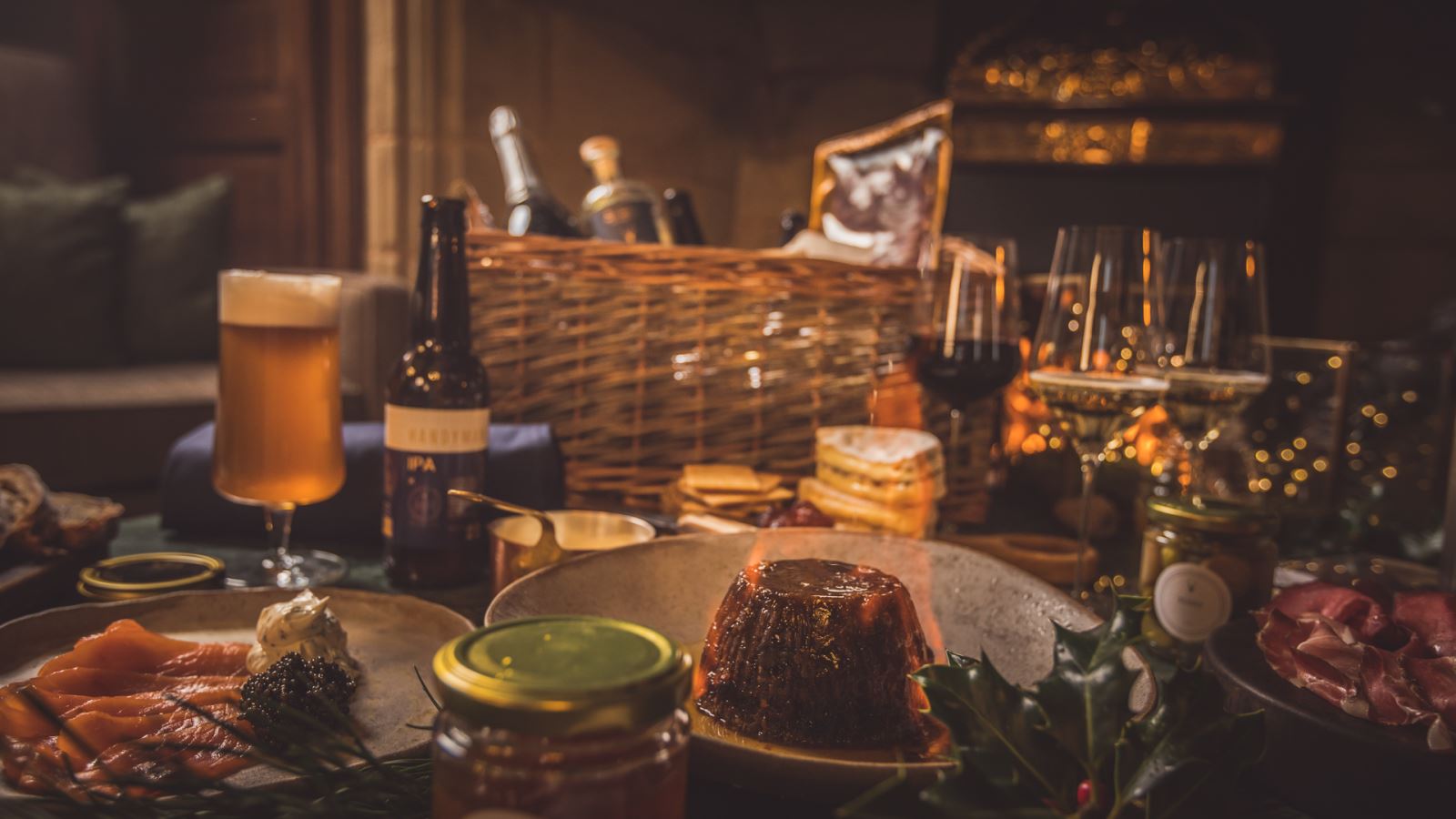 Moor Hall, Chef Mark Birchall's culinary destination in West Lancashire, is the perfect location for festive celebrations, with frost-tipped gardens and lake views, roaring log fires and world-class seasonal dining.
This Christmas, Moor Hall will be celebrating the festive season with luxury Christmas Puddings available to purchase so that diners across the country can add a touch of Moor Hall's culinary magic to their Christmas dinner tables. Two Michelin-starred Moor Hall Restaurant with Rooms will also be offering an exclusive dining event for New Year's Eve, so that guests can herald the start of 2024 with an outstanding culinary experience. Furthermore, The Barn at Moor Hall will be offering a Festive Set Menu throughout December, as well as special menus for Christmas Eve, Christmas Day and New Year's Eve, allowing guests to enjoy Michelin-starred seasonal dining in the enchanting Lancashire countryside.
Christmas Puddings
Moor Hall's Christmas puddings are made to Chef Patron Mark Birchall's decadent recipe, filled with dried fruit and bursting with the festive flavours of orange, nutmeg, pecan, maple and Pedro Ximénez, with a touch of Alsace smoked bacon to bring an intense, rounded umami flavour to the showstopping dessert. Each Christmas pudding is hand-made on site by Mark and the team, aged for 18 months, then beautifully gift wrapped and despatched for people to enjoy at home.
What's more, a donation to local charity Sandy Park Café will be made with each purchase, and one lucky person will find a golden ticket inside their Christmas pudding box, offering the chance to enjoy a dinner for two people at two Michelin-starred Moor Hall Restaurant with Rooms.
£65 per pudding. Serves 6-8 people.
£5 from each pudding sold goes to Sandy Park Café, a local not-for-profit social enterprise helping young students with special needs and disabilities from Sandfield Park School in Liverpool gain valuable work experience.
New Year's Eve at Moor Hall Restaurant with Rooms
New Year's Eve at Moor Hall Restaurant with Rooms includes sensational snacks, a decadent tasting menu, a celebratory glass of Champagne and a spectacular firework display at midnight. Guests are invited to continue the celebrations after midnight with live music in The Barn at Moor Hall.
Priced at £325pp. The Private Dining Room is also available for groups of up to 10, priced at £350pp.
The Barn at Moor Hall – Festive Dining
The Barn at Moor Hall is Chef Patron Mark Birchall's Michelin-starred neighbourhood restaurant. This Christmas, Mark and Head Chef Kane Williams have devised a Festive Set Menu with luxurious dishes that showcase the finest British ingredients and provide the perfect opportunity for guests to celebrate the season with family and friends over an outstanding dining experience. Dishes from the three-course Festive Set Menu include Jerusalem artichoke veloute with duck agnolotti, crispy chestnut and brown butter; Partridge en farcie and crispy leg with parsnip, ham fat kales and bramble sauce; and to finish, Christmas pudding ice cream with buttermilk pannacotta, Pedro Ximénez, orange and candied walnuts.
Festive Set Menu available from 1 December, £45pp for lunch, £65pp for dinner.
The Barn at Moor Hall will also be offering special celebratory menus for Christmas Eve Lunch (£145pp for five courses), Christmas Day Lunch (£225pp for four courses) and New Year's Eve Dinner (£175pp for four courses, glass of sparkling wine, firework display and live music).
Related
0 Comments