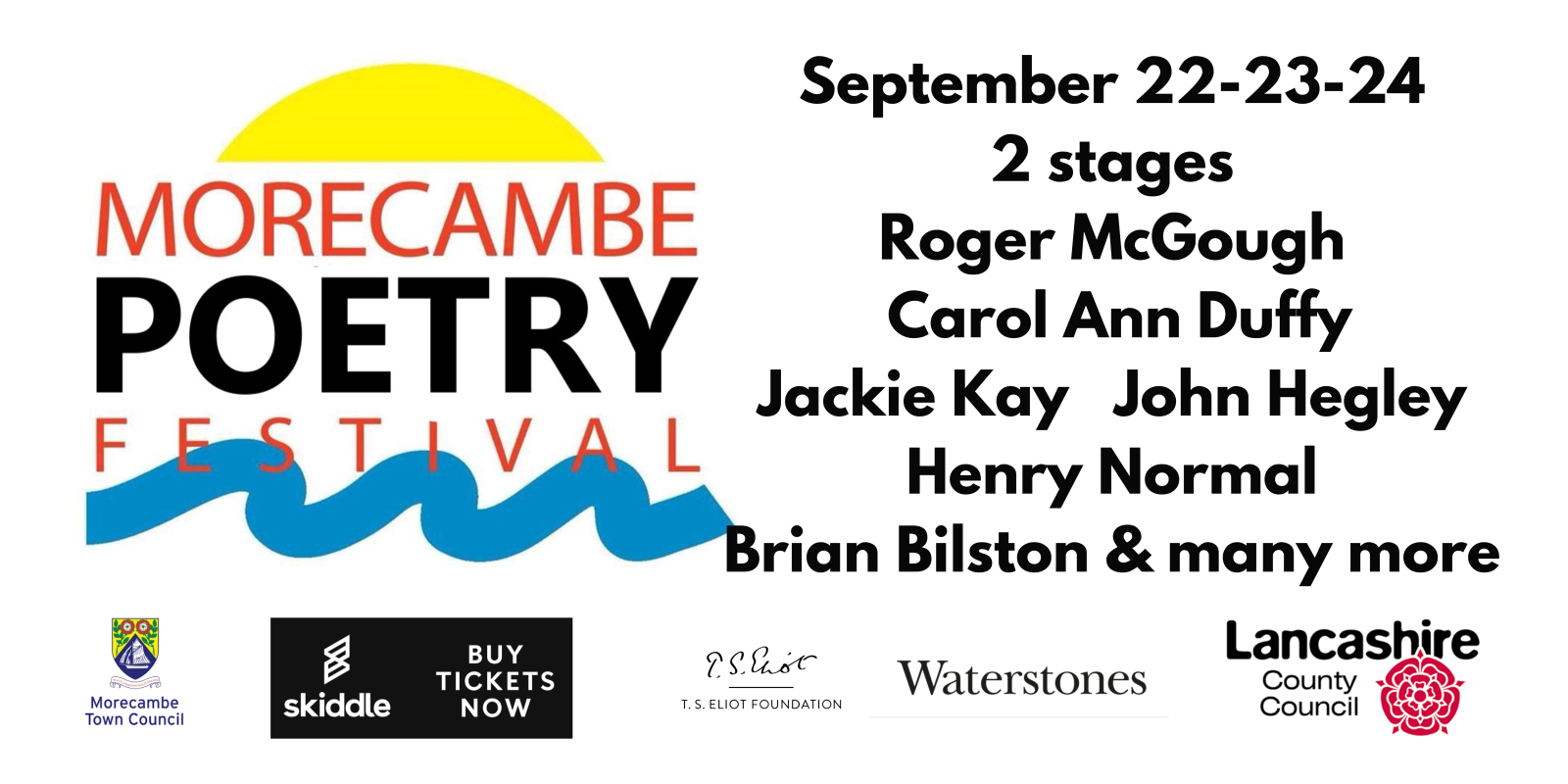 Henry Normal, Brian Bilston, Lemn Sissay, Jackie Kay, Roger McCough and Alice (aged 7) are just some of the poets featured in the Morecambe Poetry Festival (Volume 1) book.
The anthology will be available to buy at the Morecambe Poetry Festival taking place 22-24 September 2023, with all profits going towards next year's event. The 180 page book is a who's who of the spoken word scene in the UK alongside fledgling poets seeing their work published for the very first time.
Festival organiser Matt Panesh, who edited the anthology, said:"It's a true reflection of the ethos of the festival which is very democratic in giving a platform to the new and untested along with a host of world class names. We always wanted the festival to inspire the budding writers in the.local community, so we're delighted to showcase that in this book."
Eden Project Communities is a supporter of the book which features reflections on nature, sustainability and biodiversity. (Click here to discover more )
Tracey Robbins, Eden Project Communities, said: "Famous poets and those who are taking their tentative first steps are joined by audiences who are drawn together to share through the rhythm of words – expressions, feelings and ideas. This anthology of Morecambe Poetry Festival contributors is a collection of memories, experiences, interpretations charged with emotion that convey an incredible sense of connection between people and planet."
Wordsworth Grasmere is also a supporter of the book and festival.
"Nature, sustainability, biodiversity - all themes very much at the heart of the Festival, key to its home in Morecambe and central to the lives & work of William & Dorothy Wordsworth, to the landscapes, natural habitats, people and wildlife of the north-west where they lived two hundred years ago.
"We are very happy to support the opportunities the festival provides for new and established writers to share their work with each other and with everyone who gets involved. It is a real pleasure to see so many writers contributing to this anthology and to hear so many different voices."
A host of world class names have been announced for Morecambe Poetry Festival back for a second year after winning plaudits from poets and audiences alike for its inaugural event.
Taking place at Morecambe Winter Gardens across three days, the festival features a packed bill of acclaimed poets including Carol Ann Duffy, Roger McGough, Jackie Kay, Brian Bilston, Henry Normal, Attila the Stockbroker and John Hegley.
As well as a festival pass giving access to the whole programme, ticket are on sale for featured events including:
Friday 22 September: A double bill from two of the most acclaimed poets in the UK today - Brian Bilston and Henry Normal.
Saturday 23 September: Fresh off the boards from the Edinburgh Fringe Festival, nation's favourite John Hegley returns to Morecambe with a brand new slice of surrealist verse.
Saturday 23 September: Poet, performer and broadcaster, Roger McGough - who has published over 100 poetry books for adults and children - along with Gerry Potter and Jackie Hagan
Sunday 24 September: Two of the leading lights in UK literature - Carol Ann Duffy and Jackie Kay - share a stage.
Last year's event succeeded in putting Morecambe on the poetry map and attracted the attention of the T.S. Eliot Foundation - which has come on board with funding for five years.
This year, the festival is working with poetry organisation Big White Shed to offer poetry and performance workshops to the local community in the run up to the event to help fledgling writers prepare material and hone performance skills.
New for this year will also be a showcase of poetry nights from across the UK to give a snapshot of the UK scene.
Matt added: "There's all sorts of wonderful people enabling poets to perform in unique set ups and I want to give the festival audience a flavour of all the vibrant work going on around the country."
The Morecambe Poetry Festival takes place at the Winter Gardens and will present the most exciting, vibrant spoken word being produced today in the UK.
Weekend tickets offer access to all shows with standard seating priced £65 (plus booking fees). Gold passes offer priority seating priced £75 (plus booking fees).
https://www.skiddle.com/whats-on/Lancaster/The-Morecambe-Winter-Gardens/Morecambe-Poetry-Festival
Related
1 Comments