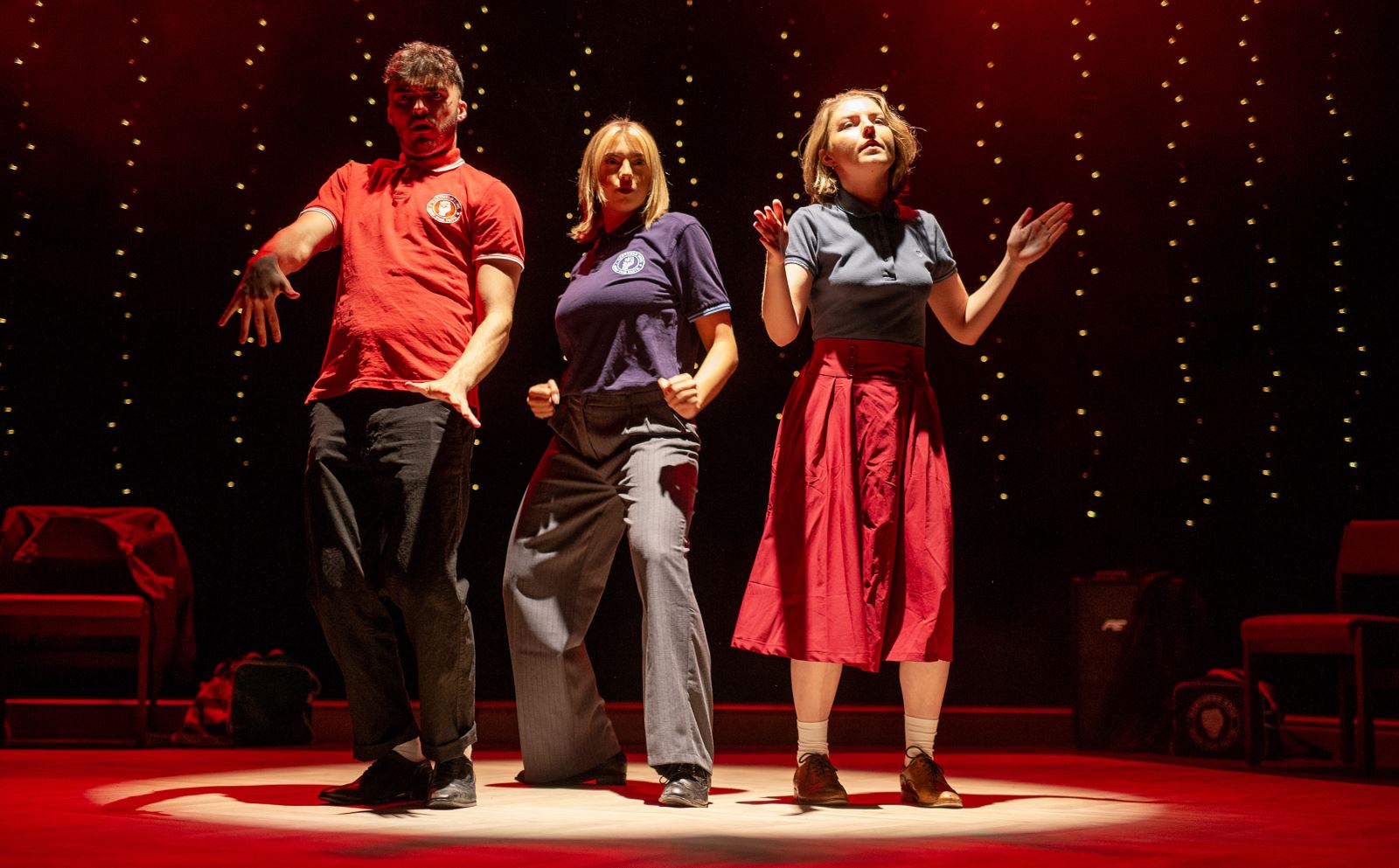 Pioneering playwright John Godber OBE will bring a darkly funny and dramatic double act to Blackpool Grand Theatre this season.
John's joyful love letter to the Northen Soul music scene Do I Love You? will make its Grand debut in The STUDIO from Tuesday 19 to Saturday 23 September while his original cult comedy Bouncers is back with a bang in an acclaimed new production from Wednesday 21 to Friday 23 February 2024
Snap up the LINK TICKET tickets for both of these unmissable shows and save £7!!!
Do we love John Godber? Indeed we do…
Do I Love You? follows Yorkshire twenty-somethings Sally, Nat and Kyle as they attempt to seek employment after graduation. Reluctantly working in a fast food outlet, their youthful optimism begins to fade as they meet the harsh realities of life in England in 2023. But when they are exposed to Frank Wilson's classic Northern Soul single on a regular basis it's not long before they have a new soundtrack to their lives and the tribe they've been looking for. Now they can't get enough; from Brid Spa to Stoke and from Eggborough to the Tower Ballroom, our young soulies are determined to keep the faith!
Authentic, funny and painful, Do I Love You? is an arrow to the heart as our trio fall in and out of jobs and love whilst attempting to master the dance moves! This is Northern Soul for a new generation, but with rising costs, unemployment, and small-town blues, is this England 1973 or 2023? And has anything really changed? Featuring Northern actors Chloe McDonald, Emilio Encinoso-Gill and Martha Godber and choreographed by the World Northern Soul Dance Champion 2022, Sally Molly, this is certainly not the show to miss if you want to keep the faith. Grab your loafers, spread the talc and join this hilarious trio out on the floor as they head off for another hilarious weekender!
Get your glad rags on and get ready for the night out of your life! The Bouncers are back in town! Originally premiering at the Edinburgh Festival in 1977, John Godber's highly revered and critically acclaimed Bouncers is still one of the most performed plays in the UK and is named as one of The National Theatre's 'Plays of the Century'. Often imitated but never beaten, the original Bouncers is eye-wateringly funny, coarsely celebratory, and as bitingly relevant today as it ever was. With a pumping 80s soundtrack, this new production takes us back to the glorious highs when disco was king, and everyone lived for the weekend. Like a hideously funny Saturday Night Fever, Bouncers is more a social phenomenon than a play.
Hilarious, vulgar, frenetic and highly physical, Bouncers has also become an international sensation, gathering awards from around the world. Join Les, Ralph, Judd and Lucky Eric as they relive an unforgettable night in a Yorkshire disco in the 80s. Everyone will be there: the DJ, the girls, the boys and the fish and chip van…
Book your seat now and Celebrate Good Times, Come on!
John Godber's Do I Love You? is at Blackpool Grand Theatre from Tuesday 19 to Saturday 23 September at 7.30pm with a Saturday matinee at 2.30pm. These shows will be performed in The STUDIO. All tickets £19.50
John Godber's Bouncers is from Wednesday 21 to Saturday 24 February 2024 with matinee performances on Wednesday & Saturday at 2.30pm. Tickets from £17.50 with a school rate available.
• Special LINKED TICKET available when booking for both John Godber productions saving £7!!! Only available by calling the Box Office on 01253 290190 or in person at the sales counter.
Visit blackpoolgrand.co.uk for full show listings and bookings or call the box office on 01253 290 190 for bookings and further information.
LISTINGS
John Godber's Do I Love You?
Tue 19 to 23 Sep 2023 at 7.30pm in the STUDIO
Sat matinee at 2.30pm
John Godber's Bouncers
Wed 21 to Sat 24 Feb 2024
Thu & Sat matinee at 2.30pm
Grand Theatre, 33 Church Street, Blackpool FY1 1HT
Box Office 01253 290 190
blackpoolgrand.co.uk
Facebook - @blackpoolgrand
Twitter - @Grand_Theatre
Instagram - grandtheatrebpl
Related
0 Comments