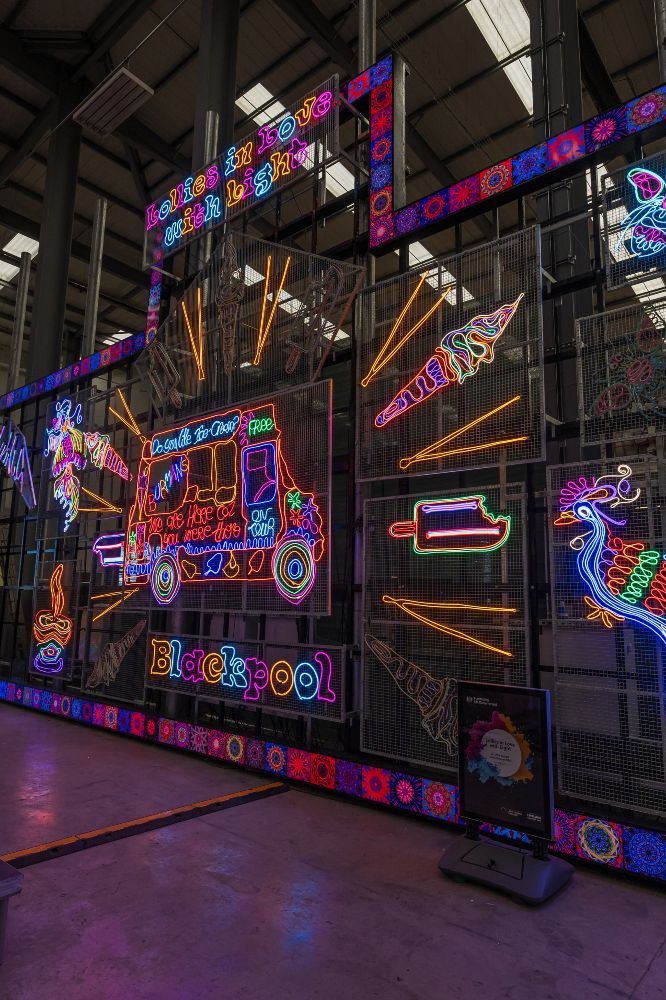 It was revealed today (August 10) that internationally-renowned artists Dr Chila Kumari Singh Burman, MBE, and Bruce Alfred have designed two spectacular installations for the 2023 Illuminations display.
The tableaux will be unveiled to the public when the Illuminations are launched on Friday 1 September for a four-month season. Both have been built by the Illuminations' in-house team based at the Lightworks manufacturing facility in Blackpool.
Merseyside-born Burman is celebrated around the world and has produced numerous high-profile works including installations for the Tate Gallery and Covent Garden in London, as well as special commissions for film companies, including Netflix.
Two years ago, she produced an installation called "Blackpool, Light Of My Life" on the front of Blackpool's Grundy Art Gallery and vowed to return to design something of scale in the world-famous Illuminations.
The result is a 26 metre-wide animated tableau entitled "Lollies In Love With Light", a stunning, kaleidoscopic celebration of Blackpool incorporating around 760 metres of LED neon lighting, with a technicolour ice cream van at its centre. It is inspired by her parents who ran an ice cream business.
Canadian-born Bruce Alfred specialises in Native American art and has created an evocative design featuring hand-drawn images of eagles and Orca whales. It is the first Illuminations display to be designed by a North American artist and one of the first to be developed using 3D printing technology.
The tableau, which incorporates more than 13,000 programmable LED lamps is intended to be the first of a new series of tableaux entitled "Light Around The World" that will celebrate international cultures.
The 2023 display will also include a new-look Spitfire Island - a large-scale installation developed in collaboration with designer and Illuminations curator, Laurence Llewelyn-Bowen. This installation has also been created using 3D printing technology. It features replicas of three Spitfires - Progress I, II and III - all funded by Blackpool residents during World War Two. The installation is sponsored by world-renowned model kit company, Airfix.
Cllr Lynn Williams, Leader of Blackpool Council, said: "These new works show the sheer scale of ambition as we continue to reinvent one of the UK's most enduring tourist attractions.
"With the help of Government and Arts Council funding, coupled with the introduction of new manufacturing and design techniques, we are cementing Blackpool's status as a world leader in illumination.
"The new installations for 2023 are truly stunning and will bring a completely new dimension to the traditional tableaux section on the Promenade.
Jen Cleary, Director North, Arts Council England: "Our investment supports Blackpool Illuminations to develop and deliver an extensive talent development programme for artists and creatives as well as commission, in collaboration with Lightpool Festival, nationally and internationally recognised artists who work with light. It is exciting news that new installations are being designed by renowned artists Dr Chila Kumari Singh Burman, who is making a return to Blackpool, and Bruce Alfred. I'm looking forward to seeing these works unveiled when the Illuminations launch on 1 September."
Dr Chila Kumari Singh Burman said: "This is a dream come true. I visited the Illuminations from the age of five every year with my mum and dad, siblings and family from Punjab.
"This is my childhood gone full circle and I can't believe it is happening! My late mum and dad would have been over the moon to see their ice cream van on a Blackpool Illuminations tableau!"
Other new features lined up for the 2023 display include:
Iconic Blackpool
Take a trip down Memory Lane through the new section of Illuminations, Iconic Blackpool. Featuring a selection of posters dating back to the 1920s, this section is an ode to Blackpool's rich heritage. From timeless Illuminations displays to the iconic landmarks that have graced the promenade for generations, the tourism posters have been carefully selected to transport visitors back to a bygone era.
Golden Mile Remixed!
Last year, a brand new Art Deco-inspired section, created by Laurence Llewelyn-Bowen, was a record-breaking first for the Illuminations as this area marked one of the largest roadway sections ever built and the first step change in the new-look display. For this season, it has been seamlessly linked with the iconic Blackpool Tower to create a synchronised symphony of light.
Blackpool, Hollywood-Style
Thanks to the ingenious Illuminations team, visitors can capture their Illuminations experience in front of a dazzling Hollywood-inspired Blackpool sign. Utilising Cabochon lamps, the installation spans almost nine metres in length and will be situated in front of The Blackpool Tower, providing the ultimate selfie opportunity.
Spiro Light Tunnel Spiro is an immersive walk-through tunnel of light spanning 26 metres in length. Back by popular demand, the illuminated tunnel comprises individually-mapped LEDs that allow beautiful intricate patterns. It will return to the Promenade for the full Illuminations season with brand new lighting.
In addition to Airfix, sponsors and partners in this year's display include Beaverbrooks, Affinity Lancashire, Partingtons, City Fibre, Coral Island and Northern.
Related
1 Comments