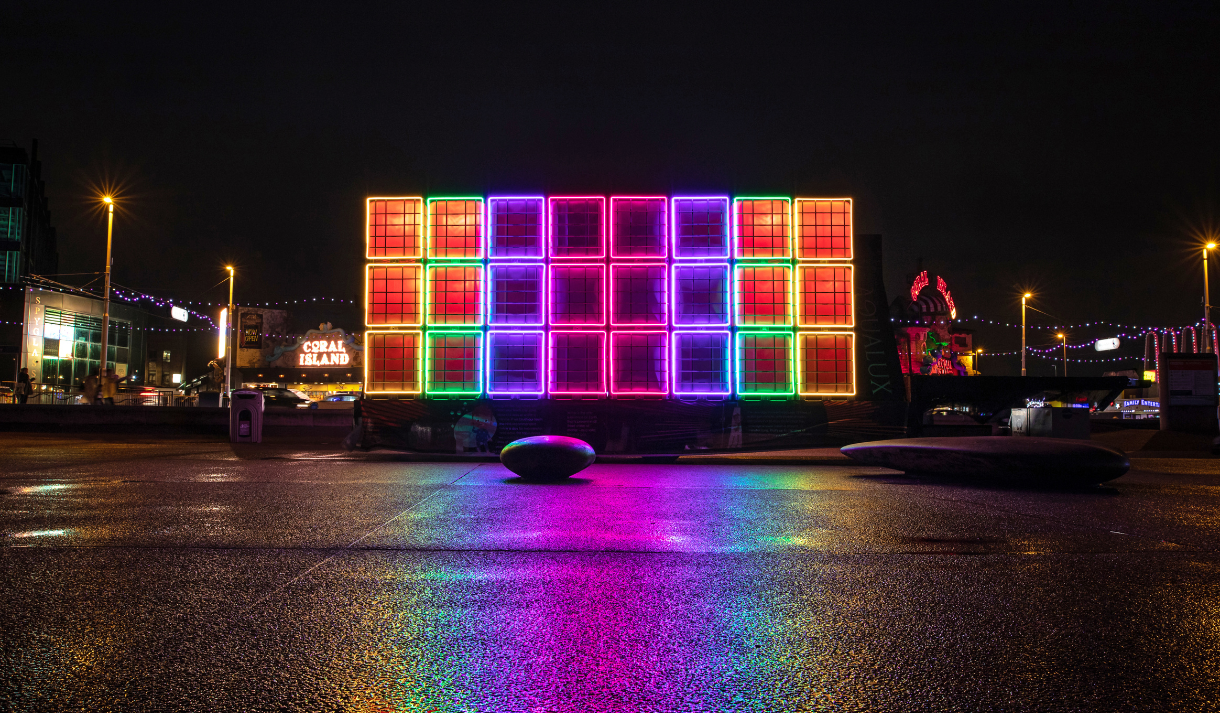 Blackpool's highly-acclaimed festival of light and art is returning over October half-term with an extraordinary programme of free entertainment.
Lightpool Festival, which will run from October 20-28, will include world premieres and installations never before seen in the UK, including artworks from Australia, France, the Netherlands and Spain.
The light installations include larger-than-life jellyfish along the Golden Mile, fireflies, a giant ball of wool made up of neon yarn, a cube made up of 448 glass jars each containing a miniature tableau, and an exclusive preview of designer Laurence Llewelyn-Bowen's first-ever digital installation.
And the iconic Blackpool Tower building will see an alien-like "invasion" with giant tentacles seemingly breaking through the ballroom roof!
The main part of the nine-day event is an art trail through the town centre and Promenade, with indoor and outdoor installations and projection shows. It will also feature live entertainment including a fireworks display on the opening night, the return of Carnival Magic in the Tower Ballroom, a new Butterfly Ball event in the historic Winter Gardens, and a host of family activities.
Festival director Phil Holmes said: "This year's festival promises to take people on a spectacular journey of discovery. The programme includes some stunning light art installations and 3D projections, with the sort of creative artistry never seen before in the UK.
"It will provide an enchanting and truly memorable experience for people of all ages to enjoy against the backdrop of the world-famous Blackpool Illuminations."
Cllr Lynn Williams, Leader of Blackpool Council, said: "From relatively small beginnings a few years ago, Lightpool Festival has grown into one of the most exciting light festivals in the UK.
"This year's programme is bigger, bolder and more imaginative than anything that we have staged previously and we are grateful for the ongoing support from the Arts Council who have recognised the significance of what is being delivered here in Blackpool."
The festival forms part of an extended Illuminations season which starts on Friday 1 September and runs until January 1 2024. Festival highlights include:
MICRO: Spain
ARTIST: HOTARU VISUAL GUERRILLA
A journey into the microscopic world with projection mapping that will capture the imagination.
TOWER PROJECTION: UK
ARTIST: GUILDHALL SCHOOL OF MUSIC & DRAMA
Guildhall School of Music & Drama present two new artworks at Sacred Heart Church and Blackpool Tower. The animations and original music are created by staff and students.

SPIRO: UK
ARTIST: LIGHTWORKS, BLACKPOOL
A family-friendly immersive walk-through a 26 metre-long tunnel of individually mapped LEDs, re-imagined for 2023. Get your camera ready and capture the moment.
PARABOLIC LIGHTCLOUD: Australia
ARTIST: AMIGO & AMIGO
A light sculpture inspired by the marine environment and sea corals. This cloud of light is constructed from 800 metres of woven rope recycled from discarded plastic bottles, and features over 1000 LED lights, with 20 unique animations.
I CAUGHT A… France
ARTIST: STÉPHANE MASSON
As night falls, you will discover the curiosities exhibited in a cage erected in the street to enchant passers-by. Since it left the workshop, this weird and wonderful zoo has evolved and is ready to come to life before our eyes.
SPIN ME A YARN: UK
ARTIST: STUDIO VERTIGO
Spin Me A Yarn takes the form of an oversized ball of wool with a 50-metre trail of neon yarn that will wrap itself around St John's Church.
MEDUSAE: UK
ARTIST: SIMON CLEGG
Are you ready for a fun, aquatic adventure? Our amazing interactive installation awaits you, featuring the most vibrant and mesmerising jellyfish you've ever seen! Immersed in a sea of colours and light, this experience is sure to dazzle your senses.
INVASION, UK
ARTIST: DESIGNS IN AIR
Blackpool Tower has been invaded! Giant tentacles have appeared, breaking through the ballroom roof. These mysterious creatures have arrived, but what are they and where are they from? An underwater world or an alien planet? See for yourself.
SUPERCUBE France
ARTIST: STÉPHANE MASSON
Discover 448 glass jars stacked neatly in a row. Behind each illuminated jar is a different miniature tableau, populated by unique characters: A laughing baby, a pink elephant, a dancing man, a giraffe. Every now and then, images of the public appear out of nowhere.
TOWER AND GOLDEN MILE LIGHT SHOW: UK
ARTIST: GREG MCLENAHAN – ENTERTAINMENT
CONCEPTS | MITCH BAILEY – PDA CONCEPTS
Blackpool Tower is emblazoned with a glowing heart and 25,000 lights on the structure. Join us for this sensational light show, as we bring the Tower and promenade to life with a sound and light spectacular.
GARDENS OF BAROQUE DELIGHTS: UK
ARTIST: LAURENCE LLEWELYN-BOWEN
The room of Baroque delights is LLB'S first-ever digital installation and uses four of his fantastical and romantic Arcadian landscape paintings.
AQUALUX: UK
ARTIST: PHIL HOLMES FOR LIGHTPOOL FESTIVAL
Aqualux is an eye-opening feature with an educational twist. An 8m by 3m creative lighting installation composed of 48 unfilled water containers, which typically hold 1,000 litres of water each, specially adapted to create a stunning light feature.
FIREFLY FIELD: The Netherlands
ARTIST: STUDIO TOER
Firefly Field is a mesmerising light installation of numerous flying light points that simulate the movements of these nocturnal insects. Glowing, darting, and hovering above the ground, creating an awesome spectacle.
ODYSSEY: UK
ARTIST: JACK IRVING, LANCASTER UNIVERSITY,
LIGHTWORKS
Introducing Odyssey, the largest installation ever seen in the Blackpool Illuminations display, co-created by international designer Jack Irving in collaboration with a talented team of computer scientists from Lancaster University and the experts at Lightworks.
BIG BIRD: UK
ARTIST: GUILDHALL SCHOOL OF MUSIC & DRAMA
LIGHTING: LIGHTWORKS
What's 3.5 metres high and made out of 10 London taxis?
Big Bird of course!
LUMIDOGS
FUN-FILLED WORKSHOPS
Join us for a FREE workshop in a dog-friendly and relaxed environment. Bring yourself and your four-legged companion along to one of our workshops and our creative workshop leader will guide and assist you into making your dog's very own Lumi jacket!
PERFORMANCES
World Fireworks Championship Blackpool – Friday 20 October, Tower Festival Headland. Free event.
Freaks, Sideshows & Curios, The Old Electric on Friday 20, Saturday 21 and Sunday 22 October, 7pm-9pm. (PG)
Carnival Magic, Blackpool Tower Ballroom on Monday 23 October. Featuring an exhilarating menagerie of illuminated carnival showcasing music, puppetry and dance
Butterfly Ball & Silent Disco, Winter Gardens on Saturday 28 October.
More details on show tickets will be released soon.
For the full festival line-up, please head to www.visitblackpool.com/lightpoolfestival
Related
1 Comments