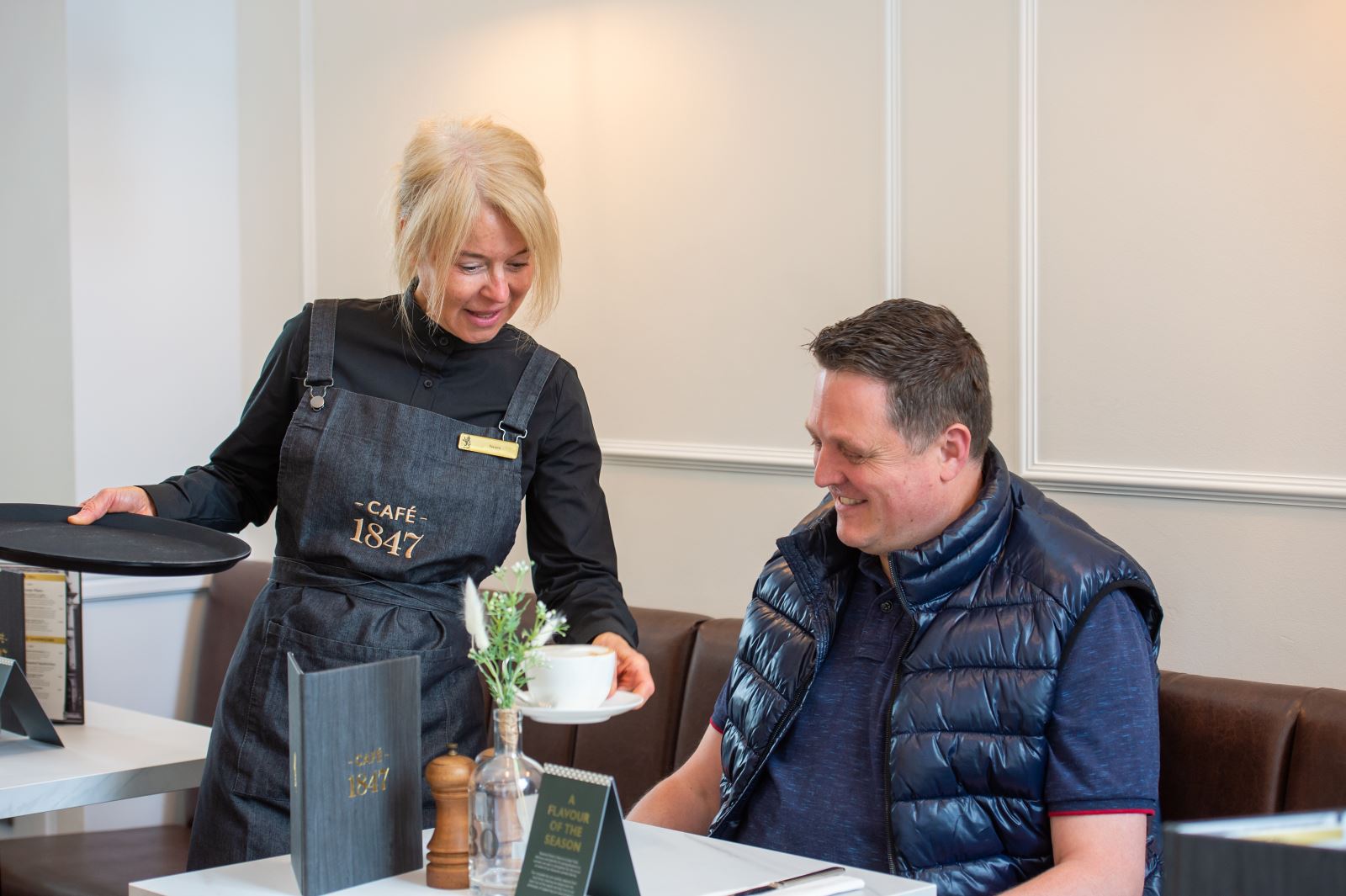 Booths are delighted to unveil their new café at Hesketh Bank: Café 1847, named after the date Booths was founded as coffee and tea merchants in Blackpool. The newly reimagined cafe is a celebration of great coffee, expertly blended tea and delicious food, freshly made using seasonal and local ingredient, served with a warm, northern welcome.
Opening on 26th of May, store manager Jenni Stancolmbe explains, "Café 1847 is a complete revamp of how we run our cafes, the new space is warm and welcoming, and we want customers to feel special the moment they arrive. We reviewed and redesigned every aspect of our offer to create a café experience fitting for Booths that paid homage to our beginnings as tea and coffee merchants."
Jenni continued, "We roast and blend our own coffee and tea inhouse, bringing 175 years of passion and expertise to your cup. This is the perfect chance to celebrate what we do best with our customers and tell our story."
The newly developed menu champions the best of Booths. Making the most of seasonal and local produce where possible, customers can enjoy specialities such as the1847 Signature Breakfast, Booths Ploughman's Lunch, artisan sandwiches, strawberry cream tea, and a range of cakes from Studio Bakery and The Harrogate Cake Co. Café 1847 is also introducing "Little Foodies", a menu specifically designed for smaller appetites. Featuring a range of little brunches, lunches, desserts, and shakes, it encourages discovery of the unique ingredients that make Booths special and the origins of where our food comes from.
"We've really tried to think about the little details that make a difference to a meal, right down to our children's colouring page that features our newly named lion character, Dandy, which was named by our customers. Our colleagues have been on extensive training programmes and hospitality skills workshops to deliver truly top-notch service.
"It has been a wonderful project to be involved in and I know our colleagues and customers are going to love it!" said Jenni.
Since 1847, Booths have worked hard to engage with the wider community and develop partnerships with suppliers, producers, schools and like-minded organisations. Café 1847 will welcome customers and community groups to socialise and catch up over a cup of coffee, in an inviting and friendly environment. The new café also creates endless opportunities for events and new experiences to take place.
Booths will be kick-starting a series of events with their charity Wine Tasting Evening with Edwin Booth on 28th June, an event designed to educate and engage the community, hosted by the chairman himself. You can buy tickets now here: https://www.booths.co.uk/booths-events/
Related
0 Comments