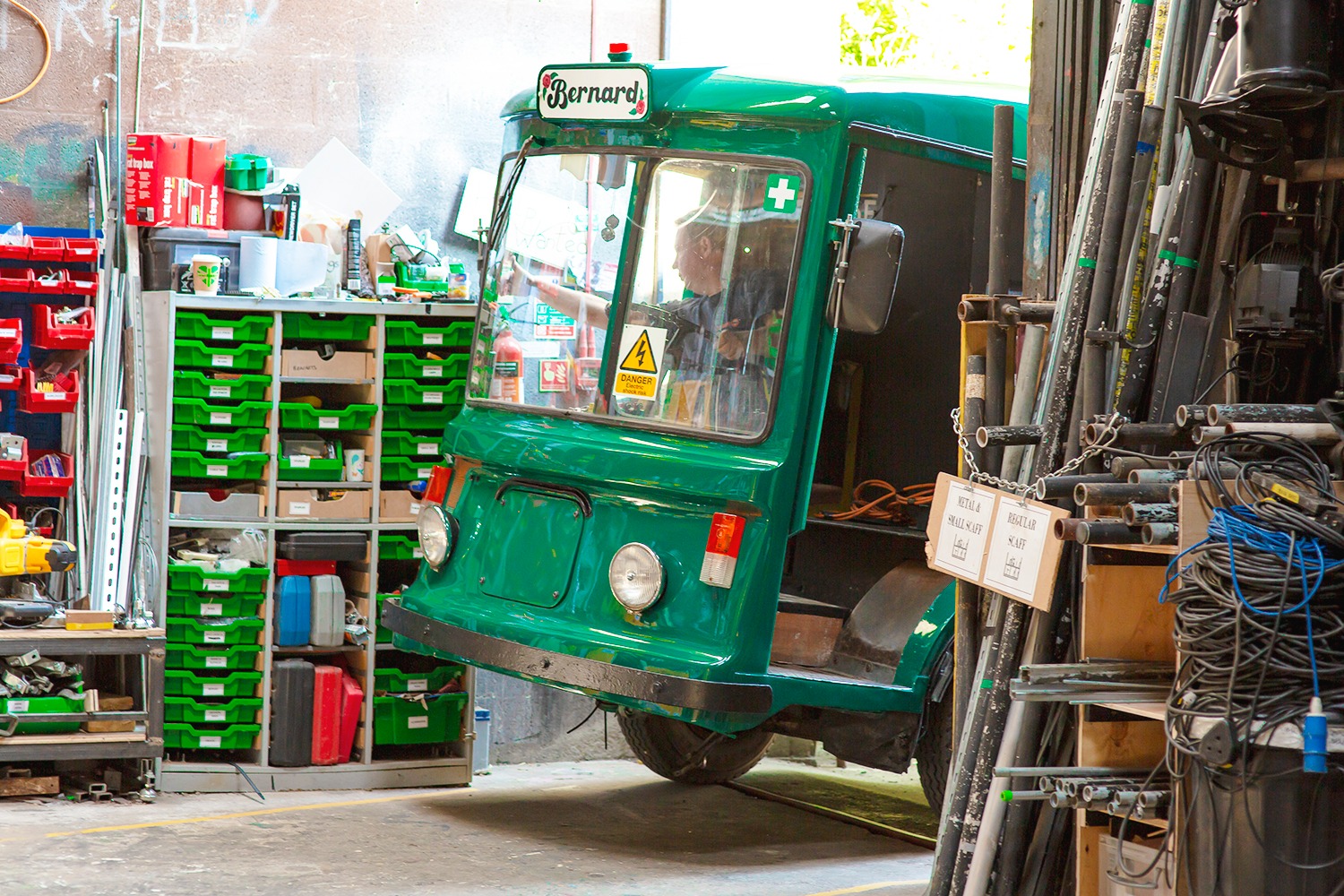 Bernard's Back!
The little green milk float of over 30 years is back at the Dukes ready to be supercharged and prepped for a full summer season of adventure.

For those of you who have been to a park show (and if you haven't, why not? They're awesome) you'll be familiar with the little electric float nipping from scene to scene as the crowd follow his electric hum. But there may be a few things that you didn't know...
Did you know that Bernard is actually 56 years of age, having previously worked as an actual milk float for Express Dairies in Farmworth before being acquired by the Dukes in 1992 to help operate the park show sound and lighting.
For years Bernard never had a name but following a fundraising effort to pay for it's long overdue repairs and replacement of technical equipment, which was supported by many generous individuals, the Foyle Foundations and non-other than Sir Ian McKellen during his 80th birthday tour which calling into the Dukes in 2019. It made sense to finally give this little green milk float a name during his refurb.
Bernard is actually named after along beloved volunteer to The Dukes, Archivist Bernard Gladstone who sadly passed away in March 2021.
Bernard Gladstone, volunteered at the Dukes as our honorary archivist since the 70's, archiving the vast majority of the Dukes park shows, which he loved...along with his garden.
His garden, was actually packed full of props and memorabilia and paid homage to the 41 productions staged by the Lancaster theatre in Williamson Park since 1987.
His green-fingers have earned him prizes galore in the Bolton-le-Sands best kept village garden competition over the years.
And he even won a Making A Difference Award at the 2011 Lancashire & Blackpool Tourism Awards for his dedication to volunteering at the Dukes.
For 25 years, Bernard looked after the cast and crew at the dressing rooms in Williamson Park, known as Base Camp.
Having been a steward volunteer and having seen all the Dukes promenade productions put Bernard in the perfect position to build up a collection of props used in the shows.
Bernard's milk float can be seen throughout this year's show -Around the World in 80 Days - which runs on Tuesdays-Sundays from July 21st - August 27th.
You can also book your tickets by calling the Box Office on 01524 598500 or by emailing tickets@dukeslancaster.org
Related
2 Comments