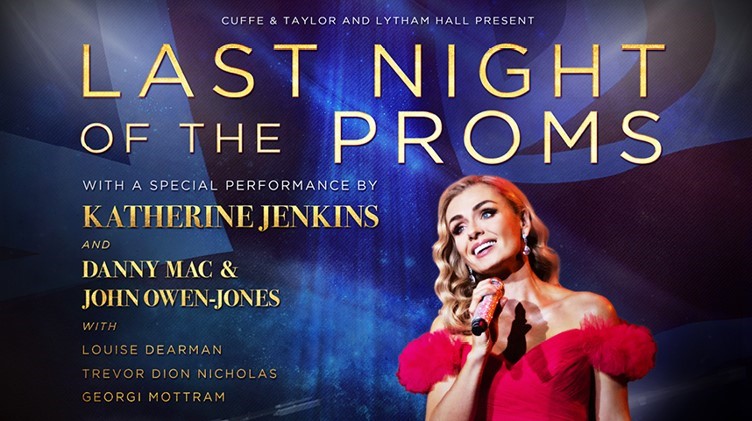 Welsh superstar mezzo soprano Katherine Jenkins OBE is to headline an exclusive Last Night of The Proms concert in Lytham.
The UK's biggest selling classical artist of the century will head to the grounds of historic Lytham Hall on Sunday August 27. She will be joined by West End star Danny Mac, Broadway and West End favourite John Owen-Jones and other critically acclaimed West End performers.
Tickets go on sale at 9am this Friday from www.lythamfestival.com
Last Night of The Proms is presented by Lytham Festival organisers Cuffe and Taylor and follows the success of previous Proms concerts over the last two years which has seen more than £200,000 donated to the continued restoration of Lytham Hall. All money raised from Katherine's concert will also be gifted to the Grade 1 listed venue.
Lytham Festival Presents Last Night of The Proms marks a return to the Lancashire coast for Katherine who last headlined the original Lytham Proms on Lytham Green in 2011.
Speaking about her return, Katherine said: "There's something very special about a Proms concert. They are always such wonderful events and I am looking forward to returning to Lytham in a whole new setting."
Katherine officially became the world's most successful classical singer after she was crowned 'The Biggest Selling Classical Artist of the Century' by Classic FM.
A hugely successful recording artist, she has smashed the record books achieving 14 Number 1 albums and performed for thousands of serving British troops overseas as well as Popes, Presidents and Princes in a sensational 20-year career.
2022 was an emotional year for Katherine having been invited to sing 'We'll Meet Again' at her mentor and friend, Dame Vera Lynn's memorial service at Westminster Abbey. She also played a key role performing for the late Queen Elizabeth in her Platinum Jubilee concert and in September, following the death of The Queen, Katherine was selected to be the first artist to record 'God Save The King' for His Majesty, King Charles III.
Katherine will be joined at Lytham Festival Presents Last Night of the Proms by special guests Danny Mac and John Owen-Jones as well as featuring the exceptional talents of Louise Dearman (Wicked), Trevor Dion Nicholas (Hamilton) and Classical Brit nominee Georgi Mottram.
Danny Mac has starred in countless musicals in the West End and across the UK including Les Misérables where he played Gavroche at the age of 10, to Legally Blonde, Wicked, Sunset Boulevard and most recently Pretty Woman.
Many people will recognise him from his four-year stint as Mark Savage in Channel 4's Hollyoaks – and he was the first male to score a perfect 40 for a Samba on BBC's Strictly Come Dancing.
John Owen-Jones is a record-breaking West End and Broadway actor and singer best known for his performances as Jean Valjean in Les Misérables and as The Phantom in The Phantom of the Opera. John remains the youngest actor in West End history to have played Jean Valjean in Les Misérables (a role he also played twice on Broadway) and has performed as the Phantom in The Phantom of the Opera almost 2000 times.
Most recently he has received critical acclaim playing the role of Phil Hollinghurst, the blue-eyed, silver fox baking judge in Great British Bake Off - The Musical which ended its West End run on Saturday.
His performance at Lytham Festival Presents Last Night of the Proms comes after John appeared as special guest alongside fellow tenor and headliner Alfie Boe at last year's Proms concert.
Lytham Festival co-founder Peter Taylor said: "We are delighted to welcome Katherine back to Lytham. Our Last Night of the Proms concert is always an exciting occasion and for the last two years we have enjoyed staging this event in the wonderful surroundings of Lytham Hall.
"It is also a pleasure to see John return and we look forward to welcoming Danny, Louise, Trevor and Georgi. They are all incredibly talented individuals and we know this will be a very special evening in a magical setting."
Lytham Hall is managed by the Heritage Trust for the North West and all profits from Lytham Festival Presents Last Night of The Proms will be used for further restoration and projects at the heritage venue.
General manager Peter Anthony said: "We are absolutely delighted that once again Lytham Festival is bringing another world-renowned artist to our magnificent Lytham Hall.
"The money raised with the two previous Last Night of the Proms concerts has been incredible and is a great boost to support our ongoing projects. We now look forward to welcoming Katherine Jenkins for what will be a truly wonderful evening."
Lytham Festival Presents Last Night of The Proms is a picnic proms-style event.
Tickets go on sale at 9am this Friday from www.lythamfestival.com
Related
0 Comments