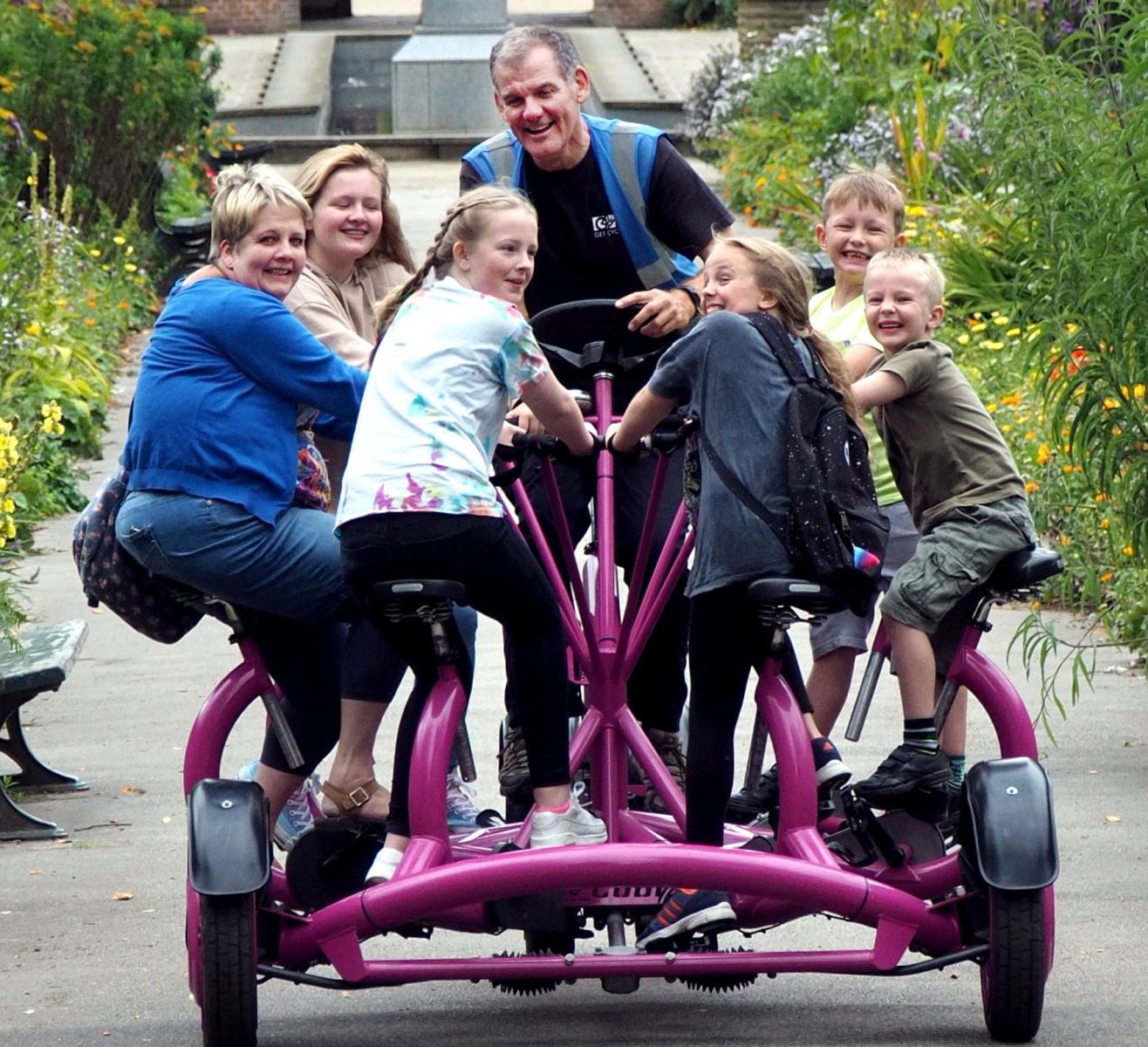 Local charity Morecambe Bay Partnership is encouraging communities to 'Get Cycling Morecambe Bay' by offering a week of free "Bike Doctor" and bike 'try-out' sessions culminating in a fun cycling weekend for all from 1- 2 July on Morecambe Prom.
As part of the Ways Around The Bay initiative, the charity is working with Everybody's Cycling to deliver an exciting range of free activities to support people to get confident riding a bike and enable them to experience all the joy and health benefits that cycling brings.
Everybody's Cycling will be visiting schools with their fleet of bikes and people will be able to pop along to a Bike Doctor event at various community venues around Lancaster and Morecambe in the week leading up to the finale weekend. The Bike Doctor sessions offer a local qualified bike mechanic who will be on hand to carry out minor repairs including replacing standard brake pads and nuts and bolts, gear and brake cable replacement and puncture repair – all completely free of charge. The mechanic will safety check the bike and recommend local bike shops for any further repair, and offer general advice on cycling. There's no need to pre-register, people can simply turn-up with their bike and complete a short paper form. Everyone is welcome but under 18's must be accompanied by a parent or guardian.
The cycling fun activities weekend on Sat & Sun 1–2 July takes place on Morecambe Promenade from 10am-3pm offering opportunities for everyone to come along and try-out all kinds of cycles to suit all ages and abilities. Featuring fun and unique cycles from Everybody's Cycling including tandems, modern miniature penny farthings, tricycles, KMX karts, eccentric wheeled bikes, children's bikes and many more. There will also be pedal-powered attractions which play music and make hundreds of bubbles, as well as enjoyable rides along the prom on their eye-catching pink multi-seat MegaBike.
The event provides a fantastic opportunity to try Everybody's Cycling's fleet of adapted bicycles including tricycles, recumbents, wheelchair transporters, side-by-side companion cycles and handcycles.
Michelle Cooper, the charity's Team Leader for Engagement and Fundraising said 'Part of the the focus for the Ways Around The Bay initiative is to help break down the barriers which prevent people getting in to cycling, whether that's for health, leisure or for getting around cheaply. We think many people might like to cycle but often lack the confidence so being able to try a bike under the guidance of an expert can be the key'.
Everybody's Cycling General Manager, Jessica Shay, added 'We are delighted to support the Ways Around the Bay initiative as our charitable goal is to enable everyone to experience cycling and enjoy all the benefits that it can bring. These try-out events are fully inclusive and are ideal for those with special needs and disabilities to enjoy cycling and learn about the wide range of options available. The bike doctor events are a fantastic opportunity for people to give their old bikes a new lease of life and encourage them to travel sustainably and enjoy the amazing local cycle network in Morecambe Bay'.
The events form part of the launch of Ways Around The Bay, a programme which aims to establish Morecambe Bay as a centre for walking, cycling and exploring the Bay in low carbon ways. The initiative is creating more inclusive access, so everyone can enjoy the Bay's inspiring landscapes, nature, history and culture. The programme is funded by the Department for Levelling Up (Coastal Communities Fund) via Westmorland and Furness Council.
Bike Doctor pop-up dates, venues and times
Tuesday 27 June: Festival Market, Morecambe, 9am – 5pm
Wednesday 28 June: Charter Market in Market Square, Lancaster, 9.30am – 4pm
Thursday 29 June: Salt Ayre Leisure Centre, Lancaster, 10am – 3pm
Sunday 2 July: Morecambe Promenade, opposite the Winter Gardens, 10am - 3pm
Weekend Get Cycling Morecambe Bay events
Sat 1 & Sun 2 July: Morecambe Promenade, opposite the Winter Gardens, 10am – 3pm
Full details about Get Cycling Morecambe Bay can be found here:
https://www.morecambebay.org.uk/what-we-do/stories/get-cycling-morecambe-bay
Related
0 Comments