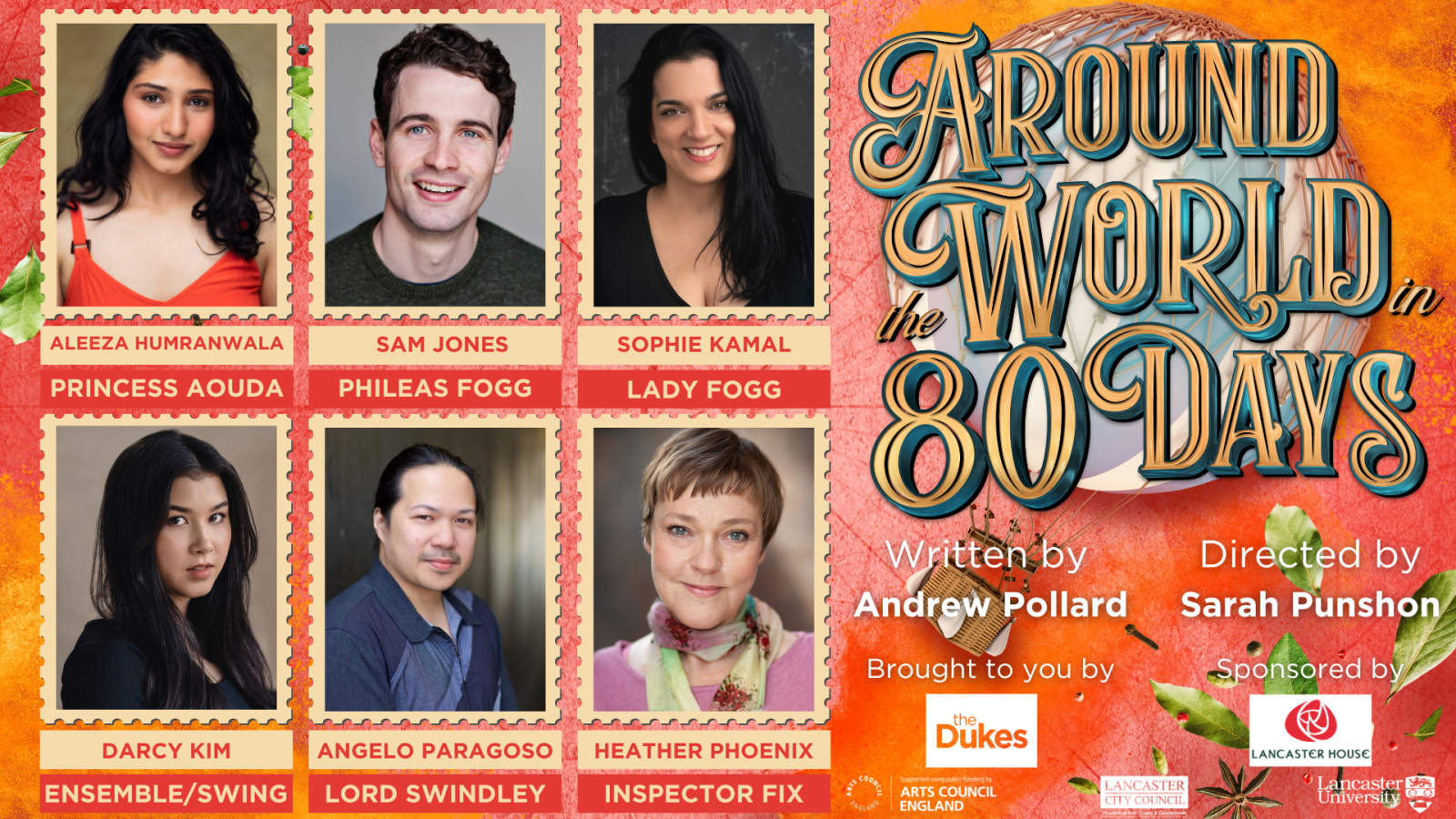 The Dukes award-winning outdoor walkabout theatre season returns to Lancaster's Williamson Park this summer. Featuring a stellar company of 6 actors, the cast has now been revealed.
The full cast includes: Sam Jones (EastEnders; BBC, On the Edge: That Girl; Channel 4) as Phileas Fogg who returns to the Dukes following his park show debut in the 2010 adaptation of Peter Pan. Aleeza Humranwala (Patel's Millions; Madraj Productions, The Headless Girl; Theatre 503) as Princess Aouda, Sophie Kamal ( Lapwing; Amazon, The Full Monty; The Jolly Mule Theatre Company) as Lady Fogg, Heather Phoenix (The Tempest; Salisbury Playhouse/Wiltshire Creative, Much Ado About Nothing; Northern Broadsides) as Inspector Fix, Angelo Paragoso (At Last, It's Summer; London Palladium, Paddington 2; Marmalade Films) as Lord Swindley and Darcy Kim (Jack and the Beanstalk; Porthcawl Pavilion) as Ensemble.
The creative team features Sarah Punshon (director), Ziad Jabero (composer), Zak Phillips-Yates (choreographer), Elspeth Dale (stage manager), Brent Lees (production manager), Kate Harvey (sound designer), Amanda Mascarenhas(set and costume designer), Rachel Walton-Daniels (production assistant), SnowZie Rose (deputy stage manager).
Following on from last year's sold-out performances of the Jungle Book, the Dukes will delight audiences once again with an epic whirlwind adventure, Around the World in 80 Days, from 21st July - 27th August.
Audiences will be invited to follow Phileas Fogg, as he races against the clock by trains, boats, elephants and balloons to travel around the world in 80 days in this epic whirlwind adventure for the whole family.
Adapted by writer Andrew Pollard (writer of last year's sell out show, the Jungle Book), you can expect an adventure of a lifetime that introduces us to all the sights, sounds, smells, food and cultures of the people around the world.

For those who have not attended a park show before, it's a unique experience, where the audience travel around the beautiful Williamson Park in Lancaster, moving to different locations to watch each scene unfold. Many audience members arrive early to enjoy picnics overlooking the stunning Morecambe bay, it's a wonderful family friendly event.
The Dukes Director, Karen O'Neill said on the announcement:
"This year our Play in the Park will be travelling the globe with 'Around the World in 80 Days'. The Dukes will be transporting audiences around the world in Williamson Park from July to the end of August, with an amazing creative and technical team and electrifying cast all working together to make this incredible show happen. We are so pleased to be back in the Park working with the team there and Lancaster City Council on this annual family highlight! This is a journey not to be missed so grab your tickets and join us on a marvellous adventure."
The Dukes has been entertaining generations of families with their summer
promenade shows since 1987, attracting a total of more than a half a
million people.
Around the World in 80 Days runs on Tuesdays - Sundays from July 21 - August 27 at
7.15pm. Tickets must be booked in advance. Group bookings negotiable, please contact The Dukes Box Office on 01524 598500 or tickets@dukeslancaster.org
Related
0 Comments