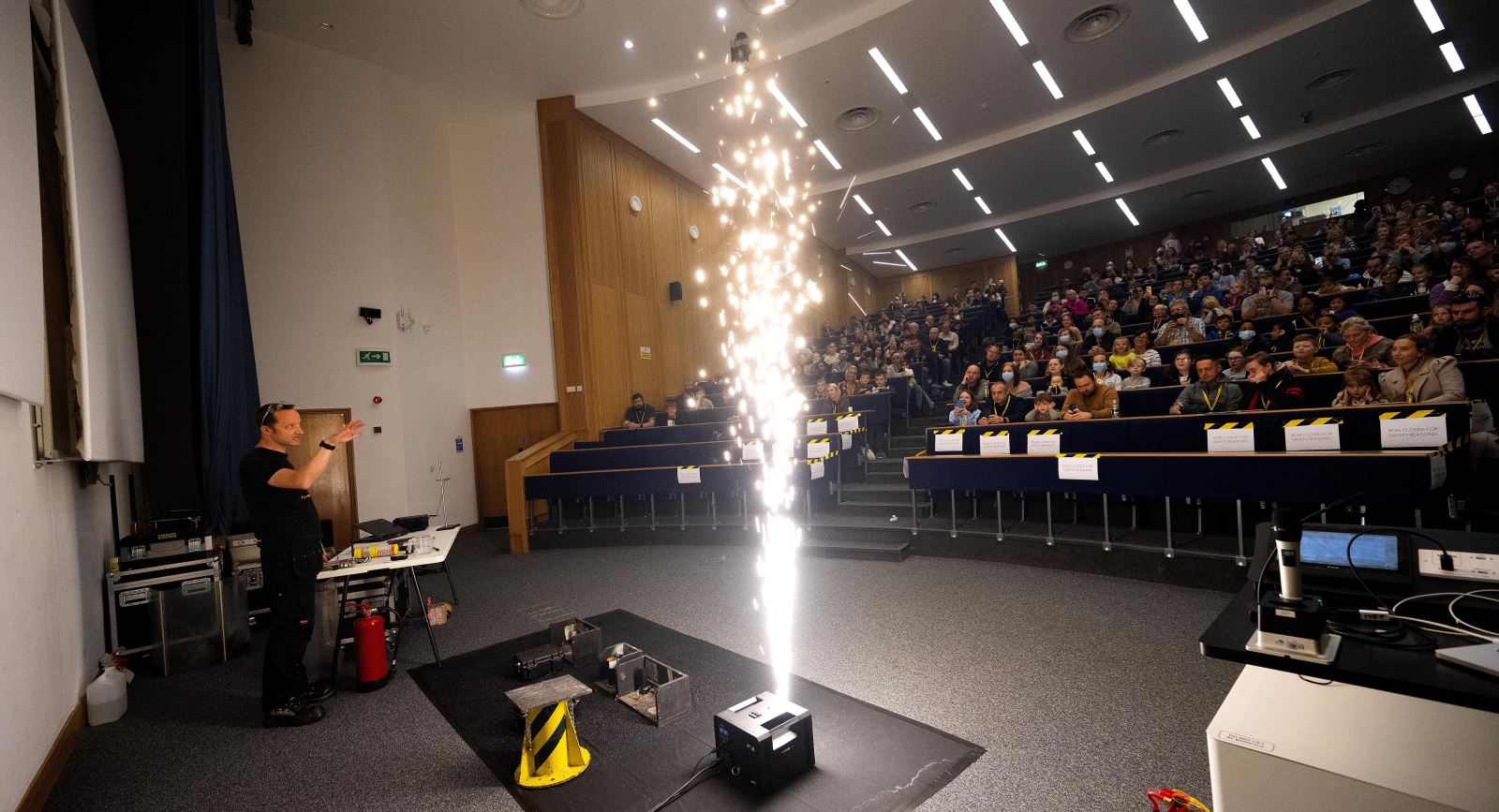 The University of Central Lancashire's (UCLan) free award-winning Lancashire Science Festival is returning in May.
The annual event is bringing back some of the most popular science, technology, engineering and maths (STEM) attractions from the previous nine festivals and adding some new electrifying shows, fantastic workshops, exciting exhibits and hands-on activities.
Taking place on 20 May on UCLan's Preston Campus, the public day will see the return of the daring BMX stunt bikers in The Science of Extreme Sports. The group will showcase how gravity and kinetic energy work while dazzling the crowds on University Square with their jaw-dropping skills and tricks.
Animals will be the attractions at two of the main shows as awe-inspiring birds of prey will be on display as The Birdman explains the wonders of adaptation and natural sustainability while The Ugly Animal Show celebrates and explores the incredible biology of the most monstrous animals.
A new rocket show will use large fireballs, loud explosions, a working jet engine and a 2-metre-long rocket car to demonstrate the principles behind getting into space while Ghosts in the Machine will look at the supernatural from a scientist's viewpoint.
Popular returning attractions include the unique and interactive Bubble Science Show, which creates bubbles of all shapes and sizes; This is Amazing Chemistry, which features a range of demonstrations using chemical clocks, cold light, fire, and whoosh bottles; while Unmasked: The Science of Superheroes will explore how superheroes' brains and bodies work.
Playdough Surgery, Mighty Maggots, Hands on Healthcare, Touring the Solar System and Potted Prehistory are among the many workshops running across the day. The interactive showfloor, in Sir Tom Finney Sports Centre, will once again be packed with a wide variety of hands-on exhibits for children of all ages.
The public day will immediately follow on from two primary school specific days, which will see around 6,000 Key Stage 2 youngsters from across the North West enjoy a fun-packed day of STEM activities.
Dr Liz Granger, Lancashire Science Festival Director, said: "We're doubly delighted for this year's event because not only will this be our 10th Festival but we're also able to return to our first three-day programme after the pandemic.
"This year's programme offers something for everyone, with popular favourites returning alongside some really exciting new shows and workshops.
"We know there's a great appetite for free educational and fun events in the region. Tickets for our school day packages were snapped up within a couple of hours, and we've had fantastic feedback from our previous festivals, so we hope to welcome thousands of visitors back to enjoy this year's entertainment on 20 May."
Free public day tickets will be available to order on the UCLan website from 4pm on 19 April.
Related
0 Comments