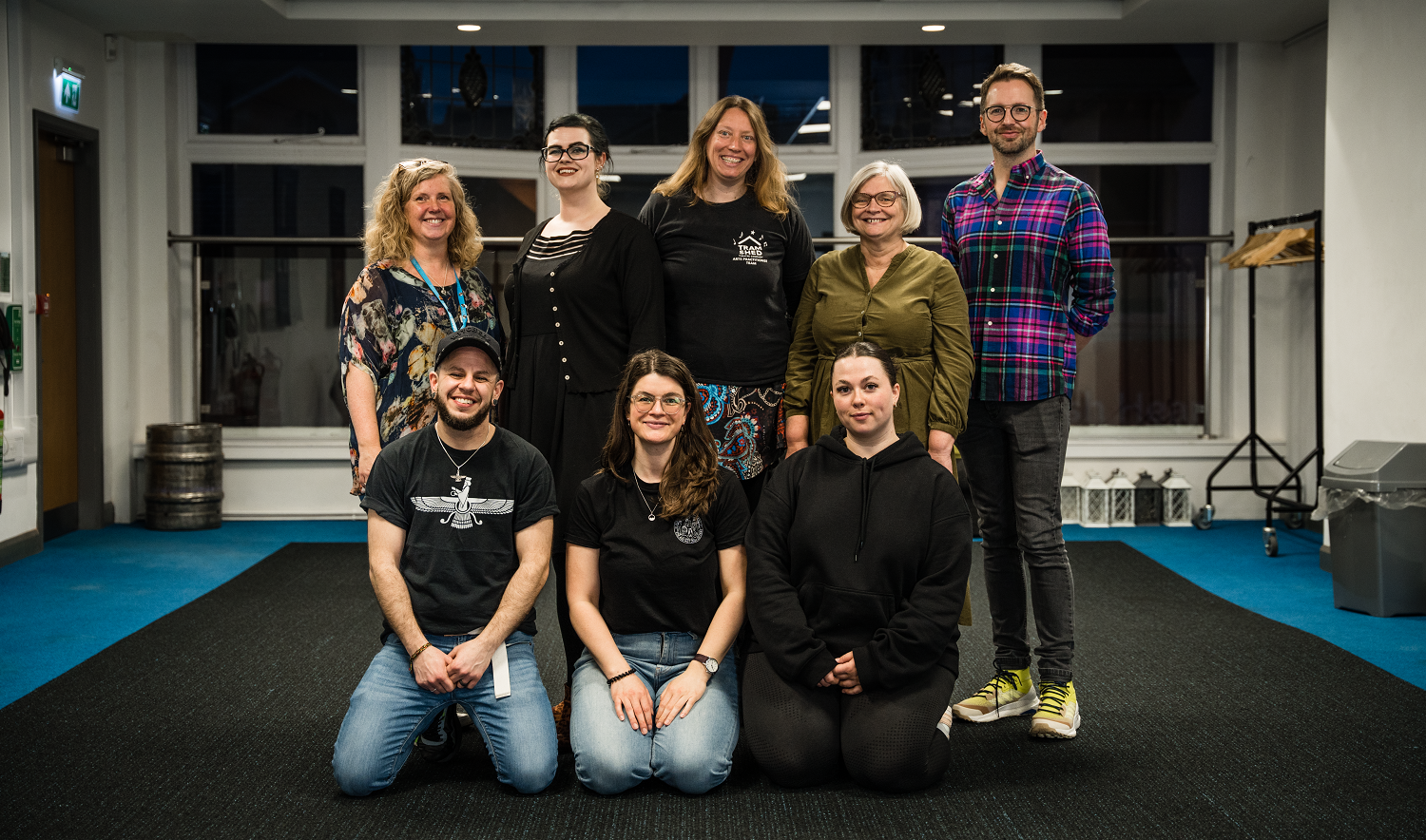 Friends, Romans, countrymen! Lend me your voices!
Six Blackpool residents are singing with joy as they get ready to perform as a Community Chorus alongside the world-renowned Royal Shakespeare Company in William Shakespeare's fast-paced political thriller JULIUS CAESAR at Blackpool Grand Theatre from Tuesday 16 to Saturday 20 May.
The talented group includes a local librarian, a teacher, a youth worker and an attraction manager who will all come together to appear alongside the show's professional acting company as part of the RSC's continuing commitment to make theatre and Shakespeare accessible to everyone.
This exciting new production of Julius Caesar is directed by the celebrated Atri Banerjee and will explore important questions such as gender in leadership and power. Using their singing voices, the chorus - comprising local community leaders Emma Rucastle, Zoe Lamond, Beth Montgomery, Tori Pollett, Cy Karoonian and Hannah Dial - will represent identities that have been marginalised, either at different points in history or in our world today. The Chorus will be integrated into various musical elements of the production and appear as an otherworldly presence alongside a number of the characters, such as the Soothsayer, who famously warns Caesar to 'beware the Ides of March'. They will also serve to heighten the play's status as a tragedy as well as a visceral political thriller.
The Grand's Community Chorus are all local leaders in their own fields - working and volunteering across education and schools, community groups, the arts, local authority and tourism sectors. They come with a wealth of talent and enthusiasm for their roles in Julius Caesar and as well as gaining vital experience in performance, it is hoped the group will share the skills they gain from being in the show with their own respective community groups.
The group is currently meeting weekly with local Musical Director, Phill Fairhurst and The Grand's Creative Learning Producer, Jo Cleasby, to explore how to use their voices to express emotion, try out different vocal techniques, and learn more about the world of the play. Julius Caesar's Associate Director, Lucy Waterhouse and Associate Music Director, Helen Washington, will visit the group during their rehearsals, while the show's composer Jasmin Kent Rodgman and Music Director, Lindsey Miller, will remain closely involved in shaping the role of the Chorus. When the RSC arrives at The Grand in May, the group will then rehearse with the professional actors and wider creative team, integrating the group into the production.
The Community Chorus comprises:
Emma Rucastle from Blackpool based TramShed Theatre which began as an inclusive theatre company in 2007. The small, grass roots charity has grown into a dynamic and developed organisation driven by the voices of the local community, breaking down social barriers and social exclusions in all its forms. The 100+ strong membership base aged 4 years upwards enjoys an extensive weekly timetable of face to face and online workshops, an educational outreach programme, TIE programme and inclusive training package.
Zoe Lamond from Blackpool Libraries whose work involves engaging with the families of children under school age in Blackpool, encouraging those families to use the Library service and participate in bounce and rhyme sessions and early years themed events in all sorts of settings including family hubs, parks, community centres etc. The library service focusses its work in specific local wards and areas identified as most deprived
Beth Montgomery who works as a manager at the world-famous Blackpool Tower alongside a young team mostly in their first jobs. This community is one that is emerging into the world, becoming adults and finding their feet. Beth also works with those who have a passion for the tourism industry with hosts who visited as children and aspired to work there and now assist with the lead of the attraction.
Victoria (Tori) Pollett - a teacher at St Mary's Catholic Academy Blackpool who has supported the RSC Associate Schools programme for 10 years. St Mary's is a high-achieving, 11-18 academy where students are encouraged to thrive and flourish. The school believe that every child should experience the best education and opportunities available. Students experience a wide range of extra-curricular clubs, trips and events.
Cyrus (Cy) Karoonian from Revoelution/Blackpool Coastal Housing who is Lead Youth Worker at the Local Trust Revoelution project. Revoe is the 2nd most deprived area of the country, and the scheme offers free to access activities and support to young people and adults living there. Young People from Revoe have embarked on their DofE journeys at no financial cost to them and have taken part in arts, theatre and dance projects with support.
Hannah Dial from LPM Dance who teaches a weekly movement class for adults with neurological conditions and is involved with supporting an accessible dance class for adults with and without additional needs. Hannah also works in business support for local charities, including Magic Club - a youth organisation based in Claremont ward, and Aunty Social - an organisation that brings creative workshops and events to the town.
Blackpool Grand Theatre is one of the Royal Shakespeare Company's partner theatres. Working with schools and members of the community throughout the local area, the two organisations are committed to making Shakespeare and theatre as accessible as possible to everyone. This opportunity to perform with the RSC comes after local people previously took part in a production of Henry VI: Rebellion in the Royal Shakespeare Theatre in Stratford-upon-Avon in 2022.
Blackpool Grand Theatre Chief Executive, Adam Knight, said: "We are delighted to welcome yet another incredible RSC production to the theatre and it is particularly thrilling to see the RSC back at Blackpool Grand in the year which marks the 400th anniversary of the publication of Shakespeare's First Folio. Our six lucky participants will remember this extraordinary experience for the rest of their lives. This is a hugely exciting project, directed by one of the UK's most exciting young directors, Atri Banerjee, and we can't wait to see the results. The whole Grand Theatre team and I wish Emma, Zoe, Beth, Tori, Cy and Hannah all the very best for their performances."
Blackpool Grand Creative Learning Producer, Jo Cleasby, added: "We have recruited an amazing group of individuals to be part of the Julius Caesar chorus. They are all inspirational leaders in the Blackpool communities they represent, and we look forward to working with them as part of our RSC Shakespeare Nation activity."
Julius Caesar. A divisive leader who holds awesome power.
Concerned that Caesar seems dangerous, revolutionaries take the violent decision to murder him. They have no plan for what comes next. As the world spins out of control, chaos, horror and superstition rush in the fill the void. Civil war erupts and a new leader must rise: but at what cost?
Atri Banerjee's excitingly fresh interpretation of Shakespeare's timeless story forces us all to consider how far we would go for our political principles and exposes the ambiguity in trying to shift power. As we rage against the crises surrounding us, how far will we each go for our political principles?
National Shakespeare Day takes place every year on 23 April on the anniversary of William Shakespeare's death and the day that is also considered to be his birthday, although the exact date is unknown. William Shakespeare is widely considered to be one of the world's greatest poets and playwrights and he was also responsible for contributing hundreds of words and phrases to the English language – many of which we still use today – including 'elbow room' from King John, 'heart of gold' from Henry V and 'tower of strength' from Richard III. National Shakespeare Day is a great opportunity to read (or book tickets to watch!) your favourite Shakespearean play and celebrate the incredible work of The Bard…
'Experience is the teacher of all things' – William Shakespeare's Julius Caesar
Hail Caesar! and book your seats now for the RSC at Blackpool Grand. It's an experience that's not to be missed!
The RSC's Julius Caesar is at Blackpool Grand Theatre from Tuesday 16 May to Saturday 20 May 2023. Matinee performances available. FREE Post Show Talk on Friday 19 May. Accessible performances and a touch tour are also available.
Tickets from £15.50. Concessions and School Group rates available
Quick March! Book the very best seats now before it storms into Blackpool Grand!
Please call the Box Office on 01253 290190 or visit www.BlackpoolGrand.co.uk for full listings, bookings and further information.
LISTINGS
The Royal Shakespeare Company's Julius Caesar
Tue 16 May to Sat 20 May 2023 at 7.30pm
Thu & Sat matinees at 2pm
FREE Post Show Talk on Fri 19 May
Grand Theatre, 33 Church Street, Blackpool FY1 1HT
Box Office 01253 290 190
blackpoolgrand.co.uk
Facebook - @blackpoolgrand
Twitter - @Grand_Theatre
Instagram - grandtheatrebpl
Related
0 Comments