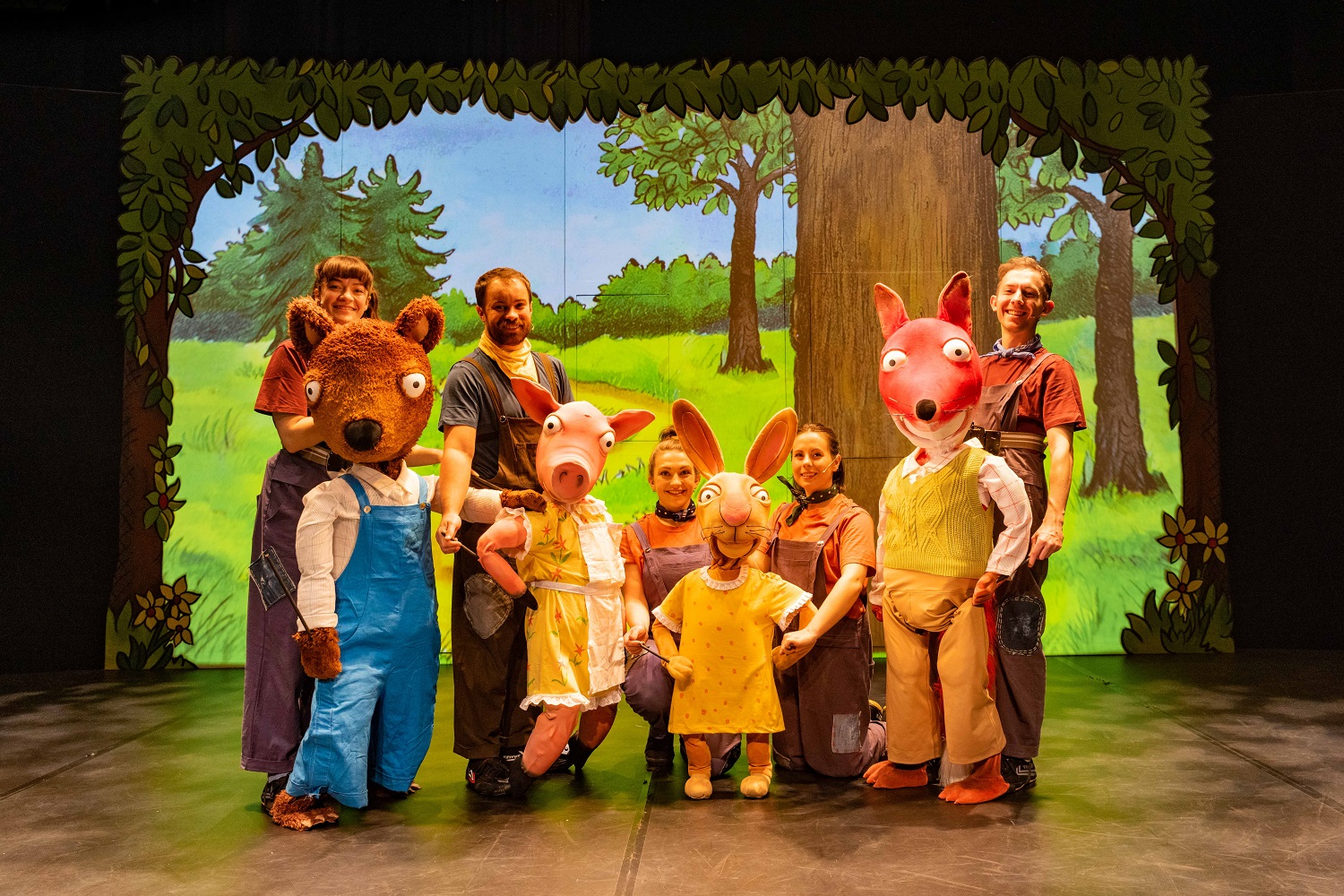 It's World Book Day on Thursday 2 March!
What better way to celebrate than by bringing your little bookworm to see their favourite characters come to glorious life on stage at Blackpool Grand Theatre?
Our fabulous live literary shows can also encourage a love of books by opening the door to the wonderful world of literature and introduce both young and old to famous storybook stars; from an enchanting lift-the-flap experience with the beloved characters from Julia Donaldson and Axel Scheffler's Tales From Acorn Wood, right through to the Bard himself with a powerful new production of Julius Caesar from the Royal Shakespeare Company.
Celebrate World Book Day this year with a live performance of a favourite book or story at Blackpool Grand Theatre and encourage a love of reading and theatre that will last a lifetime!
First little readers will love to lift the flap on a delightful trip to Acorn Wood as Julia Donaldson and Axel Scheffler's adored Tales From Acorn Wood stories are brought beautifully to life on stage for the very first time on Wednesday 29 & Thursday 30 March. Poor old Fox has lost his socks! Are they in the kitchen or inside the clock? And Rat-a-tat-tat! Who's that keeping tired Rabbit awake? Join in with Pig and Hen's game of hide-and-seek and discover Postman Bear's special surprise. Packed full of toe-tapping songs, captivating puppetry and all the familiar friends from Acorn Wood; this charming show is the perfect treat for children of all ages.
Or why not follow the yellow brick road for the visually stunning TIN MAN from Joss Arnott Dance on Tuesday 11 April as part of The Grand's exciting contemporary dance season with L. Frank Baum's Wizard of Oz characters as you've never seen them before!; Northern Ballet's delightful performance of Hans Christian Andersons classic fairytale Ugly Duckling is the perfect opportunity for little ones to enjoy their first experience of live ballet, music and theatre on Friday 21 April; get the gang together for an edgy and engaging re-telling of Michael Rosen's much-loved Unexpected Twist from Tuesday 23 to Saturday 27 May featuring original beatbox, hip hop and grime musical numbers; We're Off To See The Wizard once again as Blackpool & Fylde Light Opera Company sweep in with a spectacular full musical production of The Wizard of Oz from Wednesday 31 May to Saturday 3 June; soar into space with the stellar new stage show The Smeds and The Smoos as Julia Donaldson and Axel Scheffler's adorable star-crossed aliens take an interplanetary adventure from Tuesday 11 to Thursday13 July, and take a wonderful walk through Hundred Acre Wood with A.A. Milne's Winnie the Pooh, Christopher Robin and their best friends Piglet, Eeyore, Kanga, Roo, Rabbit and Owl (and Tigger too!) in Disney's magical new stage musical Winnie the Pooh featuring magnificent life-size puppetry from Monday 14 to Wednesday 16 August.
Looking for something educational? March your little learners to The Grand and bring the classroom to life with the Royal Shakespeare Company's bold and imaginative production of Julius Caesar from 16 May to 20 May in the year which marks the 400th anniversary of the publication of William Shakespeare's First Folio. Hail Caesar!
Older readers will be thrilled with a riotous retelling of Jane Austen's iconic period drama as the award-winning Pride and Prejudice (*sort of) perfectly joins the legendary tale of love and marriage with top pop hits in this hilarious modern-day musical from Tuesday 2 to Saturday 6 May 2023 direct from its West End triumph, and can you solve Agatha Christie's marvellous murder mystery The Mousetrap on its sensational 70th anniversary tour live on stage from Monday 19 to Saturday 24 June?
And don't forget this year's fabulous family pantomime Aladdin from the famous Arabian Nights series of stories starring the superbly silly Steve Royle from Friday 1 December 2023 to Monday 1 January 2024. Catch a magic carpet ride to The Grand this Christmas for a laugh-a-minute extravaganza with musical hits and exciting special effects!
World Book Day changes lives through a love of books and shared reading and its mission is to promote reading for pleasure, offering every child and young person the opportunity to have a book of their own. Reading for pleasure is the single biggest indicator of a child's future success – more than their family circumstances, their parents' educational background or their income.
But where to start? Here are the Top Ten Children's Books from the last 100 years according to a recent poll from BookTrust:
1. The Very Hungry Caterpillar from Eric Carle – for ages 2 to 5 years
2. Northern Lights from Philip Pullman – for ages 9+
3. The Hunger Games from Suzanne Colins – for ages 13+
4. The BFG from Roald Dahl – for ages 6+
5. Harry Potter and the Philosopher's Stone from J. K. Rowling – for ages 9+
6. The Cat in the Hat from Dr Seuss – for ages 3 to 6 years
7. Winnie the Pooh from A. A. Milne – for ages 4+
8. Charlotte's Web from E B White – for ages 6+
9. The Lion, The Witch and the Wardrobe from C. S. Lewis – for ages 9+
10. The Fellowship of The Ring from J. R.R. Tolkein – for ages 11+
Visit www.booktrust.org.uk for more info and top tips to get your little ones reading.
Then build on that love of literary characters with a visit to Blackpool Grand and show your little readers that stories and learning can be really fun!
Call the Box Office on 01253 290190 or visit BlackpoolGrand.co.uk for full show listings, bookings and further information.
LISTINGS
Grand Theatre, 33 Church Street, Blackpool FY1 1HT
Box Office 01253 290 190
blackpoolgrand.co.uk
Facebook - @blackpoolgrand
Twitter - @Grand_Theatre
Instagram - grandtheatrebpl
Related
0 Comments