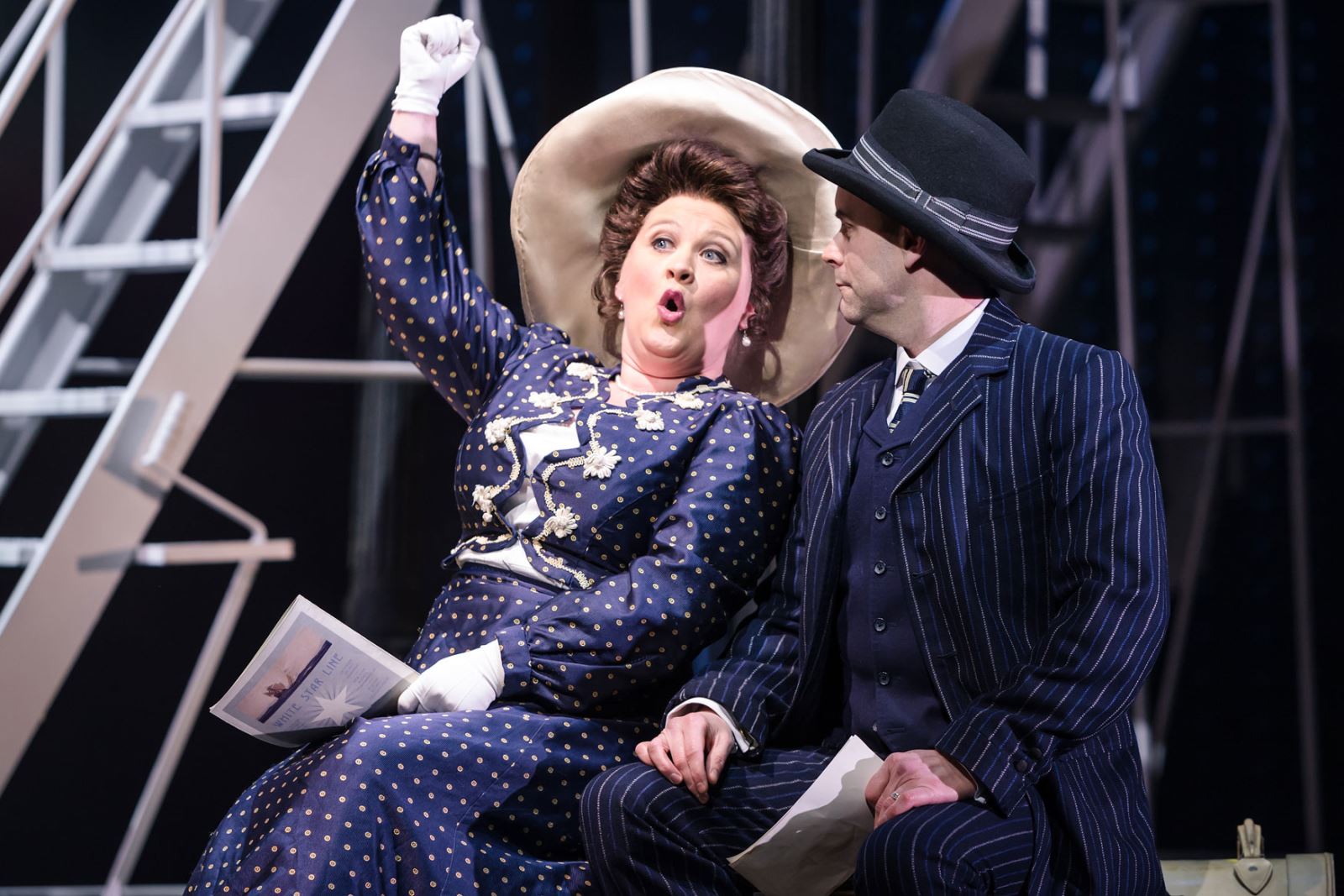 The five-star theatrical spectacle Titanic The Musical is at Blackpool Grand Theatre for just ONE WEEK ONLY from Tuesday 21 to Saturday 25 March 2023. This is a musical masterpiece that's not to be missed!
This critically acclaimed production comes direct from the West End and tells the poignant story of the passengers from the famously ill-fated vessel, with theatregoers returning time and time again to experience the powerhouse performances.
The new cast are: Martin Allanson (J. Bruce Ismay), Valda Akiks (Ida Straus), Graham Bickley (Captain Edward Smith), Sam Brown (Frederick Fleet), James Darch (Edgar Beane), David Delve (Isidor Straus), Catherine Digges (Head Maid), Adam Filipe (Frederick Barrett), Emily George (Kate Murphy), Luke Harley (Andrew Latimer), Emma Harrold (Lady Caroline Neville), Alastair Hill (Harold Bride), Abi Hudson (Maid), Barnaby Hughes (Herbert Pitman/Henry Etches), Paul Kemble (Joseph Boxhall), Niamh Long (Kate Mullins), Matthew McDonald (Charles Clarke), Ian McLarnon (Thomas Andrews), Danny Michaels (Joseph Bell), Chris Nevin (Jim Farrell), Jack North (Charles Lightoller), Joseph Peacock (Bellboy/Wallace Hartley), Billy Roberts (William McMaster Murdoch), Bree Smith (Alice Beane) and local girl Lucie-Mae Summer (Kate McGowan). Cast biographies can be downloaded here.
Presented by Danielle Tarento in association with Mayflower Theatre, Southampton, Harmonia, Bruce Robert Harris and Jack W Batman, the production will open at the Churchill Theatre in Bromley on 16 March 2023, 10 years since it made its critically acclaimed debut at Southwark Playhouse in London.
Producer Danielle Tarento said 'We are so excited to have our brilliant new cast together to begin rehearsals for this 10th anniversary production. After the couple of years that we've all lived through, to be able to mark this anniversary by revisiting some favourite venues from the last tour and also bringing the show to some wonderful new ones feels especially joyful'.
In the final hours of April 14, 1912, the RMS Titanic, collided with an iceberg on her maiden voyage from Southampton to New York and 'the unsinkable ship' slowly sank to the depths of the ocean. It was one of the most tragic disasters of the 20th Century as 1,517 men, women and children lost their lives.
Based on real people who were aboard the most legendary ship in the world, Titanic The Musical is a truly breathtaking production focusing on the hopes, dreams and aspirations of her passengers, each of whom boarded with fascinating stories and personal ambitions of their own.
The Third Class immigrants dreamed of a better life in America, the Second Class passengers imagined they too could join the lifestyles of the rich and famous, whilst the millionaire Barons of the First Class cabins anticipated legacies lasting forever. All were innocently unaware of the unimaginable fate awaiting them…
The original Broadway production of Titanic The Musical, with music and lyrics by Maury Yeston and book by Peter Stone, scooped five Tony Awards including Best Musical, Best Score and Best Book.
This spectacular production celebrates the 10th anniversary of the London premiere, which also opened to rave reviews, and brings a truly amazing evening of live theatre to The Grand.
With music and lyrics by Maury Yeston (Nine, Grand Hotel) and a book by Peter Stone (Woman of the Year and 1776), the pair have collectively won an Academy Award, an Emmy Award, an Olivier Award and three Tony awards.
The original Broadway production of Titanic The Musical won five Tony Awards including Best Musical, Best Score and Best Book. This new production celebrates the 10th anniversary of its London premiere where it won sweeping critical acclaim across the board.
The director is Thom Southerland, the set and costume designer is David Woodhead, the lighting designer is Howard Hudson, the sound designer is Andrew Johnson, musical staging is by Cressida Carré, musical supervision is by Mark Aspinall and new musical arrangements are by Ian Weinberger.
Photographs of the company on the first day of rehearsals by Danny Kaan can be downloaded here.
Click here for a thrilling teaser trailer https://www.youtube.com/watch?v=n7TWhJWd3GU
Don't miss out on this stunning production! Book your seats now!
Titanic the Musical at Blackpool Grand Theatre from Tuesday 21 to Saturday 25 March 2023 for ONE WEEK ONLY! Matinee and evening performances
Tickets from £18.50, member discounts available
Book now by visiting blackpoolgrand.co.uk or call the box office on 01253 290 190.
LISTINGS
Titanic The Musical – Tuesday 21 to Saturday 25 March 2023 at 7.30pm
Wed & Sat matinees at 2.30pm
Grand Theatre, 33 Church Street, Blackpool FY1 1HT
Box Office 01253 290 190
blackpoolgrand.co.uk
Facebook - @blackpoolgrand
Twitter - @Grand_Theatre
Instagram - grandtheatrebpl
Related
0 Comments