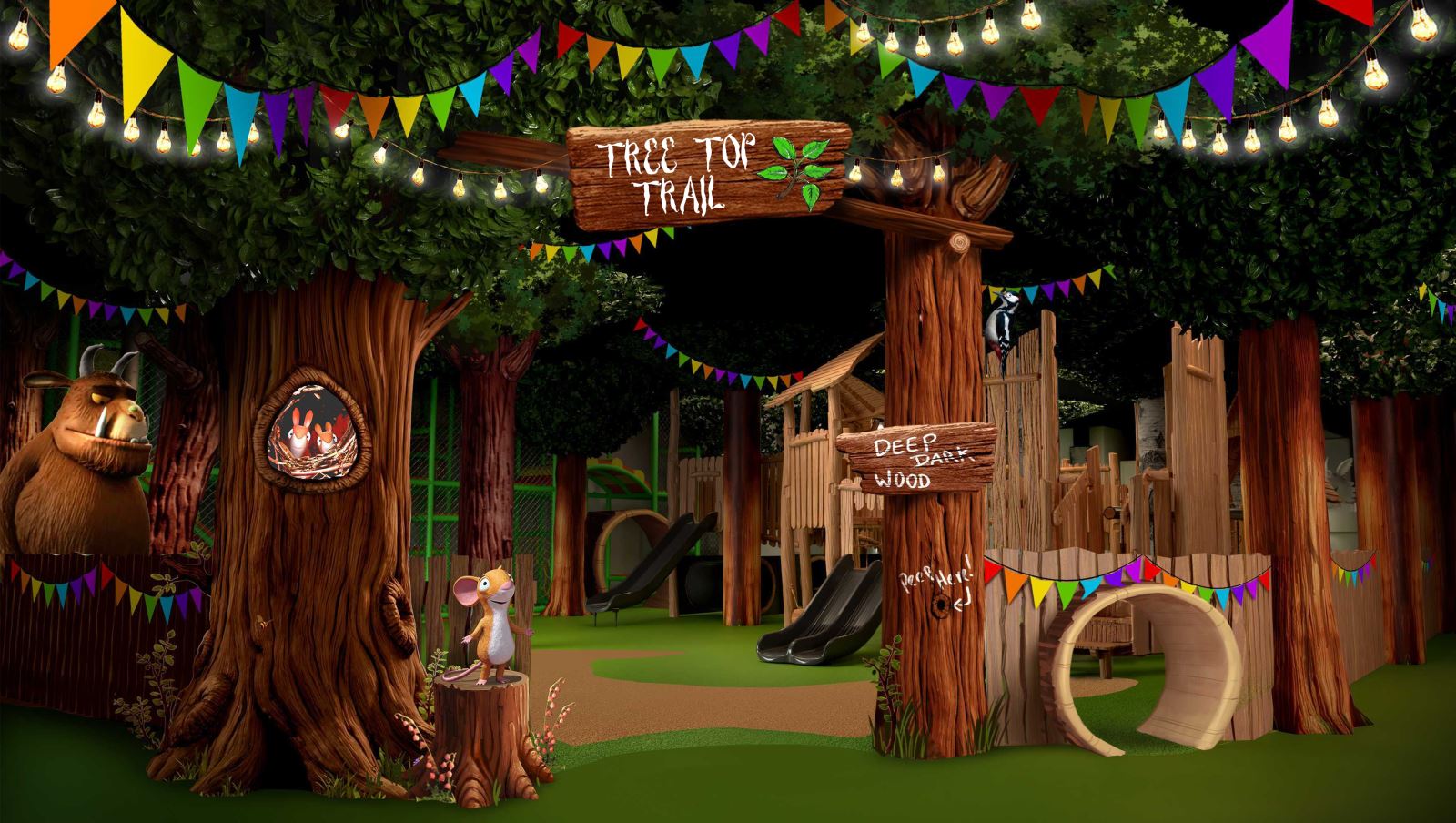 Beloved characters from the UK's number one bestselling children's author Julia Donaldson and illustrator Axel Scheffler are set to make a new home on Blackpool's famous seafront this May in a partnership with Merlin Entertainments and Magic Light Pictures that will create the world's first 'The Gruffalo & Friends Clubhouse'.
Merlin Entertainments ("Merlin" or "the Company"), a global leader in location-based entertainment, today announces that a brand-new world class attraction will launch on Blackpool's seafront this May, featuring favourite characters from creators Julia Donaldson and Axel Scheffler.
In a world first, The Gruffalo & Friends Clubhouse will bring together six of the best loved stories to create an indoor play adventure like no other. The £2.3 million investment has been 18 months in the making and is part of Merlin's aim to bring the very best stories and brands to life in their family friendly attractions.
Developed in partnership with Magic Light and Blackpool Council, the attraction is set to open next door to Sea Life Blackpool in May 2023. The new experience will join Merlin's seven other attractions in Blackpool including The Blackpool Tower, SEA LIFE Blackpool and Peter RabbitTM: Explore and Play, making it a key destination for families of all ages from both the UK and abroad.
Julia Donaldson and Axel Scheffler are the picture book partnership behind bestselling books such as The Gruffalo, Room on the Broom and Zog. Donaldson was the Children's Laureate between 2011 and 2013 and honoured with a CBE in 2018 for services to literature. Axel Scheffler is the award-winning illustrator whose artwork has even featured on 50p coins, and stamps from Royal Mail and Deutsche Post. Julia Donaldson is the #1 UK author across all publishing and Axel Scheffler is the #1 illustrator.
So far, ten books by Julia and Axel (published by Macmillan Children's Books and Scholastic) have been adapted by Magic Light to become Oscar nominated and BAFTA winning animated specials for BBC One.
In the new Blackpool experience, guests will burst through the pages of some of their favourite stories and into a magical 3D world. From The Gruffalo's deep dark wood, to Princess Pearl's castle in Zog, guests will embark on an adventure of imagination, discovery and play as they join their favourite characters. Distinct play zones are inspired by The Gruffalo, The Gruffalo's Child, Zog, The Snail and the Whale, Room on the Broom and The Highway Rat. The attraction will include play suitable for children under 10, with a toddler play area specifically for those under 3.
Kate Shane, Regional Director for Merlin Entertainments, said:
"We are incredibly excited to bring some of the UK's best loved children's characters to Blackpool. Blackpool is the UK's number one family seaside resort and this latest partnership with a globally recognised brand will provide compelling new reasons for visitors to come to Blackpool. The Gruffalo and other characters from the world of Julia Donaldson and Axel Scheffler will be amongst brilliant company alongside our already strong cluster of family attractions on the resort, delivered with Merlin's world-class guest experience.
This significant investment further supports Merlin's strategic growth plans, bringing further jobs and economic benefit to the local community and wider region."
Cllr Lynn Williams, Leader of Blackpool Council, said:
"Blackpool already has the biggest portfolio of branded attractions outside London and the addition of this world-class family attraction will strengthen that position.
"The family audience is key to Blackpool's tourism growth strategy and we are delighted to be working in partnership with Merlin Entertainments to deliver something that will truly resonate with that audience, as well as providing new jobs for local people and economic growth to our town."
Alex Sanson, Senior Brand Manager at Magic Light Pictures, said:
"The Gruffalo & Friends Clubhouse will be the first of its kind and we can't wait to see this amazing space, full of play and adventure, come to life. Merlin Entertainments have done brilliant work with The Gruffalo and Room on the Broom at Chessington; as well as with Zog at Warwick Castle. We can't wait to see what the Clubhouse will bring to Blackpool, and to the stories that we love."
© Magic Light Pictures Ltd. 2023.
Related
1 Comments