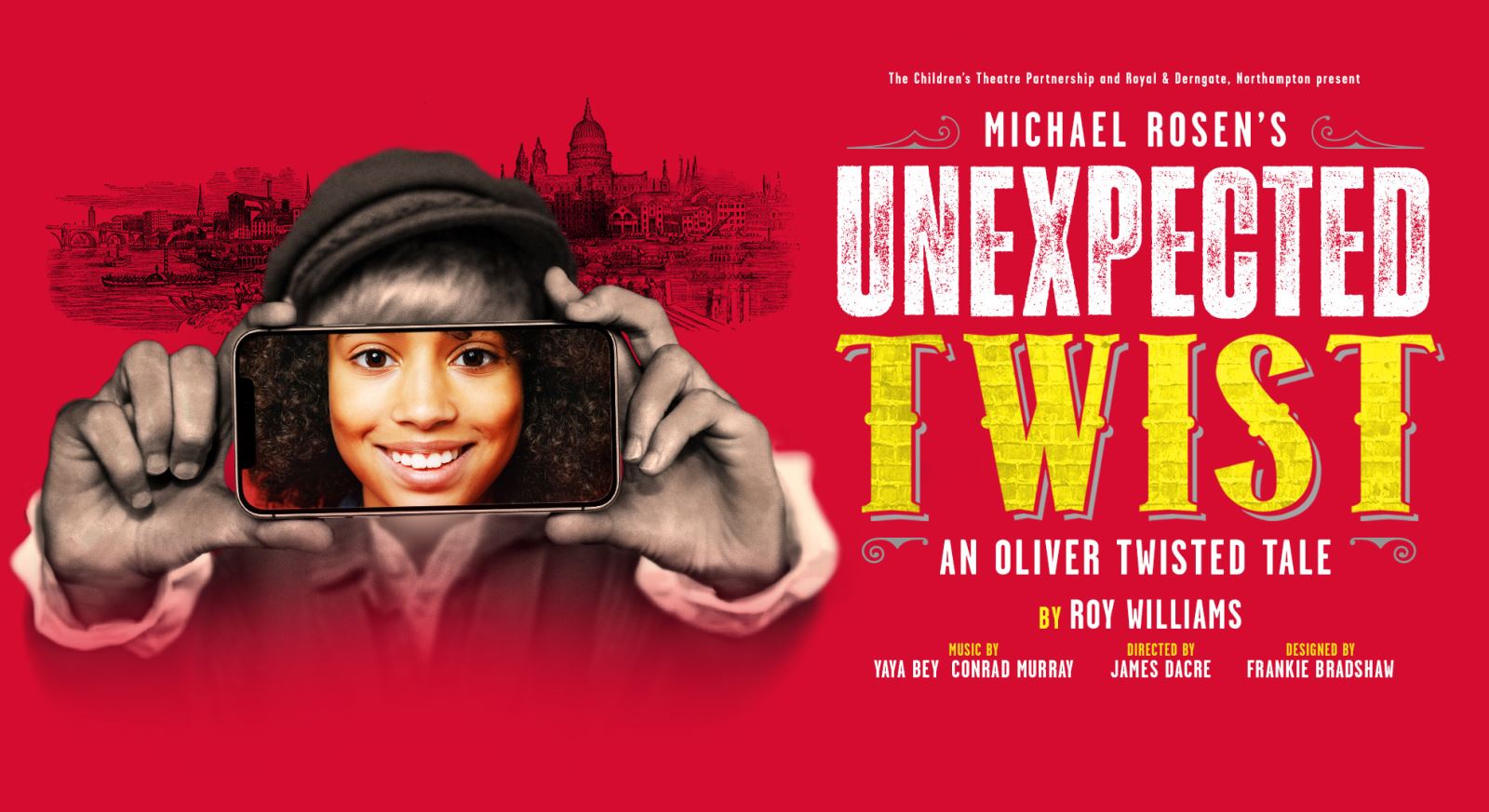 Dickens goes digital at Blackpool Grand Theatre in 2023 as Charles Dickens' classic tale of Oliver Twist gets a marvellously modern re-telling from author and poet Michael Rosen in Unexpected Twist from Tuesday 23 to Saturday 27 May.
It's a must see!
The innovative new musical from The Children's Theatre Partnership and Royal & Derngate, Northampton, will open at Northampton in February 2023 before embarking on a National Tour.
Unexpected Twist is a radical re-telling of the Charles Dickens classic, Oliver Twist, by one the best-loved figures in the children's book world, Michael Rosen. Adapted for the stage by BAFTA award-winning playwright Roy Williams (Soul, Sucker Punch), with original music by rising R&B star Yaya Bey and BAC Beatbox Academy's Conrad Murray; Unexpected Twist is a thrilling new production from the producing partnership behind the successful stage adaptations of Holes and The Jungle Book.
Shona and her class are studying Oliver Twist. She's new in school and keeps finding herself in trouble – much like Oliver himself! When she's given a new phone by a stranger, she begins to suspect there's something fishy about the new kids she's met...
Directed by James Dacre (Olivier Award-nominated Our Lady Of Kibeho and Artistic Director of Royal & Derngate, Northampton) with design by Frankie Bradshaw's (Two Trains Running) Unexpected Twist brings to vivid life the worlds of both Shona and Oliver, as their stories twist together, unexpectedly!
Writer Michael Rosen said: "I have always been a huge lover of theatre and the dramatic arts. I believe in the power and value of live performance and rate it as an equal to all the other literary activities. I can't describe what a thrill it is for me to know Unexpected Twist is going to be a play. I've already seen a draft script and it leapt off the page. I could immediately 'see' it as being a funny, tough, edgy, contemporary, powerful show. I am desperate to see it."
Roy Williams (Stage Adaptation) said "If there is no children's theatre, there will be no theatre at all in years to come. It is essential theatre gets them early. It's the opportunity for them to express themselves. Unexpected Twist is a story about young people for young people! That is how I felt when I first read Oliver Twist when I was a child. Those are always the best stories to hear."
Yaya Bey (Music)said: "Working on Unexpected Twist has been such a pleasure. Everyone has been so kind and willing to collaborate. I wasn't sure how I would relate to the story coming from the States, but there is such an emphasis on important issues that transcend culture barriers, and it has made it easy for me to pull from my experience."
Conrad Murray (Music)said: "Working on this show is like assembling The Avengers! The creative team is top notch, and the cast are incredible. I love that it takes Oliver Twist as a story about poverty, which seems to tell a story about our current times. Being able to bring beatbox, hip hop and grime to the show is sick, as it helps modernize the story and create a new language and theatrical form on the stage. Can't wait for audiences to see and hear it."
James Dacre (Director and Artistic Director of Royal & Derngate Theatres) said: "Take Charles Dickens' masterpiece, Oliver Twist and add the literary magic of Michael Rosen and the theatrical verve of Roy Williams to tell this classic story in a radically new way. Mix with Conrad Murray and Yaya Bey's breath-taking contemporary beatboxing, R&B, rap, grime and soul music. The result? Unexpected Twist is a joyful family tale which weaves the streets of Victorian London into the school corridors of contemporary Britain."
Unexpected Twist from The Children's Theatre Partnership and Royal & Derngate, Northampton, is at Blackpool Grand Theatre from Tuesday 23 to Saturday 27 May 2023 with matinee and evening performances. Tickets from £15.50. School rates available.
Visit blackpoolgrand.co.uk or call the box office on 01253 290 190 for bookings and further information.
LISTINGS
Unexpected Twist
Tue 23 May, Fri 26 May & Sat 27 May at 7pm
Wed 24 May & Thu 25 May at 10.30am & 2pm
Sat matinee at 2.30pm
Grand Theatre, 33 Church Street, Blackpool FY1 1HT
Box Office 01253 290 190
blackpoolgrand.co.uk
Facebook - @blackpoolgrand
Twitter - @Grand_Theatre
Instagram - grandtheatrebpl
Related
0 Comments