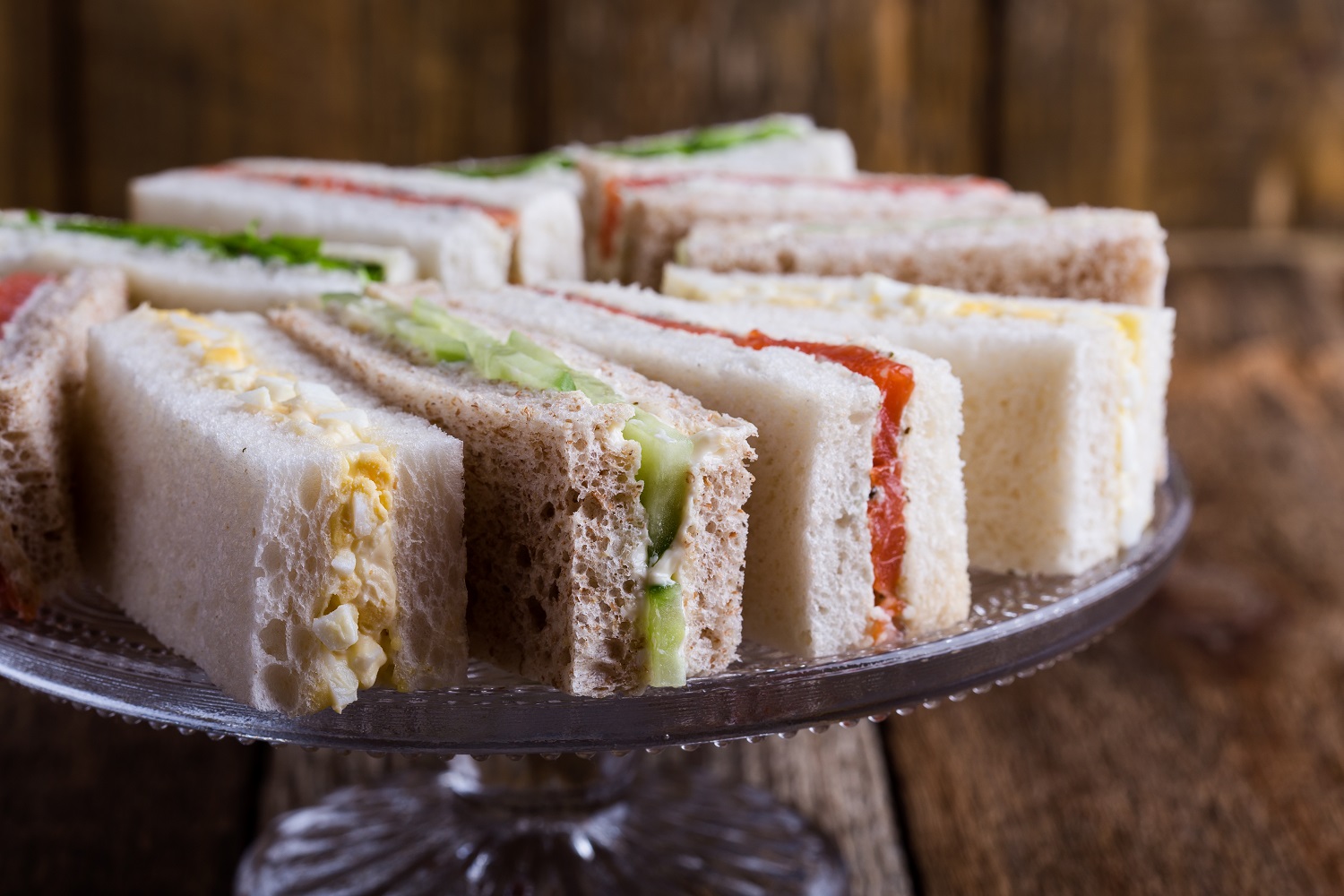 Crumbs! Delicious Afternoon Tea & Show Packages are now available at Blackpool Grand Theatre!
What's the perfect way to celebrate National Sandwich Day this Thursday 3 November?
By booking a magnificent Afternoon Tea at Blackpool Grand Theatre!
Add a slice more luxury to your next theatre trip with one of our delectable Afternoon Tea & Show Packages. It's what afternoons were made for!
Relax in our glorious Dress Circle bar and enjoy a tempting selection of savoury and sweet treats before slipping into your seats for a marvellous matinee show. It's the extra special theatrical experience you all deserve…
We have Afternoon Tea & Show Packages available for matinee performances of Sherlock Holmes' thrilling mystery The Valley of Fear, Ian Hislop's critically acclaimed and absurdly funny new play SPIKE, breathtaking live ballets Sleeping Beauty and Swan Lake and West End big hitters Titanic The Musical and Buddy – The Buddy Holly Story to name just a few!
Butter up your loved ones with an extra special tasty treat. They will eat it up!
The humble sandwich is the go-to lunch for millions of people across the UK and beyond and its beauty and undying popularity lies in its simplicity. Consisting of two slices of bread holding a layer of meat, cheese or some other simple yet tasty ingredient, a sandwich is quick to rustle up and easy to eat.
Legend has it that the sandwich gets its name from the 18th century Fourth Earl of Sandwich, John Montagu, who was so fond of gambling he never wanted to leave the table. In 1762 he requested that some food be prepared that could be eaten without needing to get up from his gambling table. So, the cook brought him meat surrounded by two pieces of bread and the "Sandwich" was born.
National Sandwich Day is now held annually on November 3 in recognition of our favourite quick lunch, and this year the research team from Betway studied the volume increases of most popular sandwich fillings over a period of 12 months. By studying Google Trends data, they calculated the nation's favourite sandwiches, which features all the usual suspects and a surprise addition.
Check out the top five fave finger foods this year:
1. Egg and cress - 450% increase
The egg sandwich wears the crown for being the nation's favourite butty. Creamy and flavoursome, this simple sarnie can be rustled up in less than 15 minutes and uses cheap ingredients that won't break the lunch budget. Add crisps and it's even more delicious!
2. Marmalade - 200% increase
The increased popularity of a marmalade sandwich may be down to a very simple explanation that hails from deepest, darkest Peru. Paddington Bear. Marmalade sandwiches featured in a famous Jubilee skit in which the late Queen, in conversation with Paddington Bear, professed to keeping an 'emergency marmalade sandwich' in her bag. Delightful!
3. Submarine - 180% increase
When it comes to sandwiches it seems that we have been very influenced by America, with searches for the submarine sandwich increasing by a whopping 180%. A 'sub' is a cylindrical butty that is essentially filled with goodness such as a meat, salad and layered cheese, with most popular combinations being spicy salami, pepperoni and Black Forest ham.
4. Coronation chicken - 160% increase
This tasty chicken sandwich reigns supreme according to Brits. Loaded with herbs and spices and complemented further with a dollop of creamy mayonnaise, this sandwich filling is one for those who like subtle spice in their food.
5. Chicken club sandwich - 150% increase
Loaded with layers of bread, meat, lettuce and juicy tomato, this mouthwatering sarnie is the ultimate hangover cure. It is also great for those who want to increase their vegetable intake.
Will your favourite sandwich be included in our exciting Afternoon Tea & Show Packages?
Our delicious Afternoon Tea is on offer before selected matinee performances in our magnificent Dress Circle bar with a pot of tea for £11 or with a glass of bubbly for just £16.
For further information and bookings please call the Box Office on 01253 290190 or add Afternoon Tea when prompted during your online show booking at www.blackpoolgrand.co.uk
But hurry - there are limited places available for these exclusive events! Book now before they are all sc-one!
Please note there are approximately 25 stairs to access the Dress Circle Bar. Please highlight any allergies at time of booking.
LISTINGS
Sherlock Holmes: The Valley of Fear - Sat 5 Nov 2022 - Afternoon Tea & Show Package available from 12.30pm
SPIKE – Sat 19 Nov - Afternoon Tea & Show Package available from 12.30pm
Classical Ballet & Opera House - Sleeping Beauty – Sun 20 Nov - Afternoon Tea & Show Package available from 1pm
Varna International Ballet - Swan Lake – Sat 14 Jan 2023 & The Nutcracker – Sun 15 Jan - Afternoon Tea & Show Package available from 1pm
Around The World in 80 Days – Thu 2 Mar - Afternoon Tea & Show Package available from 12.30pm & Sat 4 Mar at 11.30am.
Titanic the Musical – Thu 23 & Sat 25 Mar - Afternoon Tea & Show Package available from 1pm
Buddy – The Buddy Holly Story – Wed 26 & Sat 29 Apr - - Afternoon Tea & Show Package available from 1pm
Agatha Christie's The Mousetrap – Thu 22 & Sat 24 Jun - Afternoon Tea & Show Package available from 12.30pm
Grand Theatre, 33 Church Street, Blackpool FY1 1HT
Box Office 01253 290 190
blackpoolgrand.co.uk
Facebook - @blackpoolgrand
Twitter - @Grand_Theatre
Instagram - grandtheatrebpl
Related
0 Comments