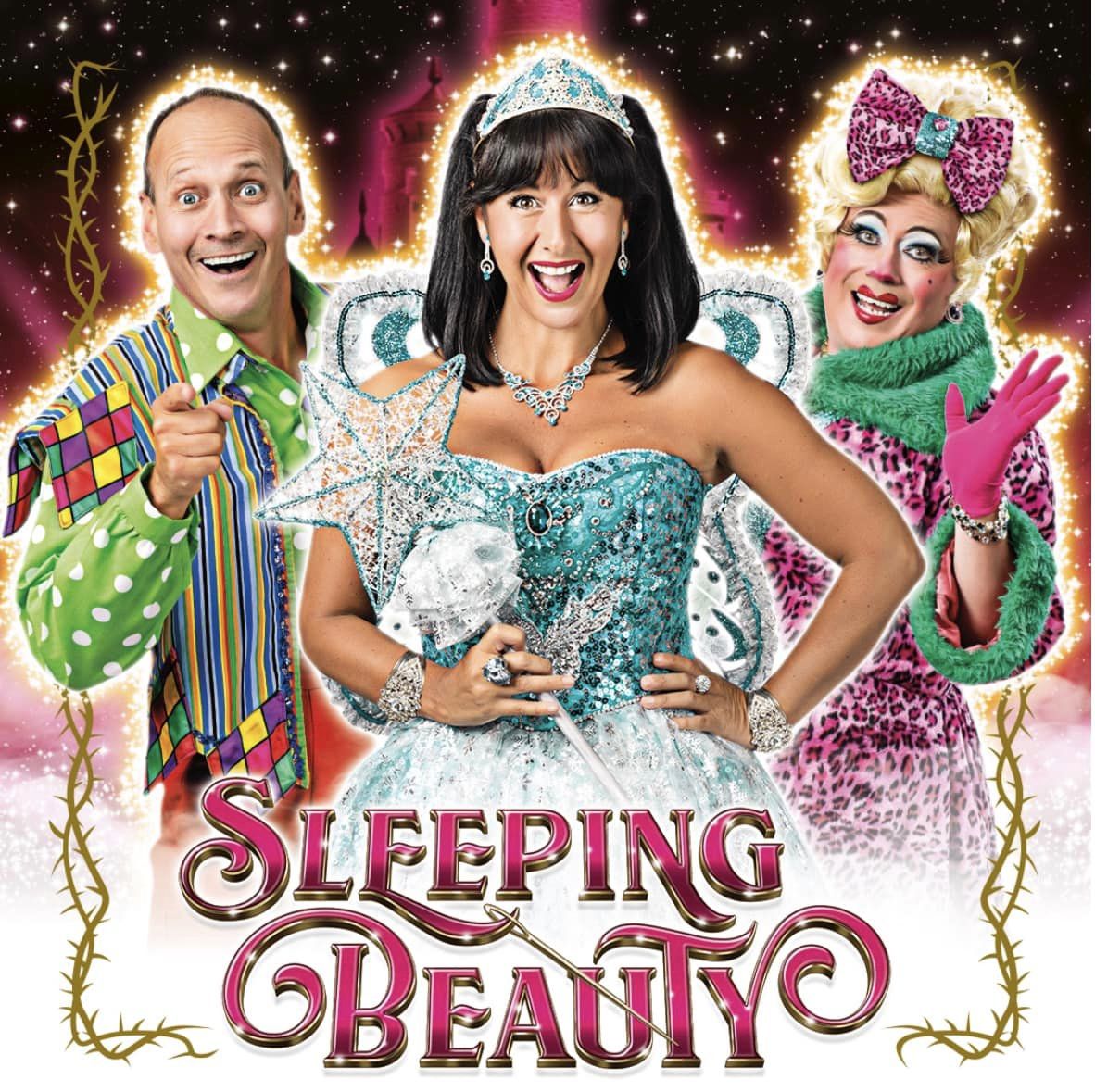 Ever popular panto star Steve Royle will take his 1,000th bow on the beautiful Blackpool Grand Theatre stage this year as he once again delights thousands of families in the magical pantomime Sleeping Beauty this Christmas. Oh yes he will!
Everyone's favourite finalist from ITV's Britain's Got Talent will star as Silly Billy in this year's fabulous, festive tale and it will be the thousandth time he has filled every member of his lucky panto audience with sheer joy and delight.
In his millennial year, Steve Royle will be swapping lines with Dancing on Ice champion and Emmerdale star Hayley Tamaddon and celebrated playwright and top soap screenwriter Philip Meeks (Emmerdale, Heartbeat, Doctors) in Sleeping Beauty's enchanting tale of magic, mayhem and misunderstandings live on the Grand Theatre's famous stage. Just announced! Award-winning actor and director Daniel Taylor will star as King, Josh Belward (Skin Deep) as the Prince, Christina Meehan (Around The World In 80's Days) as the Bad Fairy Carabosse, and Maisie Sellwood makes her professional debut as the beautiful Princess Rose.
We spoke to the famous funny man and top panto star before he begins rehearsals for this year's spectacular seasonal show and says 'It's behind you' to his 1,000th panto performance! But what was Steve Royle's first ever pantomime at The Grand?
"It was Peter Pan with Maureen Nolan in 2002," said Steve. "As long as I can remember my eldest daughter's birthday then I can remember what year I did my first panto at The Grand, because she was just 10 months old and learnt to walk in the narrow corridors outside the dressing rooms holding onto the walls for support. I've held on to those same walls for support many times since then during after show parties!"
And what was his favourite panto character?
"I've always loved playing the part of Buttons because he plays such a major part in the pantomime and requires some 'proper acting' during the lovely pathos scenes. However, playing Smee alongside my good friend Tom Lister as Captain Hook has certainly provided me with the most laughs.
"I have so many favourite memories from over my panto years to choose from. Some of the funniest moments have come from the kids we've had on stage during the song sheet - I will always remember the child who said they wanted a remote-control submarine for Christmas. I couldn't help saying "you're going to be staring into space and crying at the side of a lake on Boxing Day with your Dad shouting "I told you not to press dive!" I also love the ballet lesson scene I wrote for Cinderella many years ago and it still rates as one of my favourite scenes I've ever performed." And we at The Grand agree!
Madcap panto star Steve has also made hundreds of his co-stars laugh along the way, with some of them becoming firm friends. "I have been lucky enough to work with some amazing people from various areas and eras of show business," he says. "Some have gone on to become close friends like Tom Lister, Danny Miller, Amy Thompson, & Hayley Kay. I recently went to Danny Millers wedding, and it was wonderful to see him do so well becoming King of the Castle on I'm a Celebrity last year.
"I think most people know that Tom Lister is now one of my closest friends and we regularly meet up for chats and drinks. We also collaborated a lot during the pandemic writing and performing on-line chat shows, sketches and of course our amazing Don't Close The Curtains cabaret which we performed to care home residents through their windows. We see more of each other than we do our wives! (and have more of a laugh too, ha ha!) I also still get a Christmas card each year from Tony Caunter (Roy Evans in EastEnders) who was the first star I worked with in Peter Pan in 2003. He's a lovely guy who now spends his days on a Narrowboat called Tender Seas which happens to be an anagram of EastEnders!"
But why does he love panto so much? Steve said: "I love panto for the same reasons comic legend Ken Dodd loved panto. It's unique in the way it brings together all areas of the entertainment world. I get the chance to work with actors, dancers, singers, magicians and others all with amazing lives and careers. We also get to perform for young people who are often visiting the theatre for the first time. This can lead to a lifelong love of live entertainment. It's always a pleasure when I meet people during the year and they tell me they have been watching me in panto all or most of their lives. It does however, also make me feel old. Oh yes it does!!"
And why does he choose to perform in panto at The Grand year after year? "Not only do I get to perform in the fabulous medium of pantomime, but I also get to do it in one of the world's most beautiful theatres. I did pantomimes in other venues before Blackpool Grand, but there is no other place like it and I always get excited when I walk onto that stage knowing that so many entertainment greats have done so before me - Gracie Fields, Peggy Ashcroft, Rex Harrison, John Gielgud, Noel Coward, Thora Hird, Arthur Askey, Sid James and the late 19th century vaudeville star Dan Leno (who I was privileged to play recently in a tour of Naturally Insane and in London's West End) and, of course, my personal hero Ken Dodd. Add to that the fact that it is run by some amazing people, including the wonderful Friends of the Grand (of whom I have the privilege of being an honourary member). I wouldn't want to be anywhere else!"
Renowned pantomime producer Martin Dodd has been working with Steve for twenty fun-filled years. He said: "Wow, only 1,000 performances it feels like a lot more! Only kidding, and I want to congratulate Steve on not only this milestone but on coming back year after year with every performance as fresh and inspired as his first one. Whether that means he has learnt nothing in the last 20 years, or it was just so brilliant back then it couldn't be improved upon, who cares, because with Steve in the show we can guarantee the audiences will laugh from the start to the finish. He is an absolute delight to work with and a generous performer that is equally happy to share the laughs around the company, making for a perfectly rounded production. Here's to the next 1,000 (unless I can find a contact number for that bloke with the piano that won BGT in 2020!)"
Executive pantomime director, Anthony Williams, added: "Huge congratulations to Steve on this fabulous achievement. His passion for both pantomime and Blackpool Grand Theatre is second to none and long may he reign supreme. Congratulation Steve - here's to the next 1,000!"
Blackpool Grand Theatre says Thank You a thousandfold to Steve Royle for his incredible 1,000 pantomime performances. Oh yes we do!
And you can too by booking your seats now for this year's fabulous, family pantomime Sleeping Beauty. It's jam-packed with marvellous music and dance, fun and laughter, stunning sets, amazing costumes and exciting special effects to keep audiences both young and old entertained! It's the perfect way to experience the traditional magic of Christmas.
Once upon a time a beautiful Princess pricks her finger on a spindle wheel, which has been cursed by the evil Carabosse, on the eve of her 18th Birthday party. Can the Good Fairy's magical spell break the curse? The Princess can only be awoken by true love's kiss. Will she find her true love and live happily ever after? Fly to Blackpool's Grand Theatre and find out how the story ends…
Tickets are already flying out for this fantastic family show!
Some performances from Friday 2 December to Sunday 1 January are already offering limited availability…
Join us for the greatest pantomime ever told starring top panto star Steve Royle as Silly Billy alongside TV favourites Hayley Tamaddon and Philip Meeks as Panto Dame Nursie! It's never to early to book your seats! It's a fabulous, fairytale treat for all the family this festive season!
Sleeping Beauty is presented by Martin Dodd for UK Productions Ltd, who has presented the Christmas pantomime at Blackpool's Grand Theatre since 1996.
Sleeping Beauty is at Blackpool Grand Theatre from Friday 2 December 2022 to Sunday 1 January 2023 with matinee and evening performances.
Accessible performances will also be available.
Tickets are already selling fast! Book your seats now!
Please call the Box Office on 01253 290190 or visit for bookings and further information.
LISTING
Sleeping Beauty pantomime
Grand Theatre, 33 Church Street, Blackpool FY1 1HT
Fri 2 Dec 2022 to Sun 1 Jan 2023 – Matinee and evening performances. Times vary
Box Office 01253 290 190
blackpoolgrand.co.uk
Facebook - @blackpoolgrand
Twitter - @Grand_Theatre
Instagram - grandtheatrebpl
UK Productions
ukproductions.co.uk
Twitter - @UKP_Ltd
Related
0 Comments