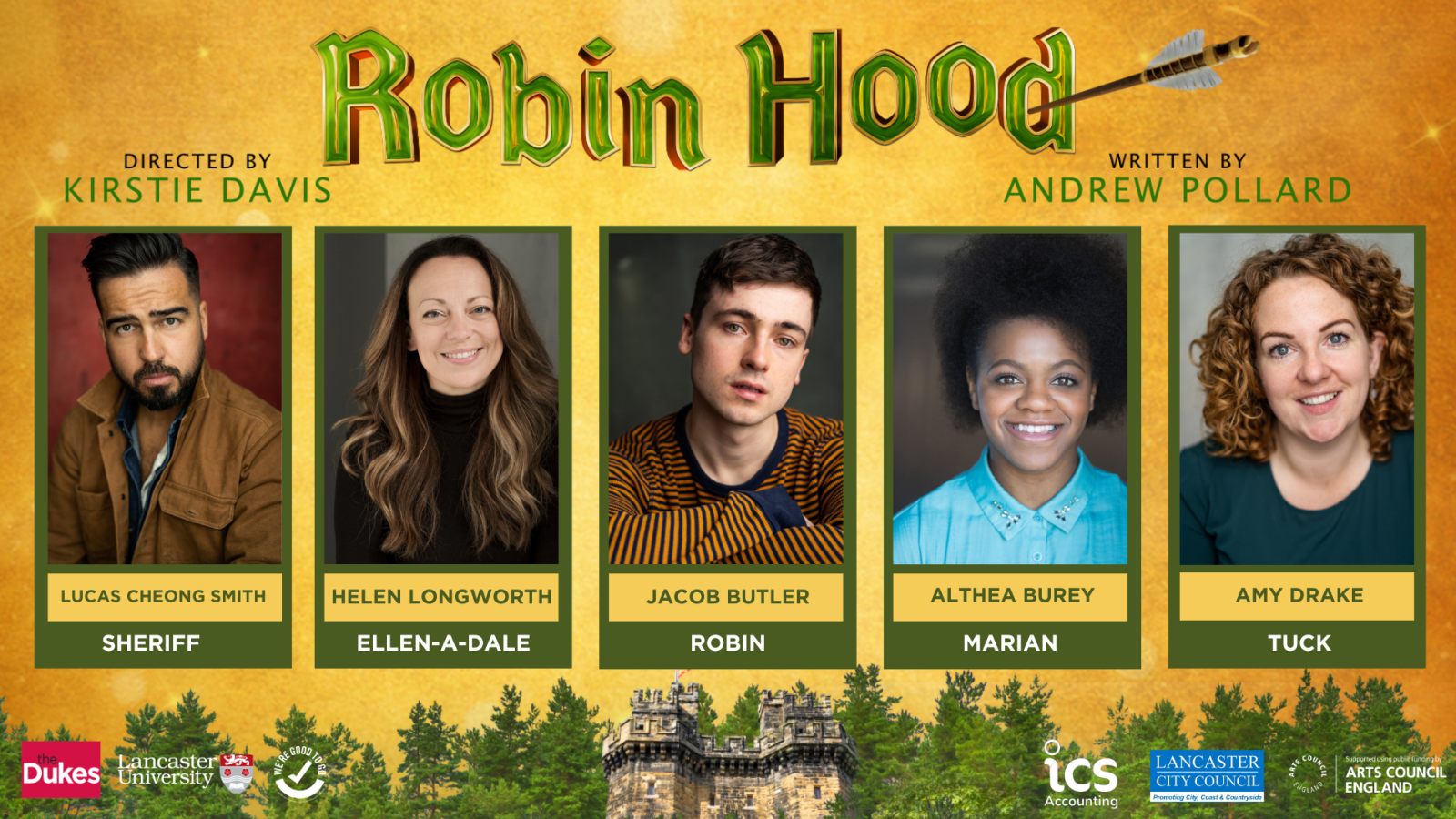 The Dukes in Lancaster have now announced the full cast and creative team for their annual festive production, which this year will be Robin Hood.
The production, which will run from 24 November – 31 December, will mark the first time the theatre's festive production has been staged in the venue's larger 313-seat theatre The Rake in 11 years. With this move and extending the usual festive run by a week, The Dukes will add 6045 seats in capacity for the run.
In 2021 The Dukes saw a big return from audiences with their first play in the park, Grimm Tales, after a two-year break from these productions, selling over 6000 tickets for a four-week run, and this trend continued, with their 2021 Christmas Production Beauty & The Beast. 2022 has seen these trends continue with this year's play in the park - The Jungle Book - selling out, performing to over 13000 audience members across a 6-week run.
Karen O'Neill, Chief Executive of The Dukes said of this year's production, said "As The Dukes continues to grow and bring brilliant live theatre to our area, this year we have moved our annual Christmas production to the Rake theatre. Being in the larger space we are able to welcome more audiences than ever before and meet the demand for tickets to what has become a key part of the festive calendar for much of our community. With more space to play with our creative team are loving making the magical world of Robin Hood and thinking of all the ways we can use this space to ensure all our audiences feel like part of Robin's adventures. Plus this year we have to house the Sea Beast of Morecambe Bay!".
The full cast of Robin Hood are Althea Burey (The Gruffalo's Child) as Marian, Jacob Butler (It's A Sin) as Robin, Amy Drake (One Man Two Guvnors) as Tuck, Helen Longworth (The Archers) as Ellen-A-Dale and Lucas Cheong Smith (D'Eon) as Sherrif.
Longworth, who plays Hannah Riley in the beloved BBC Radio 4 drama The Archers, returns to The Dukes having recently played Baloo in this Summer's acclaimed Park production of The Jungle Book and appearing in five of the theatre's previous Christmas productions.
Marian is the most successful sheep farmer in Bowland's forest, but while King Richard is away, the Sheriff of Nottingham ventures north to Lancaster. The Sherriff plans to seize the forest and build a gated community- all for himself! He plots to capture the Pendle Witches and exploit their sorcery to enchant Marian, forcing her hand in marriage to gain ownership of her thriving flock.
But has the Sheriff greatly underestimated the power and strength of Marian and her fearsome flock of fluffy sheep?!
Following on from his acclaimed adaptation of The Jungle Book for this year's Summer production in Lancaster's Williamson Park, Andrew Pollard will return to adapt the classic tale of Robin Hood, which will be directed by Kirstie Davis (The Girl on the Train, Ladies That Bus).
Joining them are Ziad Jabero as composer, Zak Phillips-Yates as choreographer, Louise Manifold as Stage Manager, Brent Lees as Production Manager and Lighting Designer, Kate Harvey as Sound Designer, Irene Jade as Set & Costume Designer, Rachel Walton-Daniels as Assistant Designer, Snowzie Rose as ASM, Ann Preston as Wardrobe Supervisor and Katie Duxbury as Wardrobe Deputy.
ICS Accounting are sponsors for this year's production and tickets for the production can be booked at www.dukeslancaster.org.
Related
0 Comments