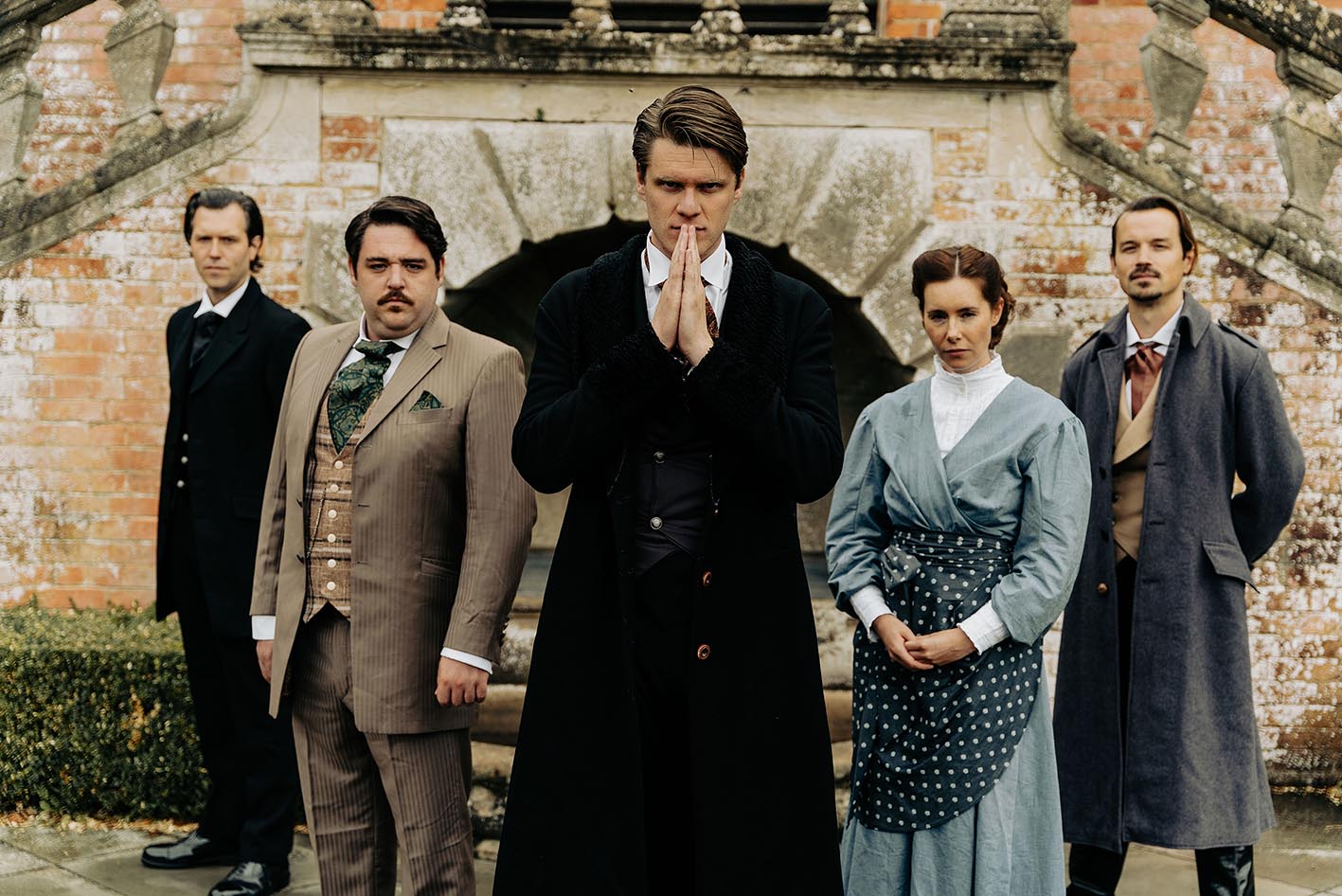 Legendary super sleuth Sherlock Holmes slips into Blackpool Grand Theatre for the gripping murder mystery The Valley of Fear from Tuesday 1 to Saturday 5 November.
Pop on your deerstalkers and track down your tickets now! The game's afoot!
Crammed full of thrilling adventure, marvellous mystery and of course one or two rather brilliant deductions, The Valley of Fear is Sir Arthur Conan Doyle's brilliant final Sherlock Holmes novel brought beautifully to life in this spectacular new stage adaptation from Nick Lane and Blackeyed Theatre.
A mysterious, coded message is received, a warning of imminent danger, drawing Sherlock Holmes and the faithful Dr Watson into a captivating tale of intrigue and murder stretching all the way from 221B Baker Street to an ancient, moated manor house and the bleak Pennsylvanian Vermissa Valley.
Faced with a trail of bewildering clues, Holmes begins to unearth a darker, wider web of corruption, a secret society and the sinister work of one Professor Moriarty…
"It is The Valley of Fear, The Valley of Death. The terror is in the hearts of the people from the dusk to the dawn"
Original music, stylish theatricality, and magical story-telling combine for an unforgettable theatrical experience. What are you waiting for?
Book your seats now to follow the cryptic clues and see if you can solve the deadly crime before the inimitable Mr. Holmes says: "it's elementary, my dear Watson!"
Five fascinating facts about Sherlock Holmes:
1. Sherlock Holmes is a fictional character created by Scottish writer Arthur Conan Doyle and was the prototype for the modern mastermind detective. Holmes first appeared in Conan Doyle's A Study in Scarlet in 1887 and has since pursued criminals throughout Victorian and Edwardian London, the south of England, and continental Europe.
2. Sherlock Holmes was originally called Sherrinford! Author Sir Arthur Conan Doyle originally named the sleuth Sherrinford but then changed his mind – possibly because there were well-known Nottingham cricketers called Sherwin and Shacklock and the author was a big fan of the sport.
3. Holmes was inspired by a teacher. Conan Doyle was so impressed by Dr Joseph Bell, a lecturer at the University of Edinburgh, who could diagnose patients on sight, that he based Sherlock's skills of perception on him.
4. The Royal Society of Chemistry Awarded Sherlock Holmes an Honorary Fellowship. Long before real detectives started using forensic evidence to solve crimes, Holmes used chemistry, bloodstains, ballistics, and fingerprints to catch offenders. It's no surprise that Sherlock Holmes is the first and only fictional character to be awarded an honorary fellowship. In 2002, Britain's Royal Society of Chemistry honoured the detective for his use of forensic science and analytical chemistry to solve crimes.
5. 221B Baker Street isn't a real address. Until the 1930s, the street numbers on London's infamous Baker Street only went as high as the number 85, and 221B was not at all a plausible address until the street was extended in 1930. In 1932 Abbey National Building Society occupied a building at 219-229 Baker St. Soon, they employed a full-time secretary whose only work was to reply to fan mail addressed to Sherlock Holmes at 221B Baker St.
In 1990, the Sherlock Holmes Museum was granted the number 221B Baker Street by the City of Westminster, though physically, it resides between 237 and 241 Baker Street. For more than a decade, the two institutions battled on who should receive Sherlock Holmes fan mails, and this only ceased when Abbey National vacated their headquarters in Baker Street.
Sherlock Holmes The Valley of Fear is at Blackpool Grand Theatre from Tuesday 1 to Saturday 5 November at 7.30pm. Matinee performance on Saturday at 2pm. Tickets from £15.50 with concessions and school group rates available.
Please call the Box Office on 01253 290190 or visit www.BlackpoolGrand.co.uk for full listings, bookings and further information.
Why not make your theatre trip to Sherlock Holmes The Valley of Fear that little bit more special?
Upgrade now and book one of our delicious Afternoon Teas before your matinee show on Thursday 3 November or Saturday 5 November. It's what afternoons were made for!
Relax in our beautiful Dress Circle bar at 12.30pm and enjoy a fabulous selection of savoury and sweet treats before slipping into your seat for the marvellous mystery adventure from 2pm. It's the extra special theatrical experience you deserve…
This delicious Afternoon Tea is on offer in our magnificent Dress Circle bar at 12.30pm with a pot of tea for £11 or with a glass of bubbly for just £16. That's fancy!
Please call the Box Office on 01253 290190 to book. But hurry there are limited places available for this exclusive event! Book now before they are all sc-one!
The Grand Theatre Afternoon Tea in the Dress Circle bar on Thursday 3 and Saturday 5 November at 12.30pm for £11. Or £16 with a glass of Prosecco.
Please note – this is not available to book online and must be booked by calling the Grand Theatre Box Office on 01253 290190.
LISTINGS
Sherlock Holmes The Valley of Fear
Tue 1 Nov to Sat 5 Nov 2022 at 7.30pm
Thu & Sat matinee at 2pm
Afternoon Tea Thu 3 & Sat 5 Nov at 12.30pm
Grand Theatre, 33 Church Street, Blackpool FY1 1HT
Box Office 01253 290 190
blackpoolgrand.co.uk
Facebook - @blackpoolgrand
Twitter - @Grand_Theatre
Instagram - grandtheatrebpl
Related
0 Comments