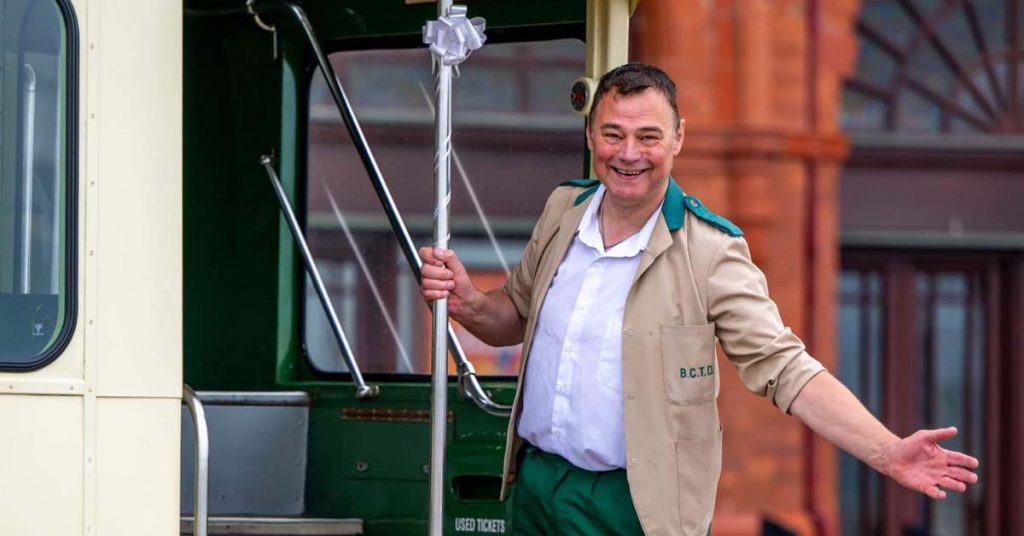 All Aboard for Fleetwood Tram Sunday Fun! Fleetwood's Festival of Transport: Tram Sunday is returning this Sunday alongside creative arts festival SpareParts, brought to town by local arts company, LeftCoast.
The two, FREE events will be taking over the town on Sunday 17th July – with the parade starting from Lord Street at 11am, where it will travel the length of North Albert Street, ending up at Euston Gardens.
Fleetwood Festival of Transport: Tram Sunday
Radio DJ Andy Mitchell will be celebrating the return of Fleetwood Tram Sunday and the SpareParts Festival by driving a heritage Leyland PD3 bus along Blackpool promenade, to display the vehicle at the Festival of Transport event this Sunday.
The much cherished Leyland PD3 bus is part of Blackpool Transport's 1980's heritage fleet and ran in service throughout 1970 / 80s.
Andy is delighted to be taking part of the days celebrations. He said: "I am thrilled to be driving this classic, beautiful bus along the Blackpool promenade all the way to Fleetwood for the fantastic Tram Sunday event. What a way to start a Sunday morning in summer!
"Upon my arrival at Fleetwood, the Heritage bus will be a static exhibit, situated in Pharos St, where visitors to the event can come along and take photos and have a look inside and enjoy the interiors distinctive features and instantly recognisable decor.
"I am delighted to be taking part in the return of Fleetwood Tram Sunday, as it's vital for the town to boost trade and the event really puts Fleetwood on the map in time for the busy summer season ahead!"
"Blackpool Transport have a long relationship with Tram Sunday having supported it for many years, and they will again be providing a number of static trams and buses for display, along with heritage tram rides to and from Fleetwood on the day."
This year will feature the legendary Cevic Trawler Tram, a Heritage PD3 Leyland Bus, Fleetwood Fire Station's Fire Engine well as, The Royal Poppy Bikes, 10 All Star HGV Trucks, Sid Hill V8 Scania Trucks, North West Blood Bikes, Fylde Coast MINI meets, one of the James Bond BMW Z3 cars from the film GoldenEye and Roger Moore's classic car from the TV Series The Saint.
The Tram Sunday parade will also include local talent and services including The Fleetwood Sea Cadets, Fleetwood Army Cadets, Fleetwood Police Cadets, Fleetwood Old Boys Band, Highbury Morris Dancers, Fleetwood Community Fire Station, Fleetwood RNLI, Fleetwood Mounted Police and Horses as well as a Police Mitsubishi Shogun 4 x 4 and other notable vehicles.
The Town Cryer and full Mayoral party in the parade joining in with the SpareParts carnival atmosphere. There will be a live bands stage all day with a variety of Fleetwood's finest musicians and headlining will be the internet sensations Father and Son Karaoke Kings.
Terry Rogers, the new chairman of Fleetwood Festival of Transport, said: "We are delighted to welcome Blackpool Transport's Andy Mitchell who will be driving a beautiful heritage bus, the cherished 1980's Leyland PD3 along the promenade to arrive in grand style for a static display, so loads of photo opportunities there!
"It's a fun-filled day for all the family and we hope people from across the Fylde coast and beyond will come along.
"Together as a community we can showcase the very best that Fleetwood has to offer with many of the local shops, cafes, bars and restaurants open. Fleetwood's Famous Market is also open on the day."
Blackpool Heritage Trams are actively involved with lots of unique tours and special tram services on over the weekend.
Running between North Pier – Fisherman's Walk, Double Decker balloon trams 700 & 717 are operating roughly a 30-minute service, offering a seamless way to get to Fleetwood (or back!)
The impressive Illuminated Trawler, a 1960s Leyland PD3, 1930s Double-Decker balloon tram and ADL E400 will be static at the event, so come down to say hello and get close to these awe-inspiring vehicles.
Parking is free and the designated event car park is The ABP (Associated British Ports) Car Park on Dock Street. Our designated charity here is a Homeless Hounds and are reliant on kind donations.
Disabled parking is also available on Custom House Lane.
As well as the special vehicles, the day will also include:
Food stands
Arts and craft stalls
Live music and entertainment stage
Fun fair
Retro & Vintage Cars, Super Trucks & Motorcycles
SpareParts Festival and street entertainment
Terry added: "We are thrilled to be partnering with the amazing SpareParts, the UK's only touring festival of art, performance and spectacle dedicated to transport, travel and motion.
"They have been busy devising and creating an awe inspiring range of incredible performances for all ages that will take place throughout the day, keeping you entertained from start to finish."
SpareParts
Spectacular, whacky and outrageous! SpareParts Festival will be packed full of interactive walkabout performances. Look out for unexpected characters, crazy contraptions, music, dance and giant puppets.
Tina Redford, LeftCoast's Artistic Director, said: "Its great to be back in Fleetwood with SpareParts after Covid-19. It is such a brilliant day out. Where else would you see a glowing snail, operated by a pushbike, being followed by a rainbow-coloured mammoth?
Our fantastic SOS vehicle will also be in the morning parade and that always gets an amazing reaction from the crowds.
"We cannot wait to celebrate with everyone again, and would encourage everyone who can to join us at 11am for the fabulous parade."
You can find out more about the day on www.sparepartsfestival.co.uk
Related
0 Comments