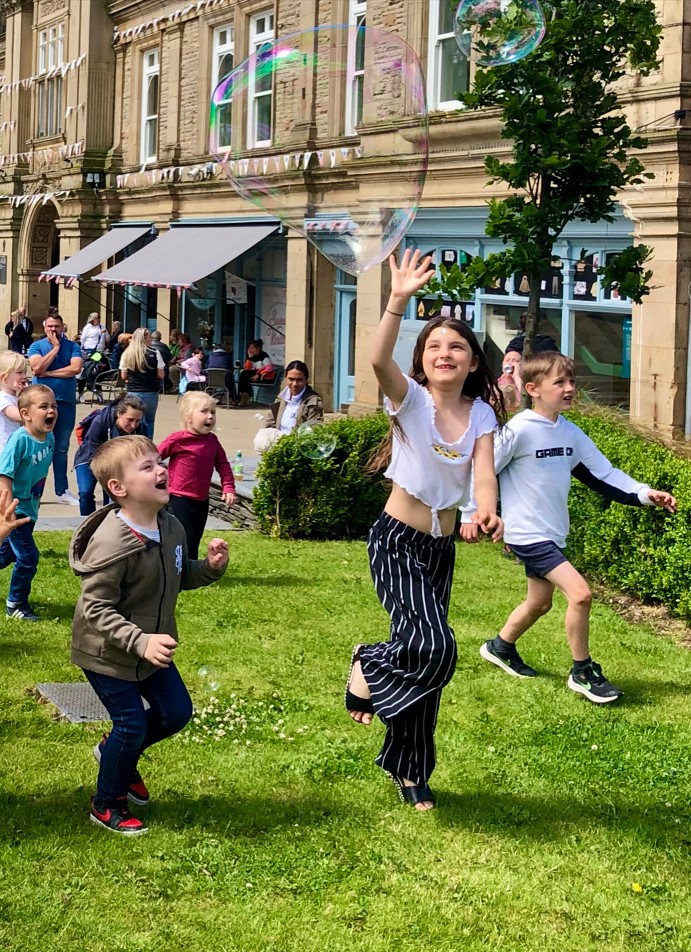 DARWEN Market Square was buzzing last Saturday as hundreds of families enjoyed a fabulous and free day out.
Funded by Darwen Town Council and organised by Crafty Vintage and Let's Make, the day was a huge success and brought thousands of people together to enjoy themselves in the sunshine at Darwen Festival of Fun.
Lots of laughter and squeals of delight could be heard throughout the day as the varied and roving entertainment popped up around the square.
Centre stage was a huge helter skelter which all the youngsters loved and they did not mind queuing again for another ride, and even another ride after that!
The timetable of lively entertainment meant there was something to see every 30 mins.
The festival opened with a circus school workshop, followed by an amazing magician which all the children found fascinating and hilarious..
Huge giant bubbles and stunning birds of paradise stilt walkers added a festival element to the day.
Madcap Professor Pumpernickel kept everyone highly amused with his zany experiments and spectacular science shows.
Mindfulness crafts by Magical Story Jars and Crafty Vintage took place in a large marquee in the centre of the square.
A grand finale dance showcase from the youngsters of Lancashire Dance Academy ended the day in style.
An Artisan Market of makers, creators, food producers and start-ups, was very well supported with many having record sales and many selling out completely.
Laura Johnson, director of Let's Make and Crafty Vintage said "What we achieved on Saturday made all of my team's hard work worthwhile. To see so many families enjoying themselves was truly magnificent. The feedback has been very positive and many of the local shop owners were kept very busy and said the event had brought lots of new visitors into Darwen town centre.
Related
0 Comments