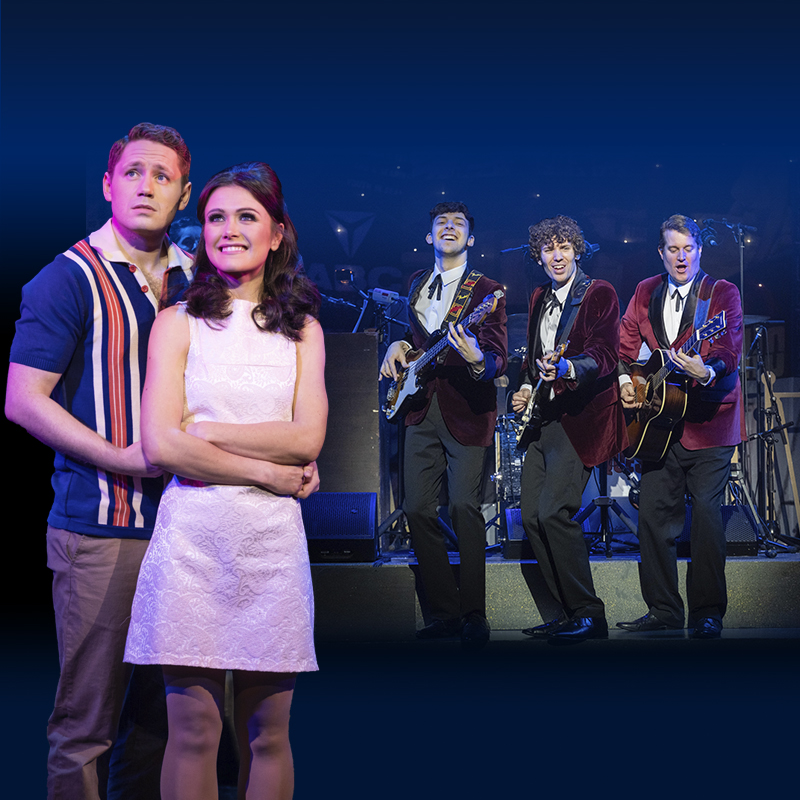 Five fabulous West End musicals are packing up and taking a trip to the seaside this season to fill Blackpool Grand Theatre's famous stage with music, laughter and good times!
Cue the music!
It's time to shake off those blues for the rocking return of Dreamboats & Petticoats - Bringing On Back The Good Times from Tuesday 2 to Saturday 6 August with special guest star and 60s sensation Mark Wynter (Venus in Blue Jeans, Go Away Little Girl). Catch up with Bobby, Laura & all the Dreamboats gang, dancing back together for the thrilling third instalment of this much-loved musical inspired by the million selling albums Dreamboats & Petticoats. It's packed with all the wonderful wit, charm and unforgettable songs from the golden era of rock 'n' roll. Don't miss out! Pop on your bobby socks and jive to the Box Office now!
Don't leave it Too Late Baby to book your seats for the powerful production of Beautiful – The Carole King Musical from Tuesday 18 to Saturday 22 October. Sing along to countless King classics from (You Make Me Feel Like) A Natural Woman, Take Good Care of My Baby and You've Got a Friend, to It Might as Well Rain Until September and Up on the Roof, and enjoy the unforgettable spectacle of 1960s recording star Little Eva performing The Locomotion on roller skates! The magnificent Molly-Grace Cutler (The Worst Witch, Girls Don't Play Guitars) is chart-topping legend Carole King, whose remarkable rise from schoolgirl singer/songwriter to music legend is brought beautifully to life in this smash-hit show, through the soundtrack of a generation. This show really is Some Kind of Wonderful! Book your tickets now!
Three more marvellous West End musicals will dazzle and delight the whole family this season with stunning sets, gorgeous costumes and powerhouse performances. Britain's best-loved picture book The Tiger Who Came to Tea roars into the Grand with a grrreat musical play from Friday 7 to Sunday 9 October that's a perfect introduction for little ones with oodles of magic, sing-a-long songs and clumsy chaos; Richard O'Brien's raucous Rocky Horror Show will be bursting at the seams ready to thrill you once again from Monday 13 to Saturday 18 February 2023 with its frothy, fun and much-loved naughty numbers, including, of course, the pelvic-thrusting Time Warp, and the five-star theatrical masterpiece Titanic The Musical will dock at Blackpool Grand from Tuesday 21 to Saturday 25 March. Don't miss this acclaimed production which has enraptured theatregoers to return time and time again to experience this truly rousing and uplifting tribute to the passengers of the famously ill-fated vessel.
Renowned local theatre groups have also got the West End musicals bug with a dynamic duo of sensational shows that are just the ticket for the whole family! Get ready for a real monster of a family show with Shrek the Musical from Blackpool Operatic Players from Wednesday 5 to Saturday 8 April, bringing back all the beloved characters from the hit movie and proving there's more to the story than meets the ears, and there's no place like The Grand to be swept away by Blackpool & Fylde Light Opera Company with the Royal Shakespeare Company's amazing stage adaptation of The Wizard of Oz from Wednesday 31 May to Saturday 3 June, featuring all the most beloved songs and moments from the 1939 classic film.
Are you mad about West End musicals and love to sing along to all your favourite songs from the shows? Go Beyond the Barricade on Sunday 12 March for a brand-new production featuring past principal performers from the glorious musical Les Misérables singing the very best-loved songs from Broadway and the West End, with a stunning finale from Les Mis.
But what are the best songs from the West End musicals?
Theatre musicals have been filled with rousing tunes and memorable anthems since time immemorial, and over the years here at Blackpool Grand Theatre we have heard so many classics it's very difficult to pick our favourites. In fact, it's so difficult, we're not going to even try! Instead, we have compiled a list of 10 great songs that showcase theatre and musicals at their best.
1. (You Make Me Feel Like A) Natural Woman from Beautiful – The Carole King Musical – One of Carole King's signature songs from her landmark 1971 album Tapestry and the cornerstone of this breathtaking production.
2. I've Had The Time of My Life from Dirty Dancing - This unforgettable song was recorded by Bill Medley and Jennifer Warnes and used as the theme song for the smash hit 1987 film.
3. Defying Gravity from Wicked - A stunning female duet that concludes Act 1 of Wicked. The complex storytelling and soaring notes are key to this song.
4. The Sound of Music from The Sound of Music - The title song from one of the most successful musical soundtracks ever, and the definitive reason why hilltops are made for singing…
5. America from West Side Story - Endlessly covered and featured by Glee, Admiral Insurance, the 1994 FIFA World Cup, Vice and The Simpsons to name just a few!
6. The Time Warp from The Rocky Horror Show – It's just a jump to the left… arguably one of the most famous songs from a stage musical and a big audience participation number.
7. Seasons of Love from Rent - A stirring ballad from the cast of Rent that questions how we measure our lives. Keep your handkerchiefs close!
8. Alexander Hamilton from Hamilton - The opening song of the outstanding musical that sets the tone for the rest of the soundtrack and never lets you go after you've heard it.
9. The Godspeed Titanic from Titanic the Musical – an emotional and rousing chorus at the opening and finale of this heartbreakingly powerful production.
10. One Day More from Les Misérables - Combining melodies from Who Am I?, I Dreamed a Dream and Master of the House (all individually superb), this is surely the conclusive epic.
Visit www.blackpoolgrand.co.uk/great-theatre-songs for all the video clips to sing along!
Book your seats now for wonderful West End musicals right here at Blackpool Grand Theatre!
Visit blackpoolgrand.co.uk or call the box office on 01253 290 190 for bookings and further information.
LISTINGS
Dreamboats & Petticoats – Tue 2 to Sat 6 Aug at 2.30pm & 7.30pm
The Tiger Who Came to Tea – Fri 7 to Sun 9 Oct at 11am, 1.30pm & 2pm
Beautiful – The Carole King Musical – Tue 18 to Sat 22 Oct at 2.30pm & 7.30pm
The Rocky Horror Show – Mon 13 to Sat 18 Feb 2023 at 5.30pm, 8pm & 8.30pm
Beyond The Barricade – Sun 12 Mar at 7.30pm
Titanic the Musical – Tue 21 to Sat 25 Mar at 2.30pm & 7.30pm
Shrek the Musical – Blackpool Operatic Players - Wed 5 to Sat 8 Apr at 2pm & 7.30pm
The Wizard of Oz – Blackpool & Fylde Light Opera Company – Wed 31 May to Sat 3 Jun at 2pm &7.30pm
Grand Theatre, 33 Church Street, Blackpool FY1 1HT
Box Office 01253 290 190
blackpoolgrand.co.uk
Facebook - @blackpoolgrand
Twitter - @Grand_Theatre
Instagram - grandtheatrebpl
Related
0 Comments